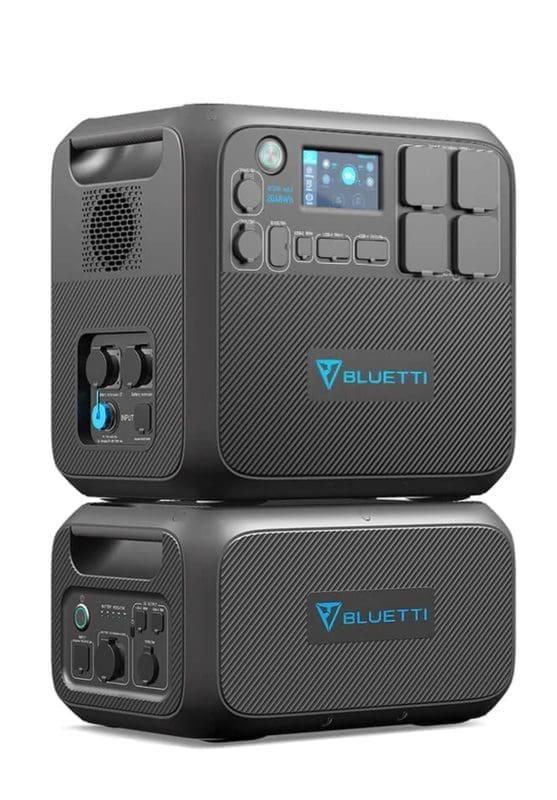 BLUETTI AC200MAX + B230 – Powering Your Adventures
You know the drill – when you're living life on the road, power is everything. It's not just about keeping the lights on; it's about the freedom to go anywhere and do anything without worrying about running out of juice. That's why I've equipped my van with the BLUETTI AC200MAX + B230, and let me tell you, it's a game-changer!
Expandable Power Supply: Already rocking 2 x 120ah batteries in my van, the Bluetti acts as a backup and expandable power supply. It's my go-to "shore power" backup, giving me peace of mind wherever I roam.
15 Outlets, Zero Hassle: Need to charge multiple devices? No problem! With 15 outlets, you can run everything you need simultaneously without breaking a sweat.
Modular, Expandable, and Impressive: This isn't just a power station; it's a modular beast. With 2048Wh ultra-durable LFP cells and a 2,200W full power pure sine wave inverter, it's a mobile recharge center on and off the grid.
Boost Your Capacity: Need more power? The AC200MAX welcomes up to two BLUETTI B230's or B300 battery modules, boosting the total capacity to an astonishing 8192Wh!
Fast and Flexible Charging: With 900W solar input and 400W via the adapter, you can charge via wall outlet and solar panels simultaneously. That's a 1300W total charging rate, getting you back to full power in less than two hours!
Special Offer for Fellow Adventurers: Ready to take your power game to the next level? Use coupon code "BOXA" at checkout for an exclusive discount.
If you're like me, always seeking the next adventure and pushing the boundaries, the BLUETTI AC200MAX + B230 is a companion you'll want by your side. It's not just about charging gadgets; it's about empowering your journey and never letting anything hold you back.
Stay powered up and keep exploring, friends! 🚐⚡
P.S. Got any power hacks or favorite gadgets that make life on the road even better? Let's share our knowledge and keep the adventure rolling!
Use coupon code "BOXA" at check out for a discount!
Visit Bluetti
BATTERY INFO
Capacity:

2048Wh (51.2V,40Ah)

Cell Chemistry:

LiFePO4 (Lithium Iron Phosphate)

Lifecycle:

3,500+ Cycles to 80% Original Capacity

Shelf-life:

Recharge to 80% Every 3-6 Months

Management System:

MPPT Controller, BMS, etc
Output
AC Output:

4 x 220V-240V,2200W In Total

Inverter Type:

Pure Sine Wave

Surge Power:

4800W
USB-C Port:
2 x 5V/3A USB-A
2 x 18W USB-A
12V DC Outlets:
1 x 12V/30A (RV Outlet)
1 x 12V/10A (Car Outlet)
2 x 12V/10A DC 5521 (5.5mm Outlet)
*All Regulated.

Wireless Charging Pad:

2 x 15W Max. (For Each)
INPUT
AC Adapter Input:

400W.

Solar Input:

900W Max,OCV 10-145VDC, 15A

Car Input:

12/24V from Cigarette Lighter Port

Max Input:

1,300W, with AC+Solar Input
RECHARGE TIMES
AC Adapter (400W):

≈5.5~6 Hours

Solar (900W):

≈3~3.5 Hours (With prime sunshine, ideal orientation and low temperature)

12V/24V Car Outlet (100W/200W):

≈10 or 20 Hours

AC Adapter + Solar (1300W):

≈2.0~2.5 Hours (With prime sunshine, ideal orientation and low temperature)

Dual AC Adapters (800W):

≈3~3.5 Hours (Extra adapter is REQUIRED)