Swirls of Heaven – Cheesecake Marble Brownies You Can't Resist!
You're here because you adore brownies and can't resist cheesecake, right? Who can blame you? Imagine biting into a brownie and tasting not just rich chocolate but also a layer of creamy, tangy cheesecake. You don't have to pick favorites anymore—get you a dessert that can do both!
The key to this mouth-watering delicacy is the balanced fusion of the cheesecake and brownie batters. Both layers bring a unique set of flavors and textures to the table. The brownie layer is all about that fudgy, chocolatey goodness. It's deep and rich, serving as the perfect base for the creamy and tangy cheesecake layer on top. The vanilla in both batters harmonizes the flavors, acting as a mediator in this delicious symphony.
Making this dish is like crafting an art piece; you start with the basics and build up from there. First, you'll create two distinct batters. The brownie batter is a straightforward blend of chocolate, butter, and love, while the cheesecake batter is where the creamy, tangy magic happens. But what truly takes these brownies from great to sensational is the marbling step. The swirling of the two batters is like a culinary ballet, a dance that culminates in a visually striking and delicious masterpiece.
Storage and adaptability are other perks of these delightful brownies. They're perfect for meal prep and are equally comfortable being the star of a big event or serving as your solo late-night snack. And the customization options are endless. Love nuts? Throw some in. Prefer dark chocolate? Swap it out. The beauty of this recipe is that it's yours to tweak.
So there you have it! An epic dessert that refuses to make compromises, much like you. Now, who's ready for a life-changing brownie experience? Grab your apron, and let's make some Cheesecake Marble Brownies!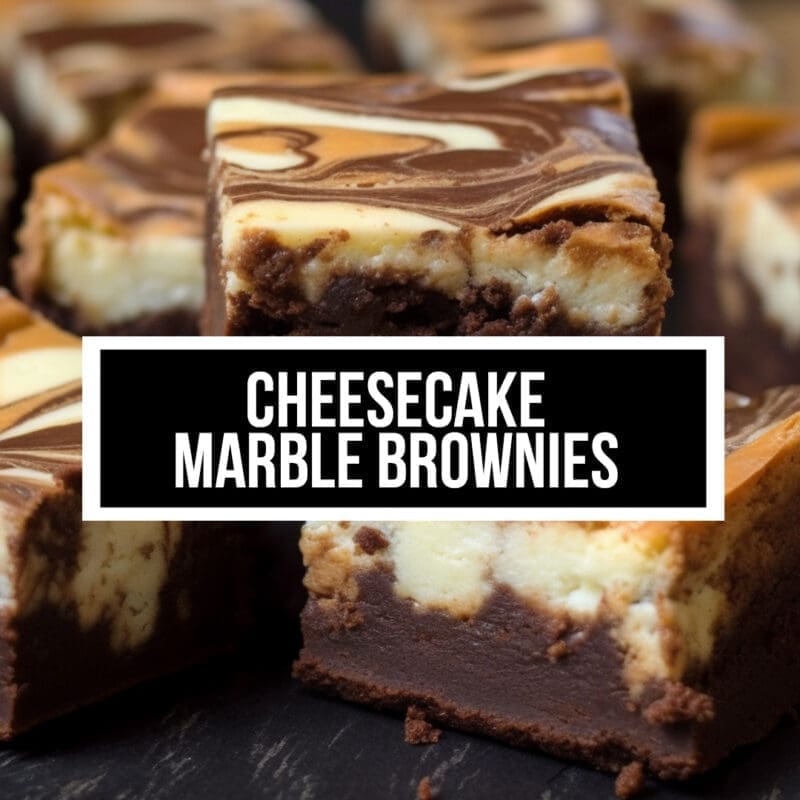 Cheesecake Marble Brownies Recipe
Ever wondered what heaven tastes like? Meet the ultimate dessert—Cheesecake Marble Brownies. These divine squares are a harmonious blend of creamy cheesecake and chocolatey brownie that dance together in each bite. A surefire way to impress at your next gathering or for when you need a little 'me time.'
Super simple with only 8 ingredients, you'll be savoring these scrumptious brownies in under an hour. Perfect for both cheesecake lovers and brownie enthusiasts, this recipe is your one-way ticket to flavor town. So, why choose one when you can have both?
Ingredients
Cheesecake Batter:
6

oz

softened cream cheese

1/4

cup

+ 2 tbsp sugar

1

room-temp egg

1

tsp

vanilla extract
Brownie Batter:
1/2

cup

butter

2/3

cup

chocolate chips

3/4

cup

sugar

2

room-temp eggs

2

tsp

vanilla extract

1/2

cup

flour

1/2

cup

cocoa powder

1/2

tsp

salt
Instructions
Prep:
Line an 8x8 pan with parchment. Heat oven to 350°F.
Cheesecake Batter:
Blend cream cheese and sugar till smooth. Add egg and vanilla. Mix and set aside.
Brownie Batter:
Melt butter and chocolate. Cool.

Whisk eggs, vanilla, and sugar till fluffy. Add melted chocolate.

Fold in flour, cocoa, and salt.
Assemble & Bake:
Add scoops of both batters into the pan, alternate.

Swirl with a toothpick for the marbled effect.

Bake 26 mins or till toothpick comes out almost clean.

Cool, cut, and conquer your cravings!
Notes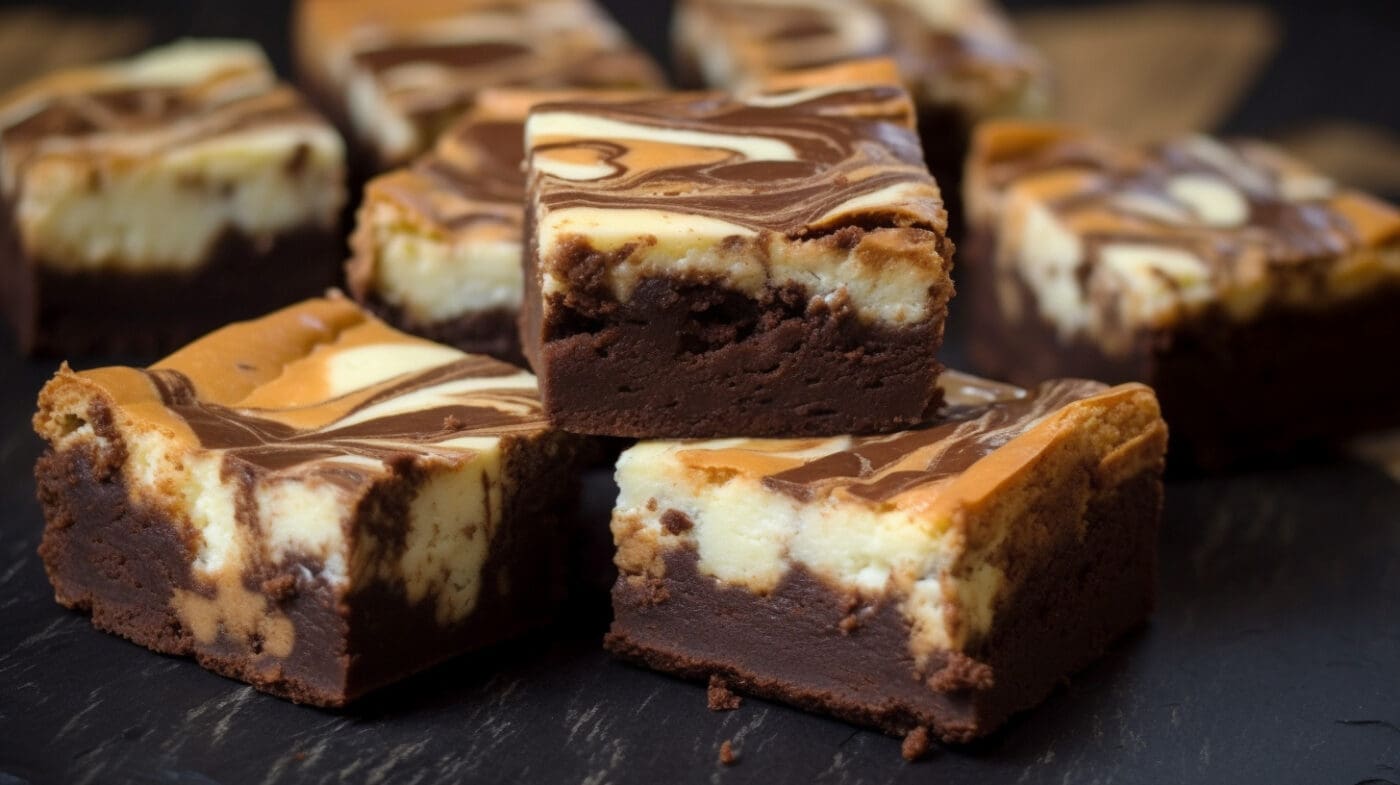 ---
Common Questions
Can I use dark chocolate?
Sure, if you're a dark chocolate fan, go ahead!
Can I use low-fat cream cheese?
Yes, but the texture will be slightly less creamy.
What's the best way to melt chocolate?
Double boiler is best, but the microwave works too.
Can I freeze these brownies?
Absolutely, they'll last up to a month.
Why room-temp eggs?
They blend better, giving you a smoother batter.
How to measure flour?
Use the spoon-level method or a kitchen scale for accuracy.
How long do these last?
3-4 days in an airtight container at room temp.
Can I add nuts?
Sure, if you love the crunch, toss some in.
Why is my cheesecake layer not smooth?
Ensure your cream cheese is softened for a smooth blend.
What if I over-swirl the batter?
You'll lose the marble effect but they'll still taste awesome!