The Ultimate Guide to Wattamolla Beach and Falls in Royal National Park, Sydney
When it comes to the epitome of natural beauty near Sydney, it's hard to overlook Wattamolla Falls and Beach, situated in the heart of Royal National Park, NSW. This gem of a location is not just a typical beach but a versatile haven that offers a pristine lagoon, a captivating waterfall, and a sprawling picnic area. Located just 50 kilometers south of the Sydney CBD, Wattamolla has cemented its place as one of the most sought-after day trip destinations around Sydney.
Reaching Wattamolla in Royal National Park
Starting from Sir Bertram Stevens Drive within the Royal National Park, you'll take a turn onto Wattamolla Road. Follow this road to its end, and you'll find ample parking areas designed to accommodate the influx of visitors. However, be warned that during the sweltering summer months, these parking lots can get jam-packed. My strong recommendation? Get there early, especially if you're planning a weekend visit. A weekday trip could save you from the crowd and offer a more peaceful experience.
Hours of Operation and Entrance Fees
The Royal National Park, including Wattamolla Beach, is open daily from 7:00 AM to 8:30 PM.
There's a nominal entrance fee of $12 per vehicle, payable either at the park's entry booth or via ticket machines.
The Rich History of Wattamolla
The name "Wattamolla" is derived from an Aboriginal term meaning "place near running water," which is apt given its natural setting. The area was discovered in 1796 by the English navigator Matthew Flinders, who sought refuge in the lagoon's calm waters due to adverse weather conditions.

Your First Stop – Wattamolla Falls
Let's kick off your Wattamolla adventure with Wattamolla Falls, situated near the northern parking area. The waterfall is a breathtaking sight, and its top is fenced off for safety reasons. Despite the fencing, you'll often find daredevils taking the plunge into the lagoon. While it may look exhilarating, jumping off is strictly prohibited due to hidden rocks and varying water depth—conditions that can change rapidly due to rainfall and currents. However, the view from the top is nothing short of spectacular, offering a panoramic view of the surrounding area, including the lagoon and the distant ocean.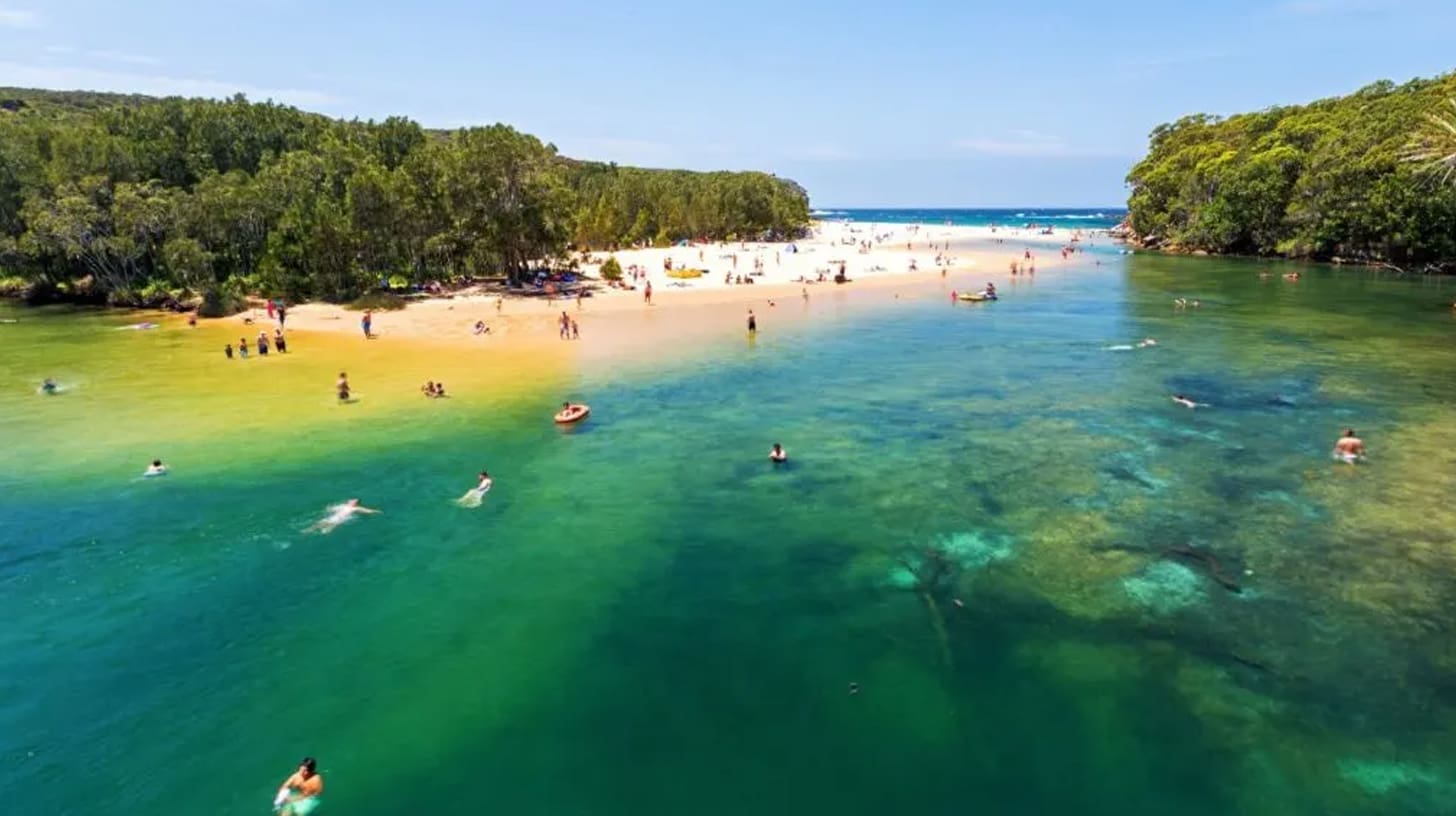 Exploring the Beach and Lagoon
From Wattamolla Falls, a scenic pathway leads you to the tranquil lagoon and the ocean-facing beach. The lagoon, with its calm waters, offers the perfect spot for swimming, snorkeling, and even kayaking. Want to get to the ocean-side of Wattamolla Beach? Follow the boardwalk that runs parallel to the lagoon. It's a short 350-metre bush trail that will take you right there. Once you arrive, you'll feel like you've landed in a slice of paradise, with the ocean in front and the lagoon and waterfall to your back.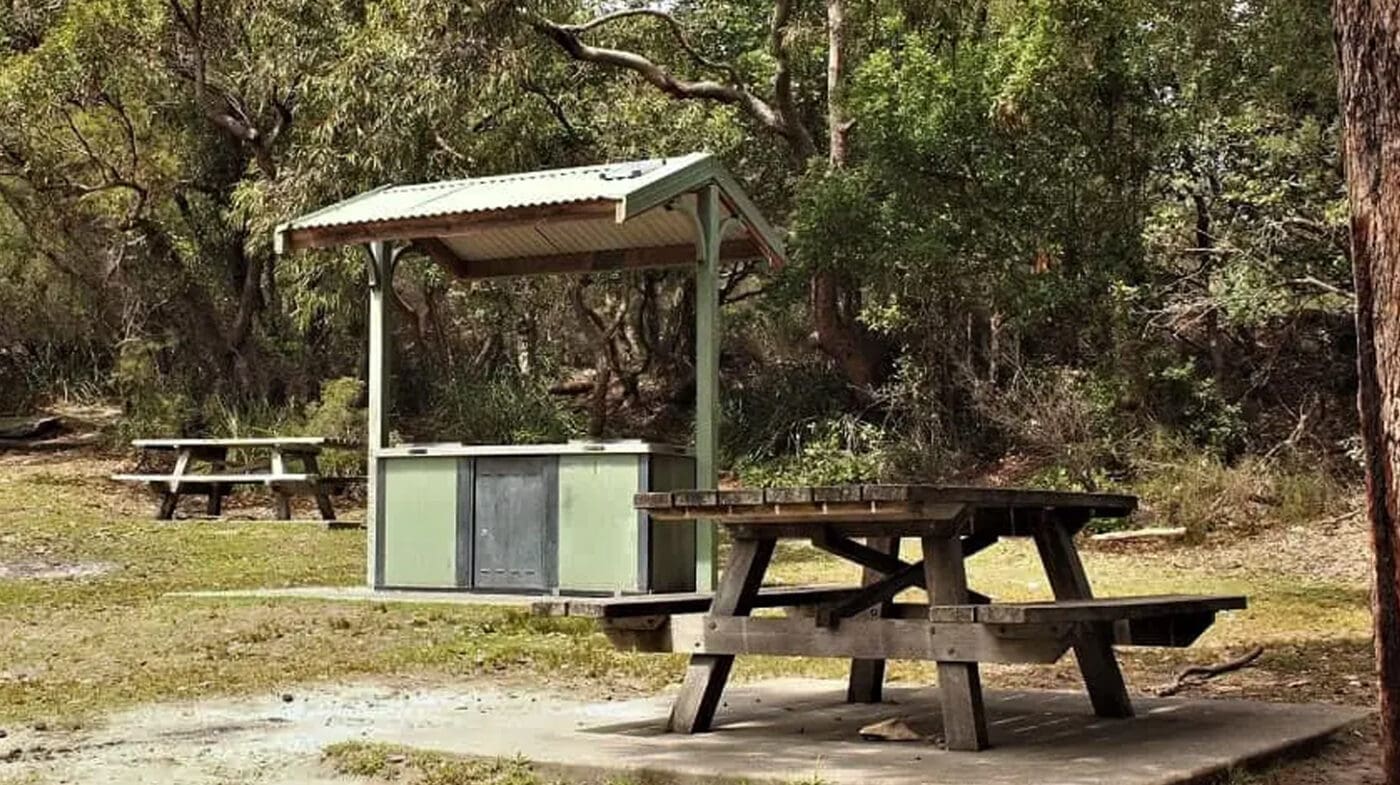 Picnic and Facilities
The Wattamolla picnic area is a sprawling open field equipped with electric BBQs, covered and uncovered tables, and essential facilities like toilets and running water. Given its popularity, especially during sunny weekends, arriving early is advisable.
Nearby Hiking Trails
If you're a hiking enthusiast, Wattamolla serves as a perfect starting point for various trails. Notably, the Royal Coast Track, a 26-km long hike between Bundeena and Otford, passes through Wattamolla. You can choose to hike smaller sections either northbound or southbound, depending on your stamina and time.
Key Spots for Scenic Views and Activities
While Wattamolla is an incredible destination on its own, the surrounding areas offer additional scenic views and activities that shouldn't be missed. Here are some key spots you'll want to include in your itinerary: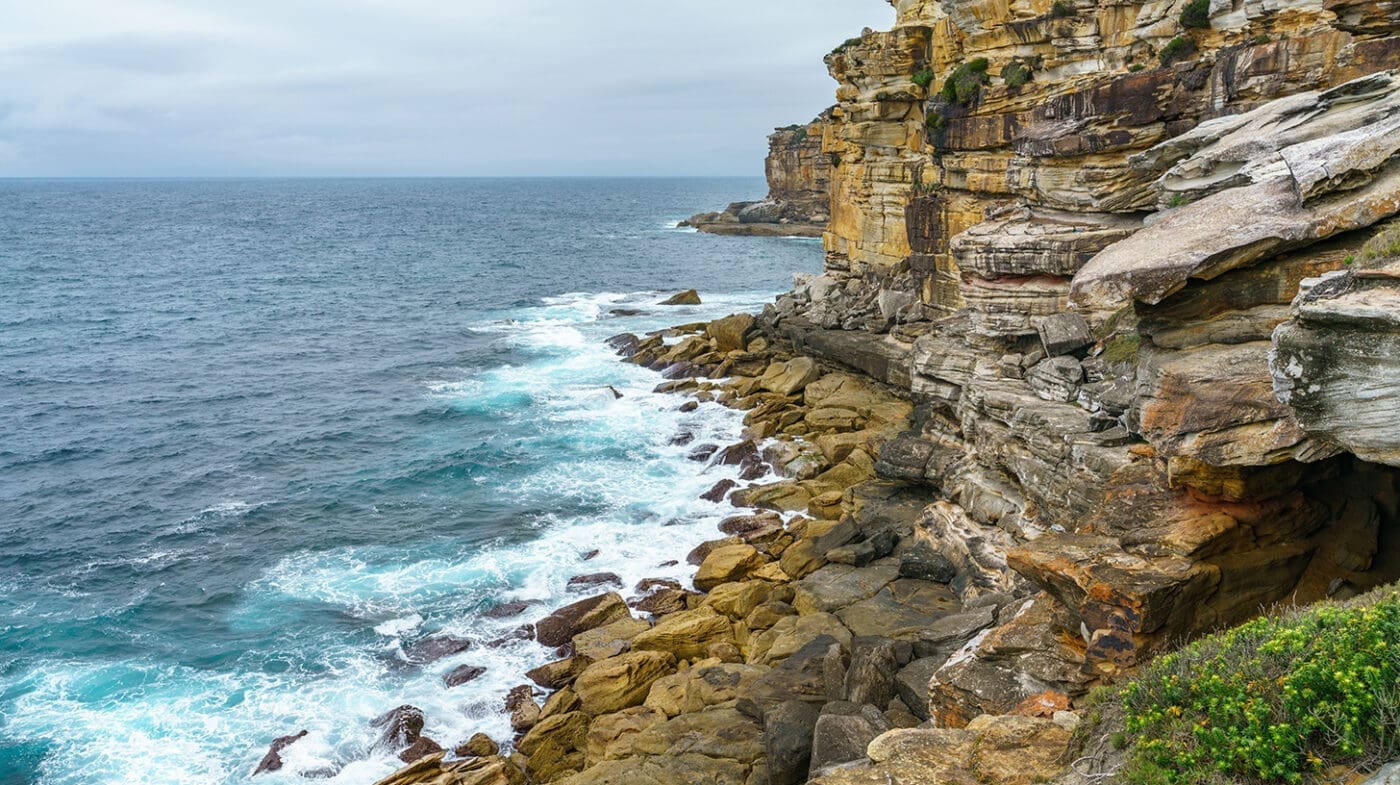 Providential Point Lookout – The Ultimate Vantage Point
How to Get There:
A short 600-meter walk from Wattamolla's picnic area will bring you to Providential Point Lookout. The trail is mostly flat, with some inclines and steps, but it's manageable for all skill levels.
What to Expect:
Once you arrive, you'll be rewarded with panoramic views of the ocean and rugged headlands. The lookout is elevated, giving you an unobstructed vantage point to absorb the natural beauty around you.
Activities:
Whale Watching: If you visit between May and October, keep an eye out for migrating whales. Humpbacks are the most commonly sighted, but if you're lucky, you might spot some other species as well.

Photography: The scenery offers a dynamic landscape perfect for capturing stunning photos. Whether it's the blue hues of the ocean or the lush greenery of the headlands, your camera will be your best friend here.

Wattamolla Dam – The Oasis Within
How to Get There:
An 800-meter walk to the north of Wattamolla takes you to Wattamolla Dam. The trail is relatively easy and well-marked, making it a gentle hike that even kids can enjoy.
What to Expect:
Once you get to Wattamolla Dam, you'll find a serene water hole surrounded by trees and rocks. It's like stumbling upon a hidden oasis. The water is calm, making it an ideal spot for a refreshing swim or some quiet reflection.
Activities:
Swimming: The water hole is generally calm and shallow, offering a peaceful swimming experience.

Picnicking: There are some flat rocks and grassy areas around the dam where you can lay down a blanket and have a picnic.

Bird Watching: The surrounding vegetation is home to a variety of bird species. If you're into bird watching, don't forget your binoculars.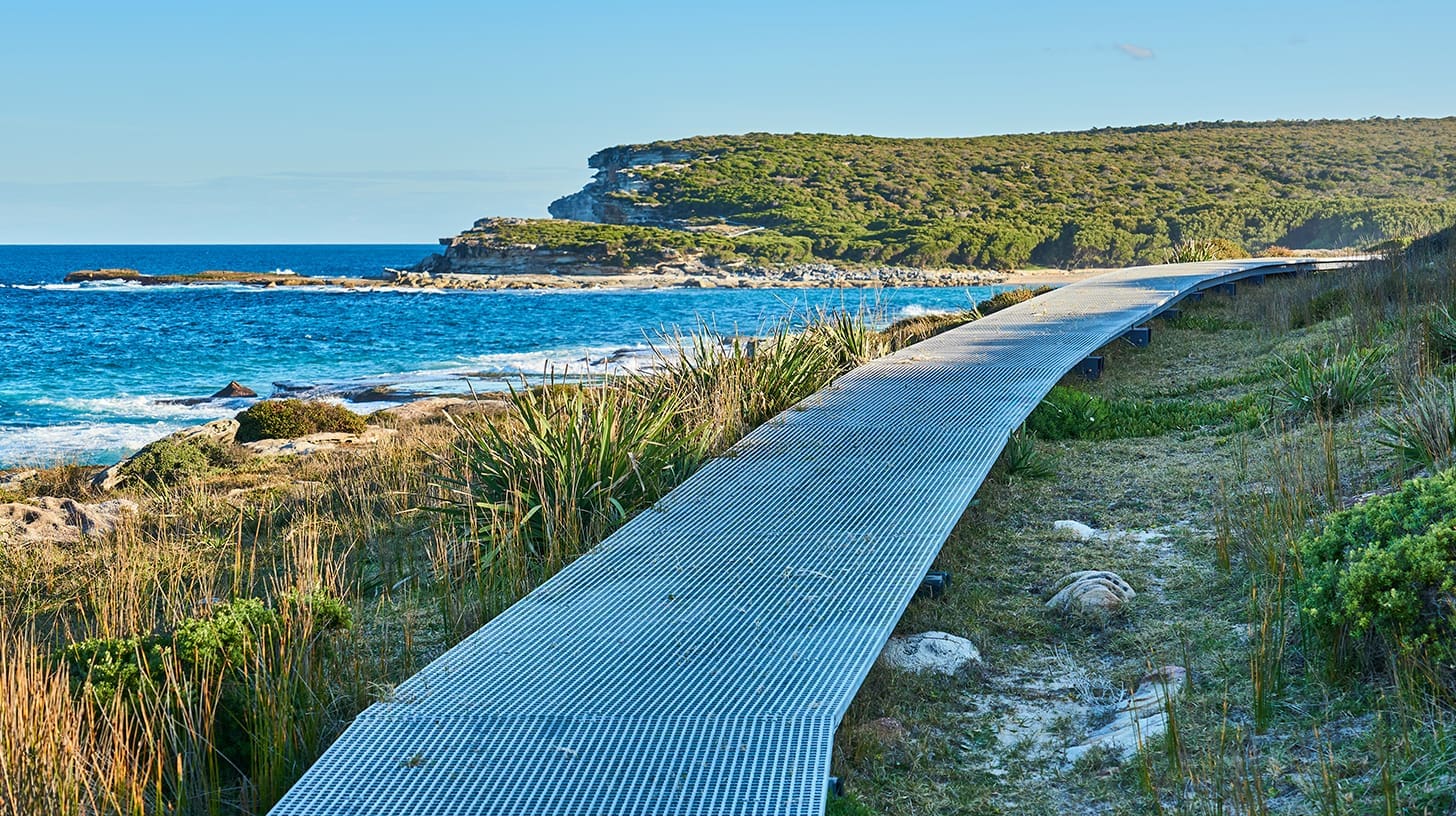 Marley Beach – The Hidden Beaches on the Coast Track
How to Get There:
Continuing on the Coast Track from Wattamolla will lead you to Little Marley Beach and Big Marley Beach. The hike will take a couple of hours but is well worth the effort.
What to Expect:
Both beaches are relatively secluded, offering a quiet alternative to the more popular Wattamolla beach. The sandy shores are framed by cliffs, and the water is crystal clear.
Activities:
Swimming and Sunbathing: Both beaches are excellent for swimming and sunbathing. Little Marley Beach tends to be less crowded, offering a more secluded experience.

Snorkeling: The clear waters make for excellent snorkeling conditions. You might encounter some colorful fish and maybe even a sea turtle if you're lucky.

Hiking: If you're up for more adventure, both beaches serve as a starting point for further exploration. Several trails branch off from here, leading to other hidden gems in the Royal National Park.
Safety and Regulations
It's essential to note that there are no lifeguards at Wattamolla, so exercise caution, especially with kids. Always keep an eye out for potential risks like rips, strong currents, and sudden depth changes in the lagoon.
Wattamolla, with its multifaceted natural beauty, is more than just a beach; it's an experience. Its unique blend of a beach, lagoon, and waterfall offers something for everyone—be it thrill-seekers, nature lovers, or those just looking to unwind. So, pack your bags and head to Wattamolla in the Royal National Park, Sydney, for an unforgettable day amidst nature's finest offerings.
Camping and Accommodation nearby: