The Ultimate Blueberry Crumble Blondies – Where Summer Meets Dessert
Alright, let's dive into why these Blueberry Crumble Blondies are the epitome of summer desserts. Starting off with the chewy blondie layer, it's the foundation that holds everything together. It's not your typical blondie; we're talking about a combination of brown sugar for depth, a touch of vanilla for aroma, and that additional egg yolk that creates the chewy texture we all crave.
But wait, there's more! Nestled above the blondie layer is a homemade blueberry jam that's super easy to make. This jam is no ordinary filler; it's the soul of this dessert. We're talking about blueberries that have been lovingly cooked down into a thick, juicy preserve, made tangy by a splash of lemon juice and zest. It's where the "crumble" meets "blondie," creating a fusion that's nothing short of magical.
And let's not forget the grand finale – the crumble topping. Think of it as the crown jewel, a textural contrast that complements the gooey jam and the chewy blondie. And it's so simple to make. A little flour, some white and brown sugar for sweetness and richness, and a dollop of melted butter to bring it all together. When this layer bakes, it turns into a delightful crumbly texture that you'll find yourself picking off the top just to enjoy on its own.
To round off, we've got those extra frozen blueberries sprinkled on top for bursts of fruitiness in each bite. This is not just a dessert; it's a one-way ticket to a summer soiree, all condensed into a bar of mouth-watering deliciousness.
So, if you're a fan of desserts that sing the songs of summer, are easy to make, and include layers of contrasting yet harmonious flavors, then these Blueberry Crumble Blondies are the masterpiece you've been waiting to create. Get that oven preheated and let's get baking!
Blueberry Crumble Blondie Recipe
A warm summer afternoon and you've got a hankering for something sweet yet tangy. Enter the Blueberry Crumble Blondies, where chewy blondie meets gooey blueberry jam topped off with a buttery crumble. It's like the ultimate summer fling for your tastebuds!
This dessert is not just a treat; it's an experience. Imagine sinking your teeth into a soft, chewy layer of blondie, only to discover a hidden treasure of homemade blueberry jam and then, to top it all off, a crumbly, buttery layer that sends you straight to culinary heaven. Forget regular blondies; this is what summer tastes like.
Ingredients
Blueberry Jam Filling
1

cup

frozen blueberries

2

tbsp

sugar

1

tsp

lemon juice

A dash of lemon zest

2

tsp

water

2

tsp

cornstarch
Crumble
¼

cup

flour

1

tbsp

white sugar

1

tbsp

brown sugar

2

tbsp

melted butter
Blondie Batter
⅔

cup

packed light brown sugar

¼

cup

white sugar

1

whole egg

1

egg yolk

1

tsp

vanilla

½

cup

melted butter

1

cup

+ 2 tbsp flour

½

tsp

salt

¼

tsp

baking powder

¼

cup

frozen blueberries
Instructions
Preheat Oven and Prep Pan: Get that oven to 350°F. Line an 8x8 pan with parchment.

Jam Time: Toss blueberries, lemon juice, zest, and sugar into a pot. Cook until it boils. Add cornstarch-water mix. Stir until thick. Cool.

Crumble Up: Mix flour, sugars, and melted butter. Chill in the fridge.

Whisk The Batter: Whisk together sugars, egg, yolk, and vanilla. Add melted butter. Fold in flour, salt, and baking powder.

Layer it: Spread batter in the pan, smear blueberry jam, and sprinkle crumble and frozen blueberries.

Bake: Throw it in the oven for 28-30 minutes. Done when toothpick comes out nearly clean.

Cool and Enjoy: Let it cool, slice it up, and dig in!
Notes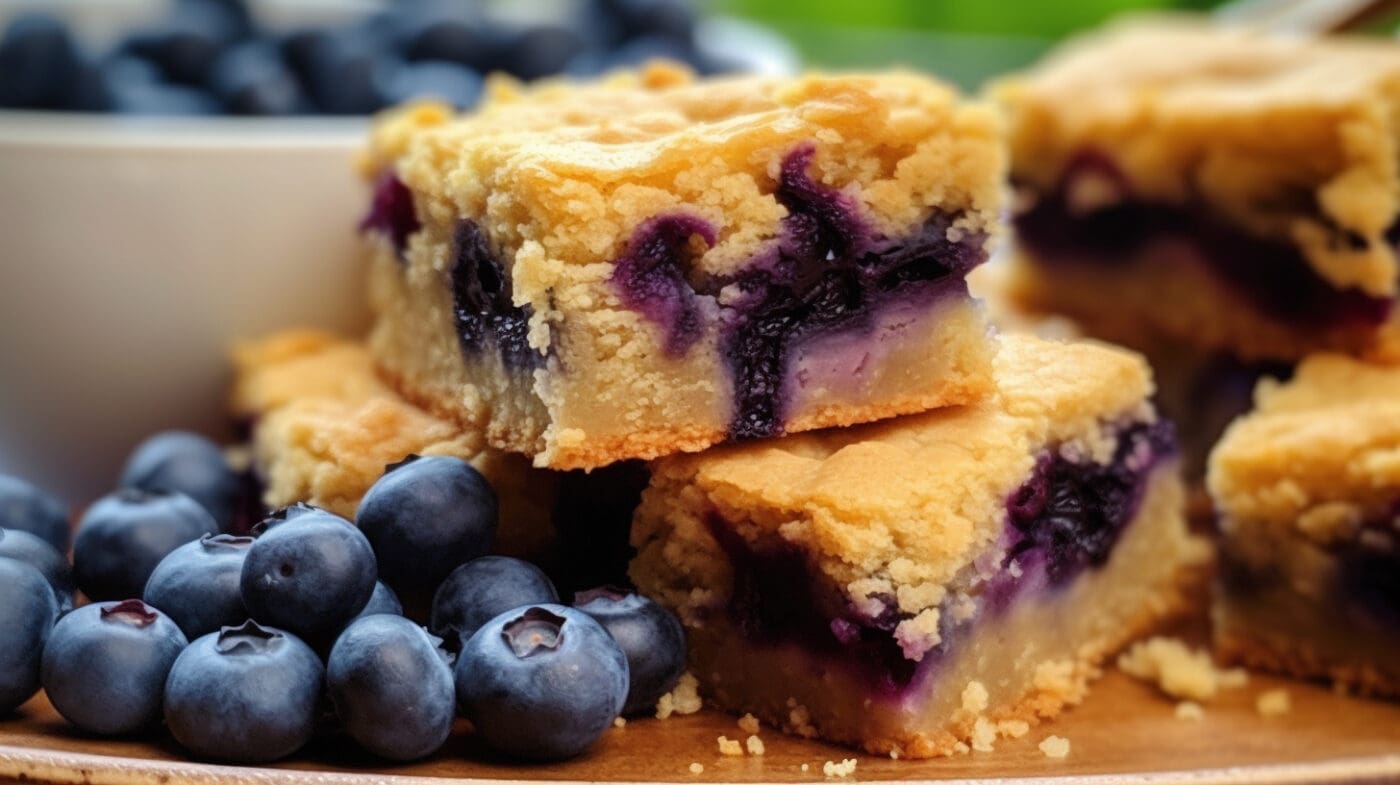 ---
Top 10 Most Common Questions
Can I use fresh blueberries?:
Stick with frozen; they cook down faster and pack more flavor.
How do I store leftovers?:
Keep them in a sealed container at room temp for 3-4 days.
Can I freeze these blondies?:
Yep! Freeze in a sealed bag for up to a month.
What can I substitute for brown sugar?:
You can use white sugar, but you'll miss some richness.
Can I use a different fruit?:
Sure, try raspberries or blackberries for a tart twist.
Why room-temperature eggs?:
Helps blend the batter smoothly for an even bake.
Is the lemon necessary?:
It brightens the blueberry flavor, but you can skip it.
What kind of flour is best?:
Stick to all-purpose for the best texture.
How do I know it's done?:
Toothpick test! Should come out with a few moist crumbs.
Can I make these gluten-free?:
Absolutely, just use a quality GF flour substitute.