Exploring Cataract Gorge Reserve in Launceston – Your Comprehensive Guide
Located a mere 15 minutes away from the hustle and bustle of Launceston's city center, Cataract Gorge Reserve is a paradise that defies description. The reserve is a harmonious blend of raw natural beauty and well-designed recreational areas, making it a must-visit for anyone stepping foot in Tasmania. This guide aims to provide you with everything you need to know to make the most of your visit to this iconic location.
Cataract Gorge isn't just a gorge; it's a multi-faceted outdoor experience. At its heart flows the majestic South Esk River, flanked by towering cliffs and dense vegetation. The biodiversity here is rich, offering a sanctuary for a variety of flora and fauna. Beyond the natural elements, the reserve features well-maintained walking trails, an awe-inspiring suspension bridge, refreshing swimming areas, and the world's longest single-span chairlift. This combination of natural beauty and human ingenuity makes Cataract Gorge a unique destination.
How Long Does It Take to Walk Around Cataract Gorge?
The walking trails at Cataract Gorge range in length and difficulty. The most popular, the Cataract Walk, can be completed in about 20 minutes one way. More challenging trails like the Zig-Zag Track will take you around 40-60 minutes. So, you could spend anywhere from a quick stroll to a full day hiking, depending on your pace and how many trails you want to conquer.
Cataract Walk
Let's start with the basics. The Cataract Walk is the most popular trail and can be completed in just 20 minutes one way. It's an ideal choice for families and casual walkers, offering captivating views without requiring significant physical exertion.
Zig-Zag Track
For those who want a more challenging experience, the Zig-Zag Track is a must-try. Taking around 40-60 minutes to complete, this trail offers panoramic views that are nothing short of breathtaking.
Duck Reach Track
Then there's the Duck Reach Track, leading you to the historic Duck Reach Power Station. This is a longer trail, taking about 2.5 hours for a return trip. It's perfect for those who want to combine history, exercise, and sightseeing into one package.
Whether you're a seasoned hiker or new to the game, Cataract Gorge has something for everyone. The trails are well-marked and offer diverse landscapes—from lush forests and intricate bridges to viewpoints that provide stunning vistas of the surrounding area.
How Long Do You Need at Cataract Gorge?
When planning your visit, time is a key factor. You could breeze through the key highlights in a couple of hours, but that would barely scratch the surface. To truly immerse yourself in all that Cataract Gorge has to offer, it's advisable to allocate at least half a day. However, if you intend to explore multiple trails, go for a swim, or simply want to relax and absorb the scenery, dedicating a full day would be ideal.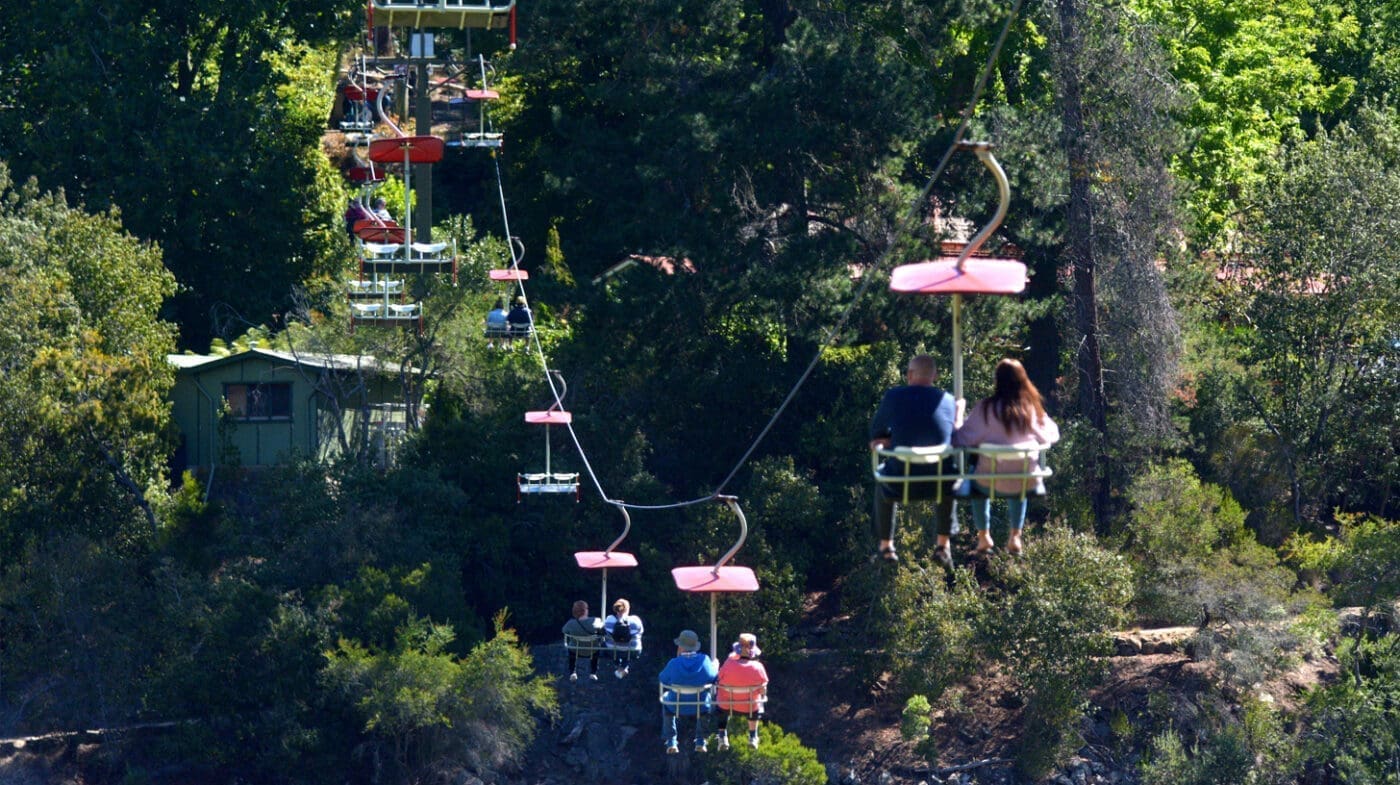 Cataract Gorge Reserve Chairlift – Soar Over Nature
One of the most iconic attractions at Cataract Gorge is its chairlift. Spanning a distance of 457 meters, it's the longest single-span chairlift in the world. The chairlift ride takes about 15-20 minutes for a round trip and provides a bird's-eye view that is truly unparalleled. Whether you're an avid photographer or someone who just wants to enjoy the view, the chairlift is a must-try experience.
Practical Information – Know Before You Go
Opening Hours
The reserve is open year-round, but certain facilities have specific operating hours. The chairlift, for example, operates from 9 a.m. to 5:30 p.m. daily. The First Basin Café and the swimming pool also follow their own schedules, usually aligning with daylight hours.
Location and Accessibility
Cataract Gorge Reserve is situated at Basin Road West, Launceston, TAS. It's easily accessible by car, with ample parking available. Those relying on public transport will also find it convenient, as several options are available.
Wildlife Encounters – Meet the Locals
From peacocks strutting around freely to wallabies hopping about, the wildlife at Cataract Gorge is surprisingly diverse. It's an ideal spot for bird-watching, and if you're lucky, you might even spot a Tasmanian Devil in its natural habitat.
Adrenaline Pumping Activities – More Than Just a Walk in the Park
The Cataract Gorge is not just for nature enthusiasts. Adventure lovers can enjoy rock climbing and abseiling on the gorge's cliffs. During the summer, the First Basin on the southern side becomes a popular swimming spot, complete with a pool and a sandy beach area.
Local Amenities – Comfort in the Wilderness
Another aspect that sets Cataract Gorge apart is its top-notch amenities. There's a café that offers a range of delicious local foods, a visitor's center with informative displays, and public BBQ areas for those who prefer a self-catered outdoor meal.
When to Visit – A Year-Round Attraction
Cataract Gorge is a year-round destination. Spring showers the area with vibrant wildflowers, summer offers the perfect conditions for swimming, autumn blankets the area in a rich tapestry of colors, and winter, although colder, provides its own form of serene beauty.
An Unmissable Experience in Launceston
Cataract Gorge Reserve isn't just a quick tourist stop; it's an integral part of the Launceston experience. Whether you're an adventurer, a nature lover, or simply someone looking to relax in a magnificent setting, Cataract Gorge has something for everyone.
So, when are you planning your adventure to this iconic Tasmanian spot? The natural beauty and plethora of activities at Cataract Gorge await you! 🌳📸