An In-Depth Look at Golden Syrup Dumplings
Sometimes, the best things in life are the simplest. Golden Syrup Dumplings are the epitome of this, transforming basic pantry items into a luxurious dessert that's truly unforgettable.
The humble ingredients—flour, butter, eggs, and milk—somehow morph into cloud-like dumplings that are the stars of this show. The sauce is where the alchemy happens: golden syrup and brown sugar melt together, creating a caramel-like liquid gold that's rich and addictive. But wait, there's more—runny cream on top takes it over the edge. Yes, it's indulgence in a bowl!
One crucial tip: Don't overwork the dough. Keeping a light touch ensures your dumplings will be fluffy, not heavy. It's also vital to cook them in a tight seal, as this helps to steam the dumplings, making them rise beautifully while absorbing that incredible sauce.
So the next time you're stumped on what dessert to make, look no further. Golden Syrup Dumplings are easy to make, soul-soothing, and the perfect closer for any meal.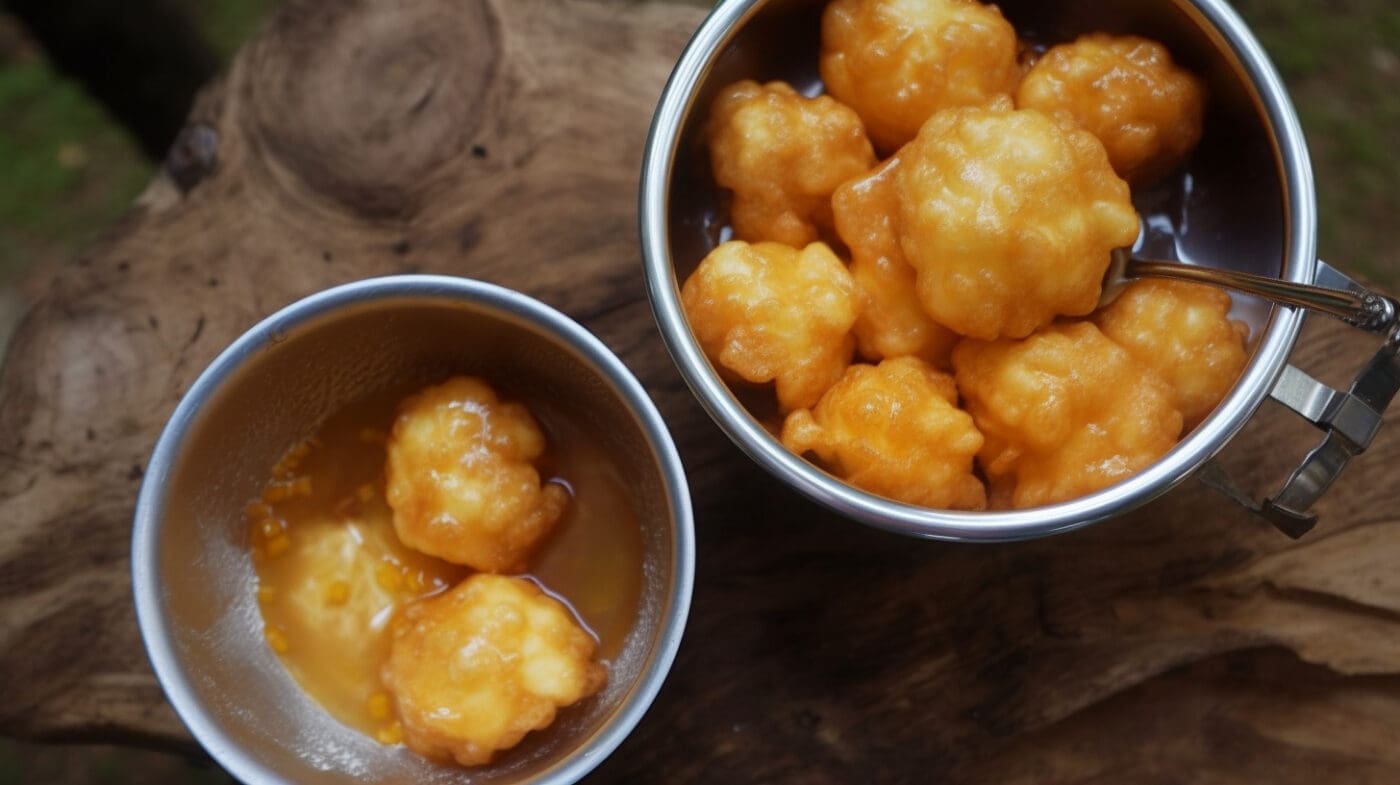 Golden Syrup Dumplings
Sink your spoon into these heavenly Golden Syrup Dumplings and you'll know what pure bliss tastes like. These fluffy delights swimming in gooey sauce are what dessert dreams are made of. Trust me, your taste buds are about to be seduced by this simple yet sensational treat. It's like the dessert equivalent of a warm, comforting hug, but way sweeter!
Ingredients
1

cup

self-raising flour

Salt to taste

20

g

unsalted butter

1

egg

50

ml

milk
Sauce:
1/2

cup

golden syrup

3/4

cup

firmly packed brown sugar

30

g

unsalted butter

1 2/3

cup

water
Instructions
Prep the Flour: Sift self-raising flour into a bowl and add a pinch of salt.

Make the Dough: Rub butter into the flour until breadcrumb-like. Add whisked egg and combine.

Add Milk: Gently mix in milk until it looks like scone dough. Don't overmix.

Cook the Sauce: Combine sauce ingredients in a large fry pan, bring to a boil, then simmer.

Form Dumplings: Flour your hands and shape dough into balls the size of a 20c piece. Place on a tray with baking paper.

Cook Dumplings: Drop the balls into the syrup in the fry pan. Cover tightly with foil and lid. Cook 10 mins, flip, cook another 10 mins.

Serve: Remove with a slotted spoon and pour remaining sauce over. Serve with runny cream.
---
Top 5 Questions People Might Ask About This Recipe:
Can I Use Regular Flour?

You'd need to add a raising agent like baking powder. But self-raising flour is your best bet for fluffiness.

Can I Substitute the Golden Syrup?

You could use maple syrup or molasses, but the flavor won't be quite the same.

How Long Do They Keep?

Best enjoyed fresh, but you can refrigerate leftovers for up to 2 days. Reheat before serving.

Can I Make These Ahead of Time?

The sauce can be made in advance, but the dumplings are best made and cooked just before serving.

Any Tips on Serving?

Serving with a scoop of vanilla ice cream instead of cream is another delectable option.
Ready to delve into this sweet, syrupy wonderland?