Baked Croissant French Toast – Breakfast Never Tasted This Good!
Wake up to the most epic breakfast ever—Baked Croissant French Toast! This recipe combines flaky croissants and gooey Nutella with a heavenly homemade custard. Imagine the crispy edges of baked croissants and the creamy sensation of Nutella and custard in every mouthful.
But that's not all, folks! We're topping this bad boy off with toasted coconut shreds and fresh fruits. Drizzle a little maple syrup and a dollop of cream, and you've got a breakfast that's straight-up drool-worthy. This is not just French toast; this is THE French toast of your dreams.
What happens when you take classic French toast and give it a mouth-watering makeover? You get this irresistible Baked Croissant French Toast! If you've been limiting your breakfast experience to cereal and oats, then you're missing out on the crunchy, gooey, and creamy joy that this recipe brings to the table.
Starting with the base—croissants. We're not using ordinary bread; oh no, we're talking flaky, buttery croissants that crisp up like a dream in the oven. Next up, the Nutella. This heavenly spread brings a layer of chocolatey richness, making each bite a delicious surprise. Let's not forget the custard, a velvety blend of eggs, milk, spices, and a touch of sugar. It's this custard that brings everything together, seeping into every layer and crevice of the croissants.
But we're not done yet! The custard-soaked croissants are layered over a bed of caramelized sugar and butter mixture. This creates a base layer that's comparable to a caramel delight. Once baked, the bottom layer becomes a luscious, gooey paradise that contrasts perfectly with the crispy top layer.
The final flourish comes from toasted coconut shreds and a smattering of fresh fruits. It's the proverbial cherry on top, adding an extra layer of texture and flavor. Then comes the optional but highly recommended drizzle of maple syrup and a dollop of cream. After a quick dusting of powdered sugar, this masterpiece is ready to be devoured!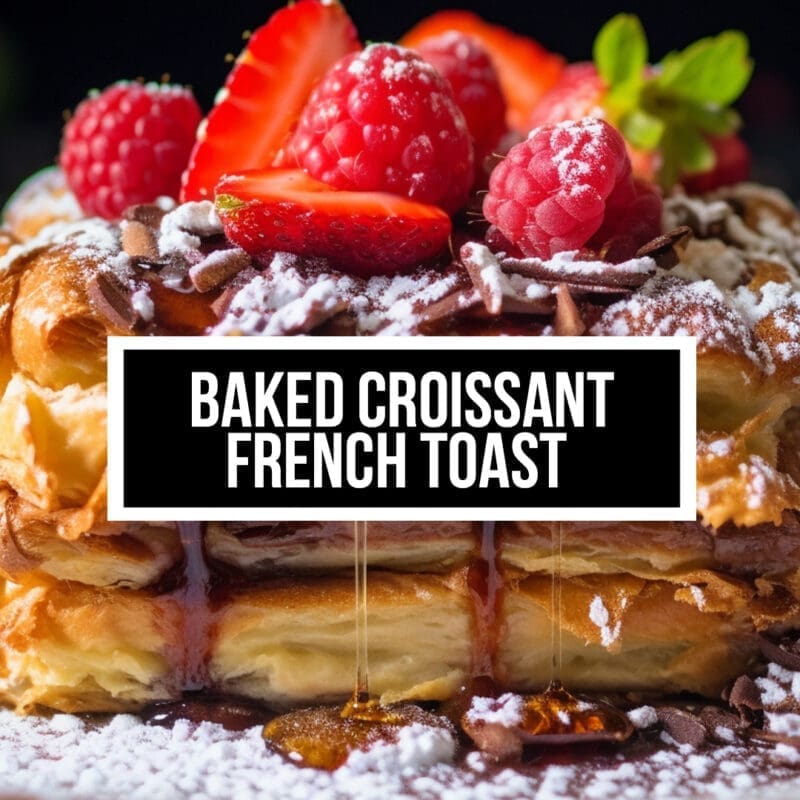 Baked Croissant French Toast
Ingredients
5

eggs

1

tsp

salt

2

tsp

cinnamon

1/4

cup

brown sugar

A pinch of nutmeg

1

Tbsp

vanilla extract

2

cups

whole milk

1/2

cup

butter

1

cup

brown sugar

1

cup

Nutella

8-10

croissants

Powdered sugar

Toasted coconut

Fresh fruit

Maple syrup
Instructions
Mix eggs, salt, cinnamon, 1/4 cup brown sugar, nutmeg, and vanilla in a bowl.

Whisk in the milk.

Melt butter in a saucepan.

Stir in 1 cup brown sugar until it shimmers.

Spread the butter-sugar mix at the bottom of a greased baking dish.

Halve croissants and layer with Nutella.

Place them in the dish.

Pour the egg-milk mix over the croissants.

Cover and let it sit for 20-25 minutes.

Bake at 350F with foil on for 30 minutes.

Remove foil and bake another 15 minutes.

Cool for 10 minutes.

Garnish with powdered sugar, toasted coconut, and fresh fruit.

Drizzle with maple syrup if you like.
Notes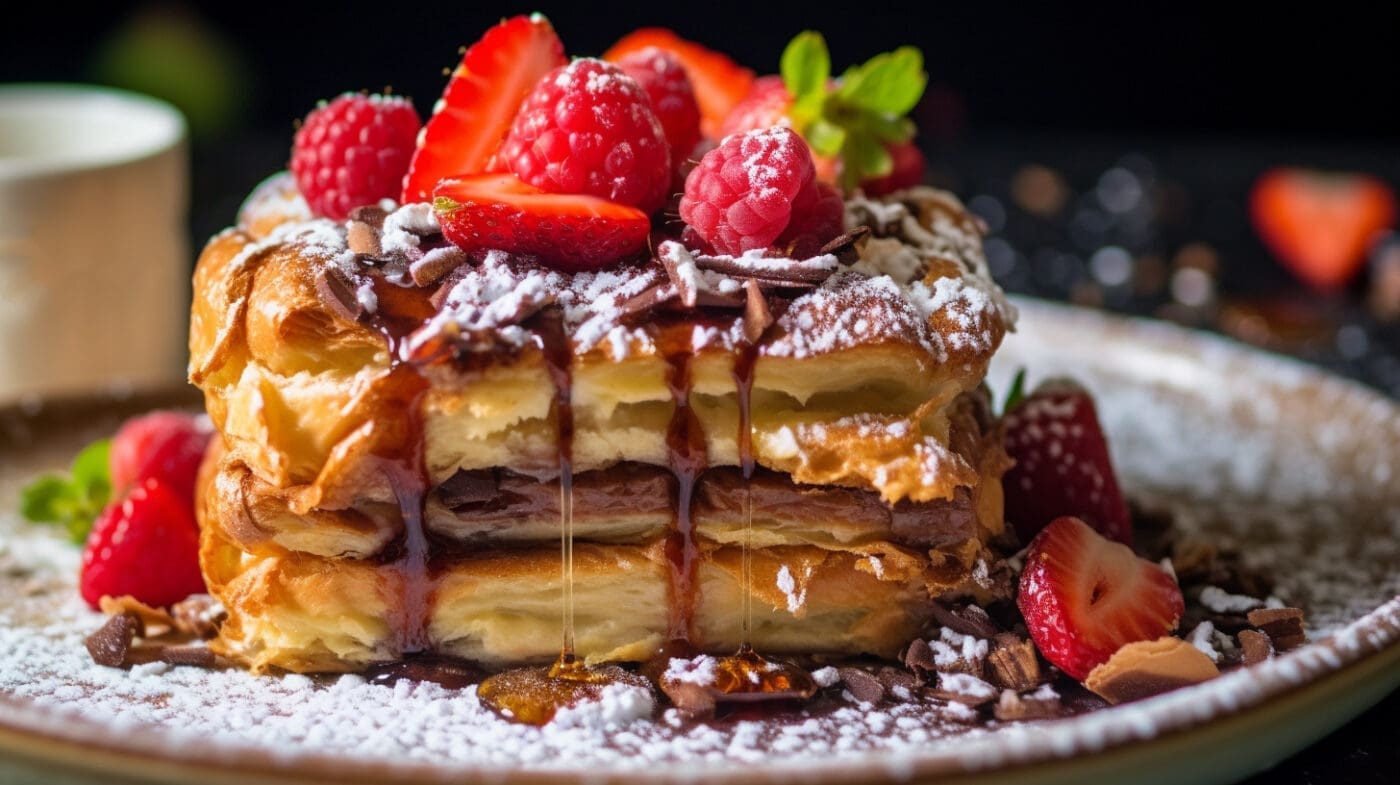 ---
Top 10 Most Common Questions
Can I use low-fat milk?
Sure, but the custard will be less creamy.

Is Nutella mandatory?
No, but it adds a special richness.

Can I use pre-toasted coconut?
Absolutely, it saves time.

Is it freezer-friendly?
Yes, but best consumed fresh.

Can I use stale croissants?
Stale croissants work great, as they soak up more custard.

How long can it stay in the fridge?
Up to 2 days, but reheat before serving.

Can I add other fruits?
Yes, berries or bananas would be delicious.

Is there a vegan alternative?
Use almond milk and vegan butter.

Can I use white sugar instead of brown?
You can, but brown sugar adds caramel notes.

Why do I need to let it sit before baking?
It allows the croissants to absorb the custard, making it more flavorful.
And there you have it!
This Baked Croissant French Toast is a game-changer.
Trust me, once you try it, there's no turning back. Enjoy!