Go Bananas! The Banana Bread Recipe That'll Have You Smiling from Ear to Ear
This banana bread is the ultimate comfort food but also a touch of sunshine in loaf form. The reason it's so special is its balance of flavors and textures. The melted butter gives it a richness, while the bananas add natural sweetness and moisture. This isn't your average banana bread; it's the kind that you'll keep coming back to, the recipe that'll earn you the title of "Best Banana Bread Maker" among your friends and family.
What sets this banana bread apart is its simplicity. Seriously, you don't need to be a whiz in the kitchen to make it. This is a great recipe for both seasoned bakers and newbies alike. Plus, you can get creative by adding chocolate chips, nuts, or a swirl of Nutella. No need for any extra fuss or fancy equipment.
Bonus Tips for the Best Banana Bread Ever
Test for Doneness: Stick a skewer into the center. If it comes out clean or with a few crumbs, you're golden.
Avoid Over-Browning: If the top gets too dark, just put some foil over it and keep baking.
Alternative Pan: No loaf pan? No problem. A 8-inch round or square cake tin works.
Storage: Keep it in an airtight container for up to 4 days at room temperature, or freeze it for up to 3 months.
Café-style Crunchy Top: Sprinkle a bit of raw sugar on top before baking for that extra crunch.
Go Nuts: Add walnuts or your fave nuts for an added crunch and flavor dimension.
Chocolate Love: Toss in some chocolate chips for a banana-chocolate paradise.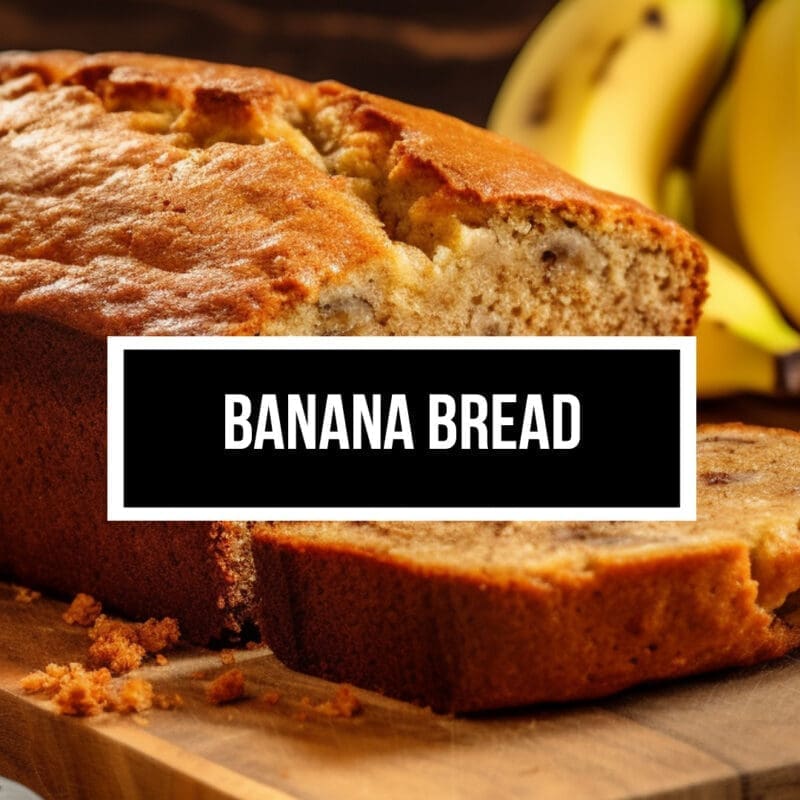 Banana Bread Recipe
Go Bananas Over This Unbeatable Banana Bread Recipe! 🍌
You've got ripe bananas staring at you and screaming, "Hey, don't let us go to waste!" Here's your game-changer, an ultra-moist, smile-inducing banana bread that'll make everyone want a slice. No special mixers or tools needed, just one bowl and a dash of love. You can even customize this classic with your favorite add-ins like chocolate chips or nuts. It's a slice of heaven in every bite!
Say goodbye to complicated recipes and hello to your new favorite way to use up those overripe bananas. This banana bread recipe is simple, delicious, and made for real life. Got a little extra time on your hands? Jazz it up with some optional add-ins or even turn it into muffins. It's banana bread that bends to your will, but is always 100% delicious.
<h2> Recipe of Banana Bread</h2>
Ingredients
2-3

ripe bananas

around 1 1/4 to 1 1/2 cups when mashed

1/3

cup

melted butter

salted or unsalted

1/2

teaspoon

baking soda

A pinch of salt

3/4

cup

sugar

adjust to your sweetness preference

1

beaten egg

1

teaspoon

vanilla extract

1 1/2

cups

all-purpose flour
Instructions
Preheat Oven: Set your oven to 350°F and grease an 8x4-inch loaf pan.

Mash Bananas: In a bowl, mash those ripe bananas until smooth.

Mix Wet Ingredients: Stir in melted butter.

Add the Good Stuff: Toss in baking soda, salt, sugar, the beaten egg, and vanilla extract.

Fold in Flour: Mix in the flour gently, just until it's combined.

Pour and Bake: Dump the batter into your prepared loaf pan. Bake for 55-65 minutes, or until a toothpick comes out clean.

Cool and Slice: Let it cool a bit before taking it out of the pan. Then slice and serve with a big grin.
Notes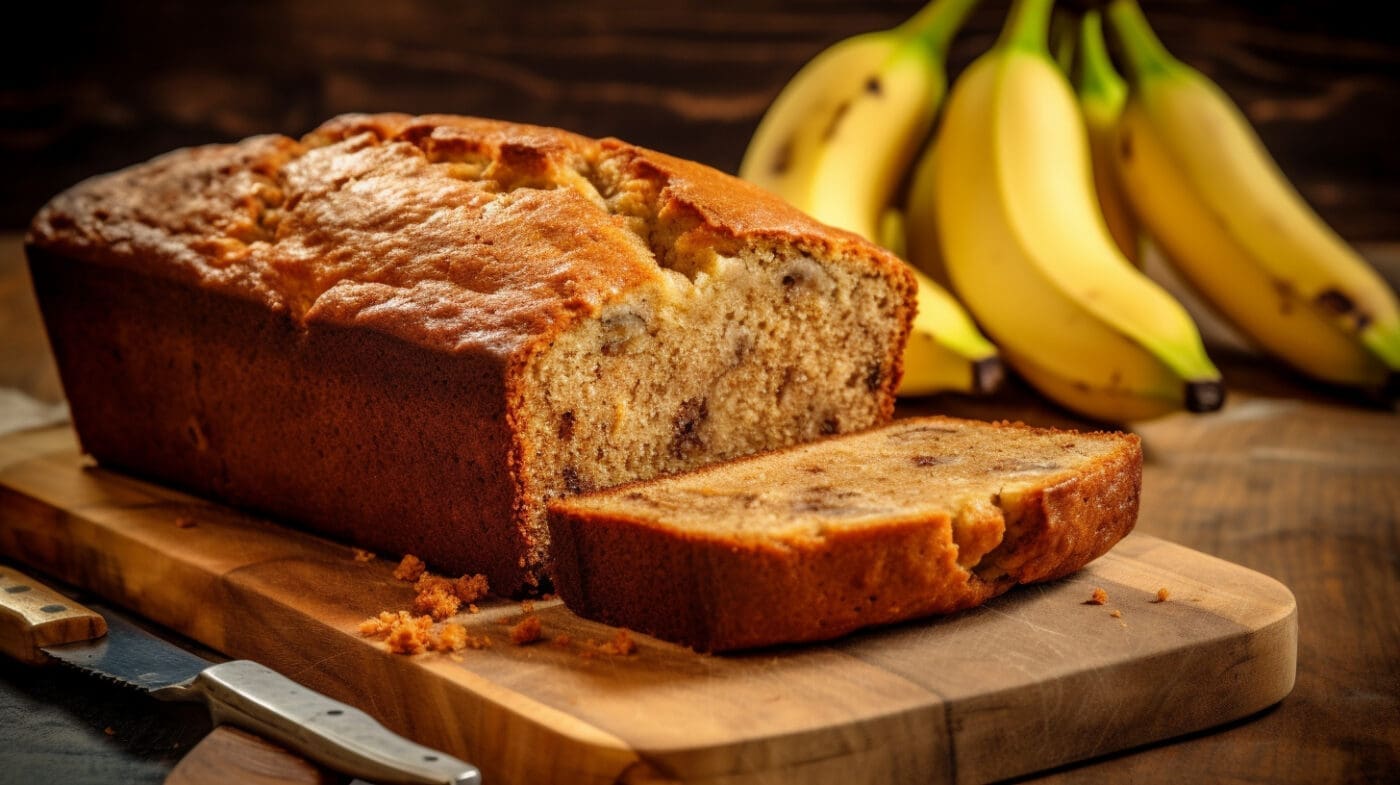 ---
Common Questions
Why is my banana bread dry?
It's likely overcooked or lacks enough moisture from ingredients like butter or ripe bananas.
Can I use unripe bananas?
You can, but ripe bananas give a sweeter, moister loaf. For unripe bananas, you may need to add a bit of extra sugar.
Can I freeze banana bread?
Yep, wrap it tightly in plastic wrap or aluminum foil, and you can freeze it for up to 3 months.
What can I add to banana bread for more flavor?
Popular add-ins include walnuts, chocolate chips, or even a swirl of Nutella.
Why did my banana bread not rise?
Old baking soda or baking powder can be the culprit, or you might have overmixed the batter.
Can I make banana bread without baking soda?
You can use baking powder as a substitute, but the texture will be a bit different.
How long should I let the banana bread cool before cutting?
Waiting about 20-30 minutes allows the loaf to set and makes for cleaner slices.
Can I make banana bread vegan?
Absolutely. Use egg substitutes like flaxseed meal and water, and switch out the butter for coconut oil.
What's the best sugar to use?
Most recipes call for white sugar, but you can experiment with brown sugar or even coconut sugar for a different flavor profile.
Can I make banana bread gluten-free?
You can substitute the all-purpose flour with a gluten-free flour blend, but make sure to check if you need to adjust the baking time.