Sunny Peach Cobbler – A Simple and Irresistible Summer Dessert
Ready to dive deep into this Sunny Peach Cobbler? This is not just a recipe; it's a celebration of summer. Imagine being able to hold the essence of a sunny day in a baking dish. That's what we've got here—a culinary sunbeam, if you will.
You start by selecting the ripest, juiciest yellow peaches. Yellow peaches are your go-to because they hold their flavor well when baked, unlike the more delicate white peaches. Give them a quick bath in boiling water, and their skins will slide right off, making for a smoother eating experience. But hey, if you're all about that texture, feel free to leave the skins on.
The filling is where the magic starts. You let the peaches get cozy with sugar, tapioca, a splash of lemon, and a hint of vanilla. The tapioca acts like a little wizard, thickening the fruit juices into a syrupy heaven. This filling doesn't just lay at the bottom of the dish; it infuses its summery magic throughout the cobbler.
Now, the topping! Oh boy, this is where the dish gets its rustic, homey feel. A blend of flour, sugar, and a pinch of nutmeg gets cut with butter to form little nuggets of joy. You can't forget the heavy cream—it brings the topping together and adds a bit of rich decadence. As it bakes, the topping turns into golden crumbles, adding a delightful crunch against the soft, juicy peaches.
So, as the cobbler bakes, your kitchen fills with the aroma of summer. And when you finally take that first bite? It's like a sunny day in your mouth—a day that includes peaches falling from trees, a slight breeze, and the undeniable joy of summer. Trust us, once you taste this Sunny Peach Cobbler, you'll want to make it a summer tradition. Enjoy!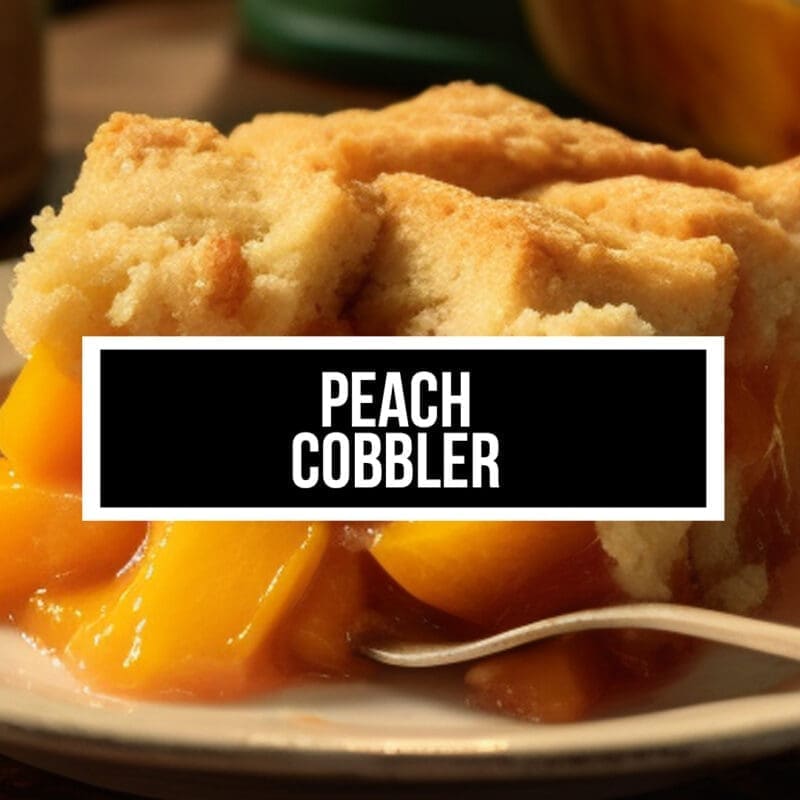 The Ultimate Peach Cobbler Recipe - Your Go-To Summer Dessert
Imagine biting into a spoonful of pure summer. Juicy peaches mingling with a delicate crumble that's just the right amount of crispy and soft. Ah yes, that's our Ultimate Peach Cobbler, a dessert that'll make you the legend of every potluck or family gathering.
"The best part? It's incredibly easy to whip up. Whether you're a baking newbie or a culinary maestro, this peach cobbler has a knack for making everyone look good. Get your apron on and let's rock this dish!
Ingredients
For the Peach Filling:
12

ripe yellow peaches

peeled and sliced

1

cup

sugar

1/2

cup

instant tapioca

give it a quick blitz in the food processor

Zest of 1 lemon

1.5

tablespoons

lemon juice

2

teaspoons

vanilla extract
For the Cobbler Topping:
2

cups

plain flour

1

and 1/4 teaspoons baking powder

1/2

teaspoon

nutmeg

3/4

cup

butter

cut into small pieces

2/3

cup

heavy cream
Instructions
Make the Filling:
In a big bowl, mix peaches, sugar, tapioca, lemon juice, lemon zest, and vanilla. Let it sit for 30 minutes, stirring now and then.
Prep and Topping:
Heat the oven to 350°F (175°C).

In another bowl, mix flour, sugar, baking powder, and nutmeg.

Add butter and work it into the flour until it looks like coarse breadcrumbs.

Stir in the cream until just combined.
Assemble and Bake:
Grease a 3-quart baking dish. Spread the peach mix at the bottom.

Crumble the topping over the peaches.

Bake for 50-60 minutes, until the topping is golden and the peaches are bubbly.
Serve:
Let it cool for 10 minutes. Enjoy with vanilla ice cream or whipped cream!
Notes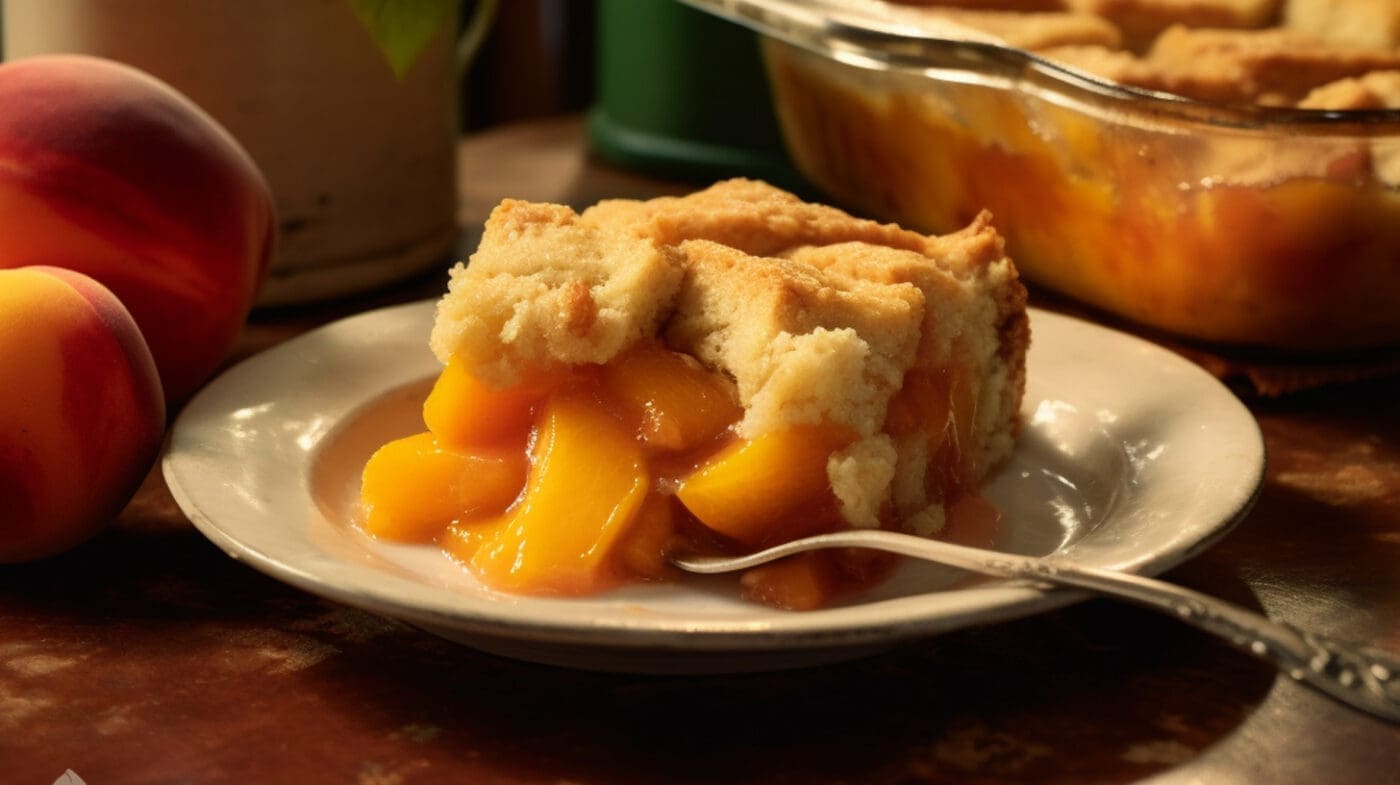 ---
Common Questions
Can I use canned peaches?
Sure, just drain them well. Fresh is best, but canned can do in a pinch.

How do I peel peaches easily?
Boil them briefly, and the skin will peel right off.

Can I use white peaches?
Stick to yellow peaches; they hold up better when baked.

How do I adjust sugar levels?
Taste your peaches; if they're too tart, add a bit more sugar.

Biscuit or crumble topping?
Your choice. Pat the dough for biscuit-like, crumble it for a crumbly texture.

What to serve with it?
Vanilla ice cream or whipped cream is perfect.

Can I make it in advance?
Prep the components, but assemble and bake on the day.

Does it freeze well?
Freezing is doable, but the topping may turn a bit soft.

How to store leftovers?
Keep it in the fridge for up to 5 days.

Can I use other fruits?
Absolutely. Blueberries and nectarines also work well.
More Recipes:
More Cocktail Recipes: