Why Buy When You Can Bake? The Ultimate Hot Cross Buns Recipe
When Easter rolls around, it's hard to resist the allure of Hot Cross Buns. But let's level up this year. Instead of snagging a bag from the supermarket, how about making them from scratch? Trust me; the homemade version is a game-changer. Not only do you get that fresh-from-the-oven warmth, but you're also in control of the ingredients, texture, and yes, the amount of currants.
The dough is the heart of the operation here. You blend your usual suspects—flour, yeast, sugar—and then add your own spin with mixed spice and currants. Let's be honest; the mixed spice is what sets Hot Cross Buns apart from your run-of-the-mill bread rolls. A bit of kneading goes a long way in ensuring you get that perfect crumb texture. And don't skip the rise time; patience is key if you're going for that bakery-level fluffiness.
Now, about that glaze. Apricot jam gives you that golden sheen and a touch of fruitiness that makes these buns irresistible. It's the final flourish that elevates your Hot Cross Buns from great to sensational.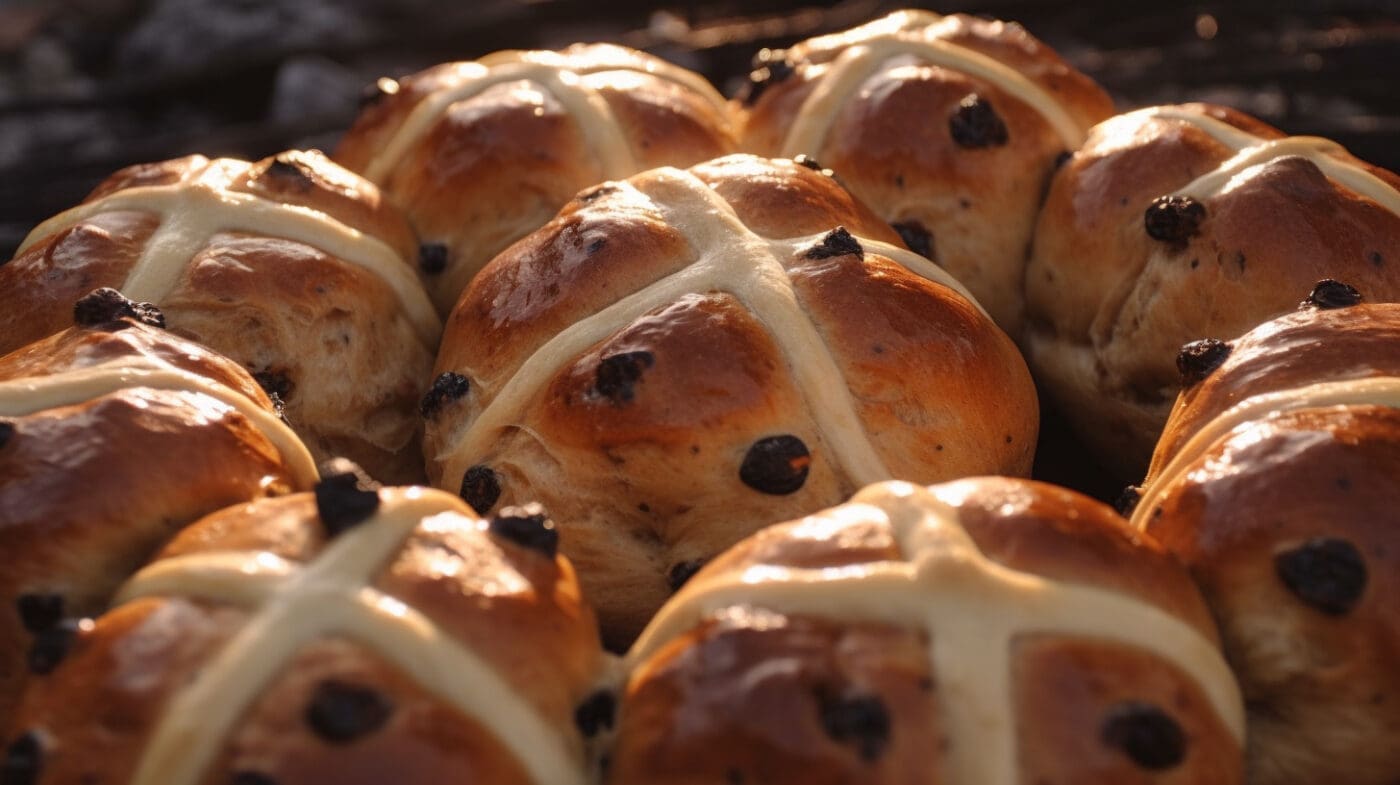 Hot Cross Buns Recipe
If you're the type to eye those store-bought Hot Cross Buns every Easter, but always wondered how to make your own, this recipe's got your name on it. With just a bit of kneading and patience, you'll turn out a dozen warm, aromatic Hot Cross Buns that beat anything from a plastic bag. We're talking a soft, fluffy inside packed with currants and that unmistakable glaze that turns every bite into a mini-celebration. Ready to roll up those sleeves?
Ingredients
Dough:
4 1/2

cups

plain flour

2

7g

dried yeast

1/4

cup

caster sugar

1 1/2

tsp

mixed spice

Pinch

salt

1 1/2

cup

currants

40

g

butter

300

ml

milk

2

eggs

lightly beaten

4

tbsp

water
Glaze:
1/3

cup

water

4

tbsp

apricot jam
Instructions
Dough Prep: In a spacious bowl, whisk together 4 cups flour, yeast, sugar, mixed spice, salt, and currants.

Warm It Up: Over medium heat, melt butter in a saucepan. Stir in milk and heat till it's just warm. Pour this milky mix and the beaten eggs into your flour blend.

Mix & Knead: Using a knife, roughly combine the ingredients. Then, dive in with your hands, kneading until you've got a soft, pliable dough.

Let It Rise: Shift that dough into an oiled bowl, cover with plastic wrap, and leave in a warm spot. Wait till it's doubled in size - should take about 1 to 1.5 hours.

Shaping: Once risen, deflate the dough gently. Transfer to a floured surface, knead briefly, and then divide into 12 equal portions. Shape these into balls.

Second Rise: Arrange your dough balls on a lined baking tray, ensuring they're snug, about 1cm apart. Drape with oiled cling wrap. Let them rise again till they've doubled - roughly 30 minutes.

Oven Time: Fire up your oven to 170°C (fan-forced).

Crosses on Top: Combine ½ cup flour with 4 tbsp water to get a thick paste. Transfer to a piping bag (or makeshift one using a zip-lock bag), snip the corner, and pipe crosses on each bun.

Bake It: Pop the tray in the oven. In about 20-25 minutes, your buns should be golden and done.

Glazing: As your buns bake, prep the glaze. In a saucepan, dissolve jam in water and bring to a boil for a few minutes. Once your buns are out and still warm, brush them generously with this glaze.

Serve & Relish: Whether you like them piping hot or at a comfy room temperature, dive in and enjoy!
---
Top 5 Questions People Might Ask About This Recipe:
Can I Use Fresh Yeast Instead of Dried?

Sure, you can. Just remember that you'll need to double the amount if you're using fresh yeast.

What Can I Substitute for Mixed Spice?

You can use a blend of cinnamon, nutmeg, and allspice if you can't find mixed spice.

Can I Freeze the Buns?

Absolutely, just make sure to freeze them without the glaze and refresh in the oven before serving.

What Other Fruits Can Be Used Instead of Currants?

Raisins, sultanas, or even chopped dried apricots work well.

Why Is My Dough Not Rising?

It could be expired yeast, or your environment might be too cold. Ensure your yeast is fresh and your rising spot is warm.
Ready to tackle this Hot Cross Buns recipe and show Easter who's boss?