Ice Cream, Cake, and Fire
The Ultimate Bombe Alaska Recipe You Must Try!
When it comes to desserts that wow, few can hold a candle to Bombe Alaska. This triple-threat dessert has it all: a tender sponge base, luscious ice cream, and a cloud-like meringue toasted to caramelized perfection. But don't let its sophisticated look intimidate you; creating this masterpiece is easier than you might think.
Starting with the sponge, the key is to fold your ingredients gently but thoroughly. This ensures a light yet firm foundation that complements the rich vanilla ice cream. The meringue, meanwhile, needs to be glossy and stiff, providing a textural contrast and an added layer of sweetness. The assembly is where the magic happens, as you sculpt your components into a unified whole.
And then there's the final step: the toasting. This not only creates a pleasingly crispy outer layer but also produces an eye-catching burnished look that's bound to steal the show.
So, whether you're looking to impress guests, celebrate a special occasion, or simply indulge yourself, Bombe Alaska is the way to go.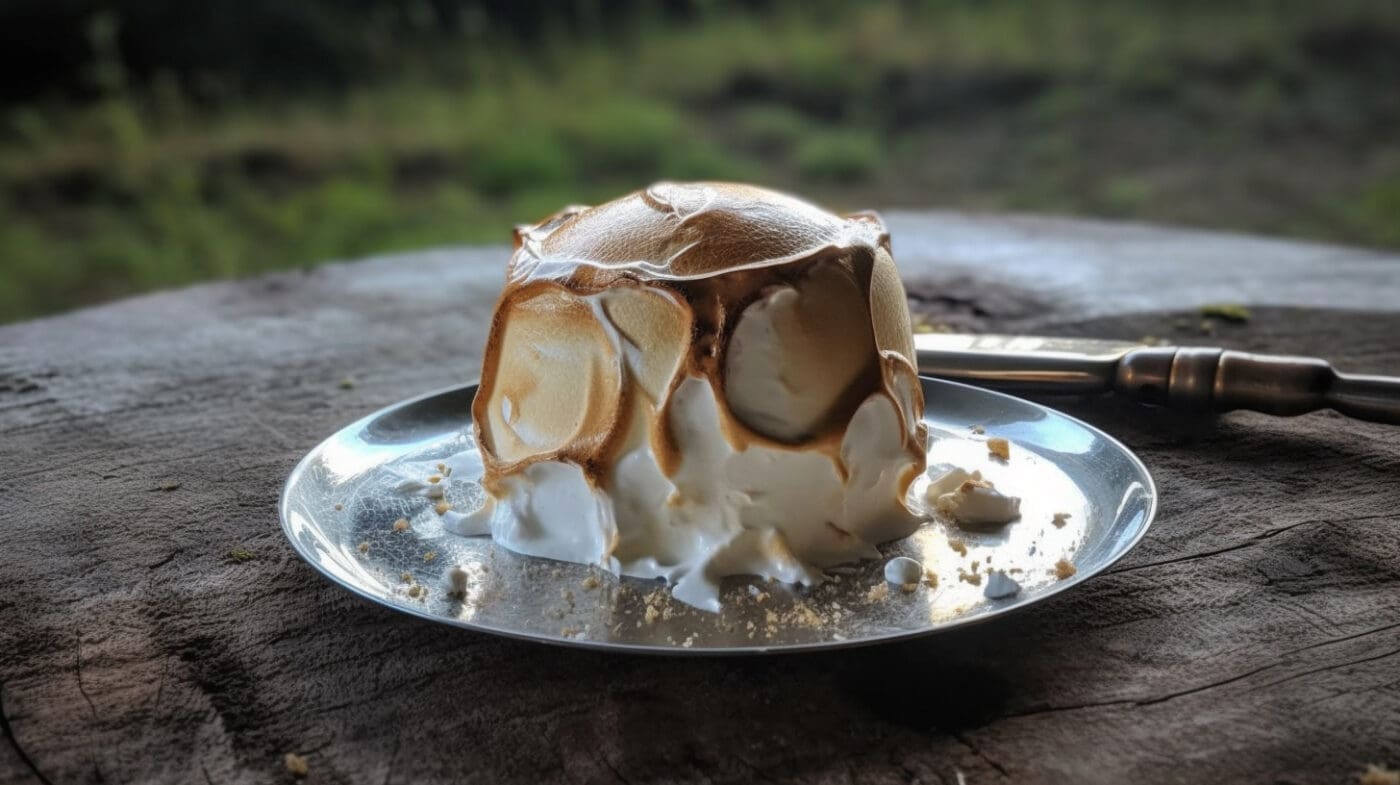 Bombe Alaska Recipe
Get ready for a culinary firework with Bombe Alaska! This stunner combines vanilla bean ice cream, sponge cake, and glossy meringue to bring you a dessert that's equal parts flavor and flair. Toasted to perfection with a blowtorch, each bite delivers creamy, cakey, crispy excellence. So, ready to be the star of your next dinner party?
Ingredients
Sponge:
3

eggs

90

g

caster sugar

1

tbsp

cornflour

sifted

1/2

cup

plain flour

sifted

40

g

unsalted butter

melted
Meringue:
2

egg whites

2/3

cup

caster sugar
Instructions
Sponge: Preheat oven to 180C. Grease and line a 20cm springform cake tin.

In a stainless steel bowl, beat eggs and sugar over simmering water until thick. Add cornflour and half the flour. Fold in using a metal spoon. Add melted butter and remaining flour. Combine well.

Pour batter into the tin. Bake for 25-30 mins or until a skewer comes out clean. Cool for 4 mins, then move to a cooling rack.

Meringue: Beat egg whites until soft peaks form. Add sugar gradually, continuing to beat until thick and glossy.

Assembly: Cut a 9cm disc from the sponge. Trim to 1cm height. Let ice cream soften slightly, then place on the sponge. Cover with meringue and toast with a blowtorch.

Freeze until serving.
---
Top 5 Questions People Might Ask About This Recipe:
Can I Use Store-Bought Sponge Cake?

Yes, you can, but homemade offers better flavor and texture control.

Can I Substitute the Vanilla Ice Cream?

Absolutely, feel free to use any rich, flavorful ice cream of your choice.

How Do I Store Leftovers?

It's best to consume immediately, but you can freeze leftovers for up to 48 hours.

What If I Don't Have a Blowtorch?

You can briefly broil the meringue in the oven, but keep a close eye on it to avoid burning.

Can I Prepare It in Advance?

You can pre-make the sponge and meringue. However, assemble and toast just before serving for the best experience.
So, ready to give this showstopper a try?