A New Take on Anzac Biscuits
Anzac Biscuits are the kind of classic that never go out of style, but we've given them a subtle twist. What sets this recipe apart is the use of lemon zest and Verjuice, adding a unique layer of flavor. The lemon zest cuts through the sweetness with a citrusy note, while Verjuice balances the richness.
The process itself is straightforward. One of the key tips for success here is to simmer the butter, golden syrup, and Verjuice before adding the bicarbonate of soda. This ensures that everything melds together perfectly and contributes to a smoother texture in the final product.
These biscuits are versatile. Enjoy them with your morning coffee, as an afternoon treat, or even crumbled over some vanilla ice cream for an easy dessert.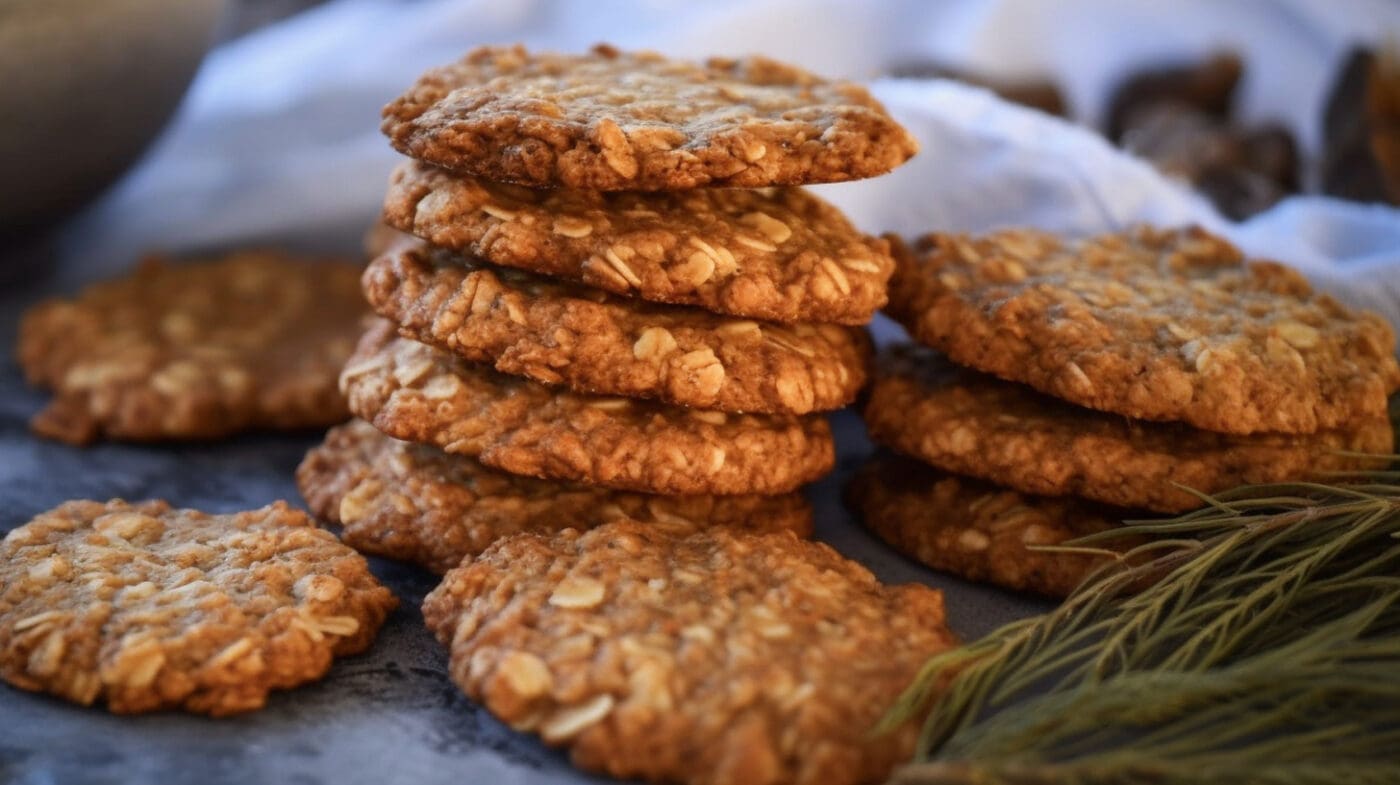 Anzac Biscuits Recipe
It's cookie o'clock, and we've got a batch of Anzac Biscuits that are far from ordinary. From the zingy lemon zest to the luscious golden syrup, this isn't your grandma's recipe. We're blending tradition with innovation to create biscuits that you'll want to munch on all day long. Buttery, oaty, and oh-so-coconutty, with a hint of citrus to keep you on your toes. Ready to try the recipe that's making the classics jealous?
Ingredients
1

cup

plain flour

1

cup

rolled oats

1

cup

shredded coconut

3/4

cup

brown sugar

firmly packed

1

lemon

zested

125

g

butter

melted

2

tbsp

golden syrup

2

tbsp

Verjuice

1/2

tsp

bicarbonate of soda
Instructions
Preheat the Oven: Crank that oven up to 160°C.

Dry Mix: Combine flour, rolled oats, coconut, brown sugar, and lemon zest in a bowl.

Wet Mix: In a saucepan, melt butter with golden syrup and Verjuice. Bring to a simmer and add bicarb soda. Stir until dissolved.

Combine: Fold the wet mixture into the dry ingredients.

Shape: Roll the mix into even-sized balls, place on a lined tray, and flatten them slightly.

Bake: Into the oven they go for 18-20 minutes until golden brown.

Cool: Let them cool a bit before transferring to a wire rack.
---
Top 5 Questions People Might Ask About This Recipe:
What's Verjuice and Can I Replace It?

Verjuice is a juice made from unripe grapes. If you can't find it, apple cider vinegar or white wine vinegar can work as substitutes.

Why Lemon Zest?

The zest adds a refreshing twist, cutting through the sweetness and adding complexity to the flavor.

Can I Use Light Brown Sugar?

Yes, light brown sugar is a fine substitute but the flavor might be a little less rich.

How Long Will They Keep?

Stored in an airtight container, these biscuits can last up to two weeks.

Can I Freeze the Dough for Later Use?

Absolutely, the dough can be frozen for up to three months. Thaw at room temperature before baking.
So, ready to elevate your cookie game with this spruced-up classic?
Get in that kitchen and let's bake!