Picture this: You're waking up to the brilliance of an outback sunrise, the smoky aroma of campfire coffee tickling your nostrils, and waiting for you is a stack of warm, fluffy Banana Bread Pancakes. If that doesn't have you leaping out of your swag, then crikey, I don't know what will.
The Charm of Banana Bread Pancakes
Pancakes and banana bread, separately, they're already a treat, but together? That's a brekkie game-changer. I remember the first time I served up these scrumptious babies on a camping trip in the glorious Daintree Rainforest. The earthy scent of eucalyptus paired with the rich, homey smell of these pancakes sizzling on the pan was enough to coax even the laziest camper out of their tent.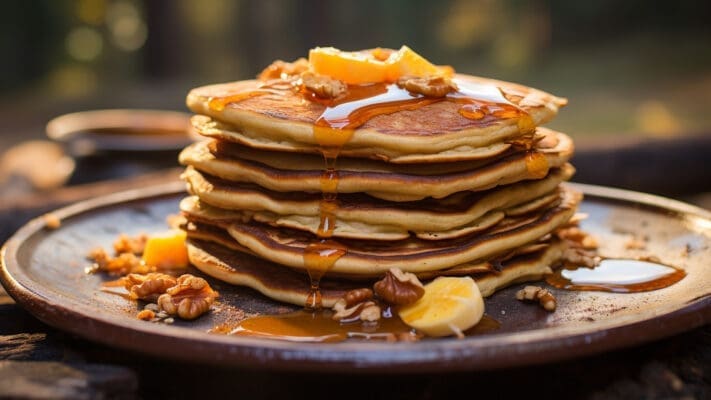 Prepping Your Banana Bread Pancake Batter at Home
Before you venture into the great outdoors, mix your dry ingredients – flour, brown sugar, cinnamon, baking powder, and salt. Bag it up, and voila, you've just made your camping life a whole lot easier. Plus, you've just saved yourself from the hassle of clean-up. We're here to enjoy nature, not scrub pans, am I right?
Making Your Banana Bread Pancakes at the Camp
When you're ready to whip up your brekkie, start with mashing two of your bananas in a bowl, then mix in your eggs and milk. Combine this with your dry mixture, but remember, a bit of lump here and there won't hurt. It adds character!
Next, heat your pan over medium-low heat, and slather on your butter or oil.
Pour in a good 1/3 cup of your batter, and scatter some walnuts on top. Watch for the bubbles to pop on top and the sides to firm up.
Flip it over and cook until it's golden and perfect, just like a sunny Queensland morning.
Repeat until your batter's all cooked up, and voila, you're now serving up a feast!
Serving Your Banana Bread Pancakes
Here's the best part, the eating! Stack your pancakes high and proud, then smother them with maple syrup or a generous pat of butter. Add some fresh banana slices, and a sprinkle of toasted walnuts. If you're feeling fancy, a dollop of Greek yoghurt won't hurt.
Enjoying Your Banana Bread Pancakes
Now, pause and take it all in. You're in the heart of nature, enjoying a scrumptious meal you made yourself. Take a moment to savour each bite, and let the sweetness of the pancake meld with the freshness of the morning air. Remember, it's not just about the food; it's about the experience. So, cheers to more adventurous brekkies!
In the end, mates, it doesn't matter if you're a seasoned chef or a novice in the kitchen. Cooking is all about creating joy and making memories. This Banana Bread Pancake Recipe is your ticket to unforgettable camping mornings.
So, have I convinced you to try these Banana Bread Pancakes yet?
If you do, I'd love to hear all about it. Did you add your own twist? What's your favourite topping?
Don't be shy, share it with the community!
Here's to more memorable meals and amazing adventures.
See you around the campfire!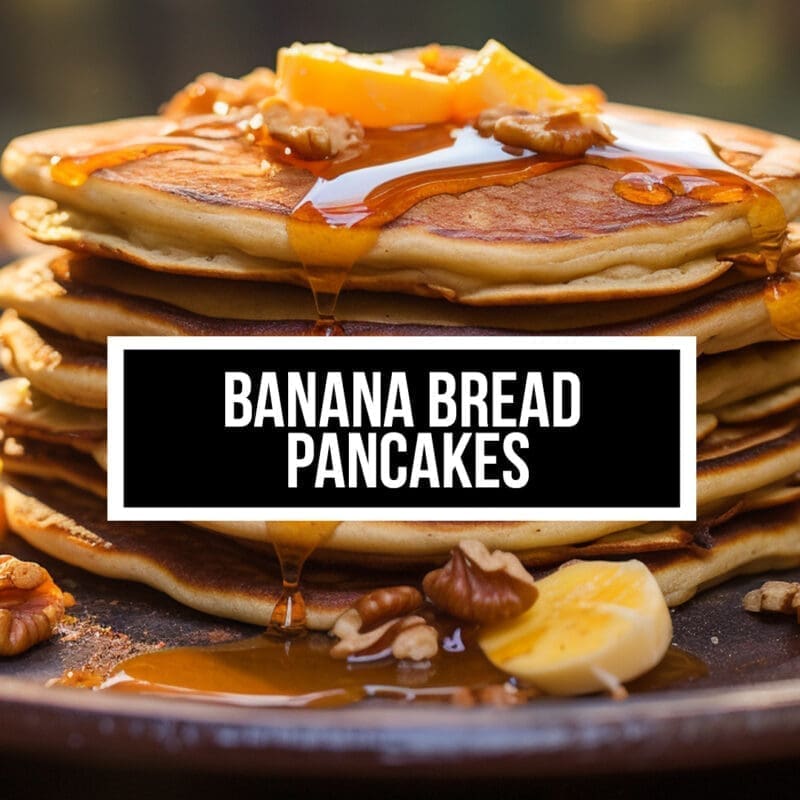 Banana Bread Pancakes
Imagine this: you're out in the vast Australian outback, your campfire is crackling, and you're about to transform your usual brekkie pancakes into something truly bonza. With just a couple of bananas, a handful of walnuts, and a good scoop of brown sugar, you'll be whipping up a batch of fabulously sweet banana bread pancakes! This camp cooking secret is an Aussie's dream come true, a perfect camp recipe that makes every morning in the bush a reason to say "G'day!" It's not just a meal, mate, it's an adventure on a plate!
Ingredients
3

bananas

(the riper the better)

2

Eggs

1½

cup

whole milk

2

cups

Flour

¼

cup

Brown sugar

2

teaspoons

Cinnamon

2

teaspoons

Baking Powder

1

teaspoon

Salt

1

cup

chopped walnuts

(toasted in a dry skillet if desired)

ghee

butter, or coconut oil for the pan
Instructions
At Home
Add the flour, brown sugar, cinnamon, baking powder, and salt to a sealable bag or container and pack along with the rest of the ingredients.
At Camp
Place two bananas in a medium bowl and mash thoroughly with the back of a fork until fairly smooth. Crack the egg into the mixture and add in the milk. Beat the banana, egg, and milk together until smooth.

Add the dry ingredients to the bowl and mix until well combined with the wet ingredients. Don't overmix - some small lumps are OK. If the batter seems too thick, you can add an additional ¼ cup milk.

Heat a nonstick pan or well-seasoned cast iron skillet on your stove over medium-low to medium heat. Add a generous dab of ghee, butter, or coconut oil (especially if using cast iron!) and swirl to coat the pan. Pour ⅓ cup of the pancake batter into the center of the skillet and scatter some of the chopped walnuts on top. Cook for a few minutes until the top begins to bubble and the sides are set (2-3 minutes). Using a spatula, flip the pancake and cook the other side until golden.

Repeat with the rest of the batter, adding more ghee or oil to the pan for each pancake as needed.

To serve, stack the pancakes and top with maple syrup or butter, sliced banana, and additional toasted walnuts. Enjoy!
Notes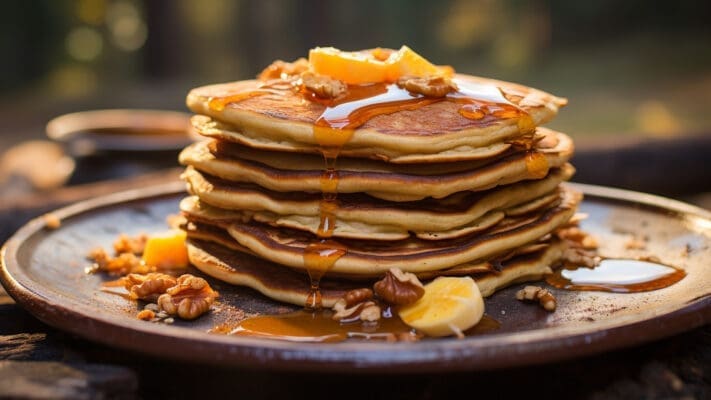 ---
More Recipes:
More Cocktail Recipes: