Zucchini Flowers with Ricotta and Lemon Zest
Zucchini Flowers with Ricotta and Lemon Zest are more than just a vegetarian delicacy; they're a statement dish that says you know your way around a kitchen. Not to mention, they're a great conversation starter. The delicate zucchini flowers, often overlooked, serve as the canvas for the vibrant, rich ricotta and zesty lemon filling. The inclusion of chili flakes and basil adds layers of flavor that balance the creamy richness of the ricotta and pecorino.
But let's talk about that batter. The unique combo of plain flour and brown rice flour achieves a crunch that's hard to resist, while the bicarbonate of soda and iced soda water bring in the lightness.
Frying them up is a breeze. Just remember, the goal is a golden-brown exterior that ensures a crispy crunch with each bite. And when you bite through that crunch, the burst of flavors from the filling meets the palate, offering a harmonious blend of creaminess, zest, and heat.
These fried zucchini flowers are the kind of dish that gets everyone talking and makes you the hero of any gathering.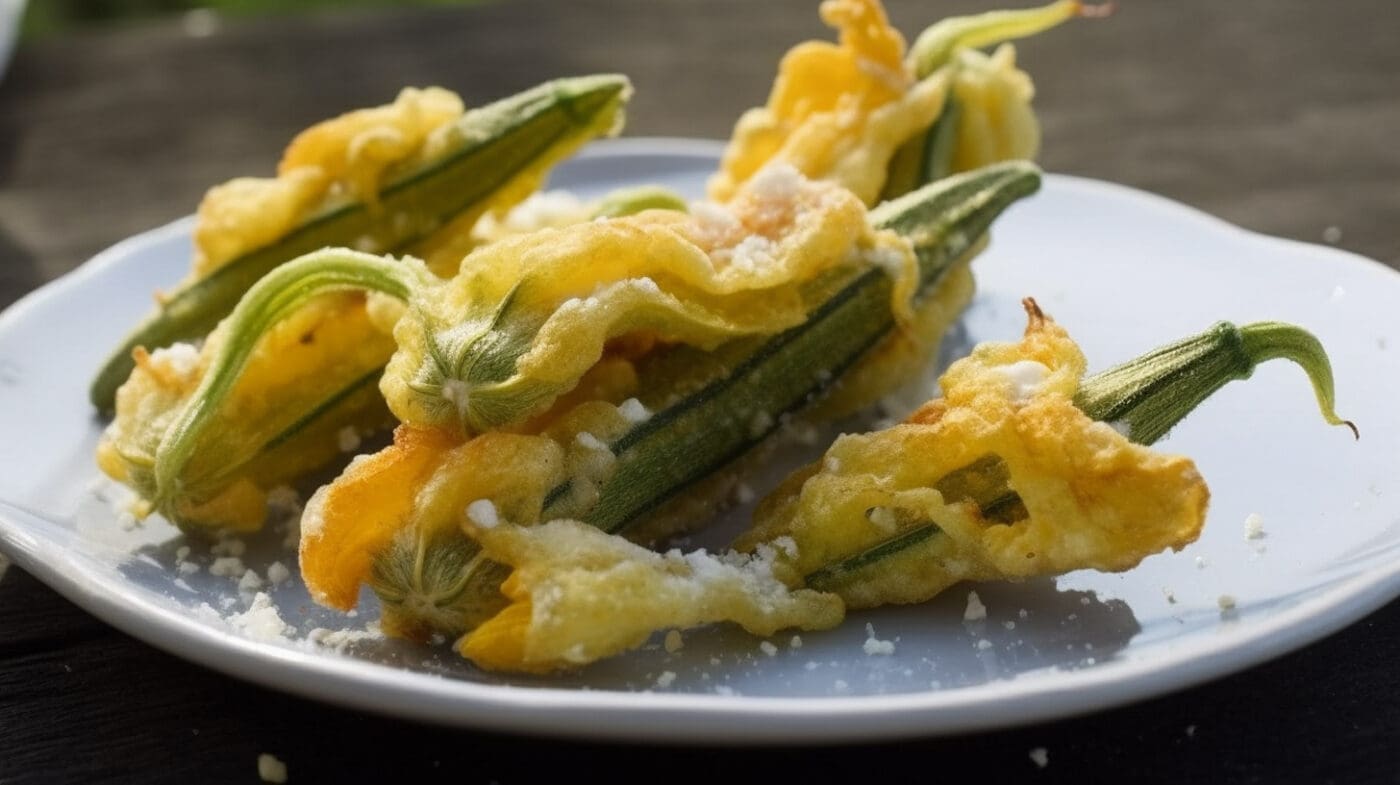 Zucchini Flowers with Ricotta and Lemon Zest Recipe
Step aside, regular appetizers, Zucchini Flowers with Ricotta and Lemon Zest are here to steal the show! These edible beauties bring a blend of creamy, tangy, and a kick of heat right to your table. They're fried to crispy perfection, making them irresistible from the first bite to the last. So, ready to go from run-of-the-mill to culinary rockstar at your next gathering?
Ingredients
Filling:
200

g

ricotta

1

tbsp

lemon zest

1/8

tsp

chili flakes

2

tbsp

chopped basil

50

g

pecorino

Salt and pepper to taste

5

zucchini flowers
Batter:
1

cup

plain flour

1/2

cup

brown rice flour

1

tsp

bicarbonate of soda

3/4

cup

soda water

iced

1

egg
Instructions
In a bowl, mix ricotta, lemon zest, chili flakes, basil, pecorino, salt, and pepper.

Fill each zucchini flower and twist gently to close.

In another bowl, mix plain flour, brown rice flour, bicarb, iced soda water, and egg. Some lumps are okay.

Dust each zucchini flower in plain flour and then dip into the batter.

Fry in vegetable oil at 180C for 2-3 minutes until golden brown.

Drain on paper towels and sprinkle with sea salt.

Serve immediately.
---
Top 5 Questions People Might Ask About This Recipe:
Can I Use a Different Cheese?

Yes, you can substitute feta or goat cheese for ricotta, but it will change the flavor profile.

Can This Dish be Made Ahead?

It's best when freshly made, but you can prep the filling in advance and store it in the fridge.

What Other Herbs Can Be Used?

If basil's not your thing, try mint or parsley.

Any Substitutes for Brown Rice Flour?

You can use cornflour or whole wheat flour for a different texture.

Is There an Alternative to Frying?

You can try baking them at 200C for 15-20 minutes, but the texture will differ from frying.
Are you up for changing your appetizer game with this gourmet treat?