Beef Up Your Dinner Game with This Slow-Cooked Beef Cheek Ragù
Do you find yourself stuck in a dinner rut, whipping up the same dishes over and over? Allow me to introduce you to Slow-Cooked Beef Cheek Ragù. It's more than a dish; it's a statement. You'll be treating your palate to something special that not only satisfies hunger but also satiates the soul.
The beef cheeks, slow-cooked to perfection, become irresistibly tender and soak up all the flavorful goodness of a meticulously prepared sauce. With the earthy flavors of rosemary and oregano enveloping your senses, the sauce transcends basic tomato and wine components, culminating in a luxuriously rich blend. Don't even get me started on the parmesan topping; it's like the cherry on top of a fantastic meal. And, for the love of all things pasta, let's not forget the hot pappardelle—its broad, flat shape makes it the perfect carrier for our beefy hero.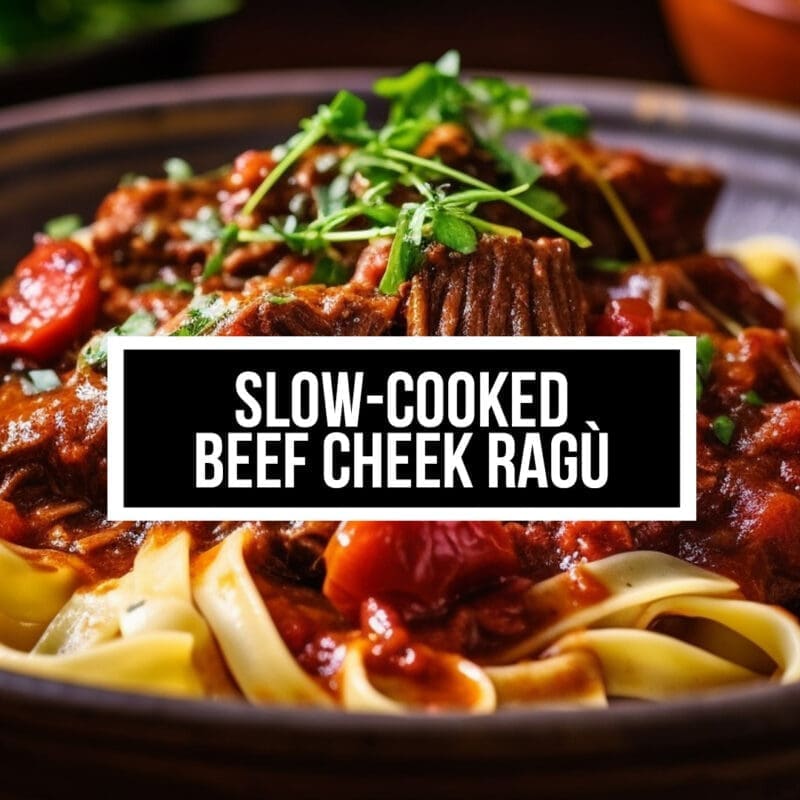 Slow-Cooked Beef Cheek Ragù Recipe
Craving comfort food that screams 'delicious and hearty'? Look no further. This Slow-Cooked Beef Cheek Ragù will send your taste buds to flavor heaven. Tender beef cheeks meld perfectly with a rich tomato-based sauce, and let's not forget those aromatic herbs.
It's not just food; it's an experience. Picture this: a plate of hot pappardelle generously covered in this luscious ragù and crowned with freshly grated parmesan. Yeah, we're talking gourmet meal in the comfort of your own home. Trust me; you won't regret diving into this dish.
Ingredients
2

tbsp

olive oil

2

kg

beef cheeks

cut into 4 cm pieces

80

g

pancetta or bacon

chopped

1

onion

finely chopped

2

celery sticks

finely chopped

6

garlic cloves

minced

1

tbsp

fresh rosemary

finely chopped

2

tbsp

fresh oregano

finely chopped

2

tbsp

tomato paste

2½

cups

red wine

1

cup

passata

2

tsp

sugar

Salt and pepper to taste
To Serve:
Hot cooked pappardelle

1

cup

grated parmesan

Fresh oregano leaves
Instructions
Preheat your oven to 160°C.

Heat olive oil in a big, ovenproof casserole dish.

Sear beef cheeks in batches. Set aside.

Toss pancetta or bacon into the dish; cook until it sizzles.

Lower heat; add onion, celery, garlic, rosemary, and oregano. Cook until onions are soft.

Mix in tomato paste, wine, passata, and sugar; bring it to a boil.

Add beef cheeks back in, cover the dish.

Pop it in the oven for 4 hours until the beef is super tender.

Take it out, shred the beef cheeks and stir them back into the sauce.

Serve it over pappardelle, top with parmesan and a sprinkle of fresh oregano.
Notes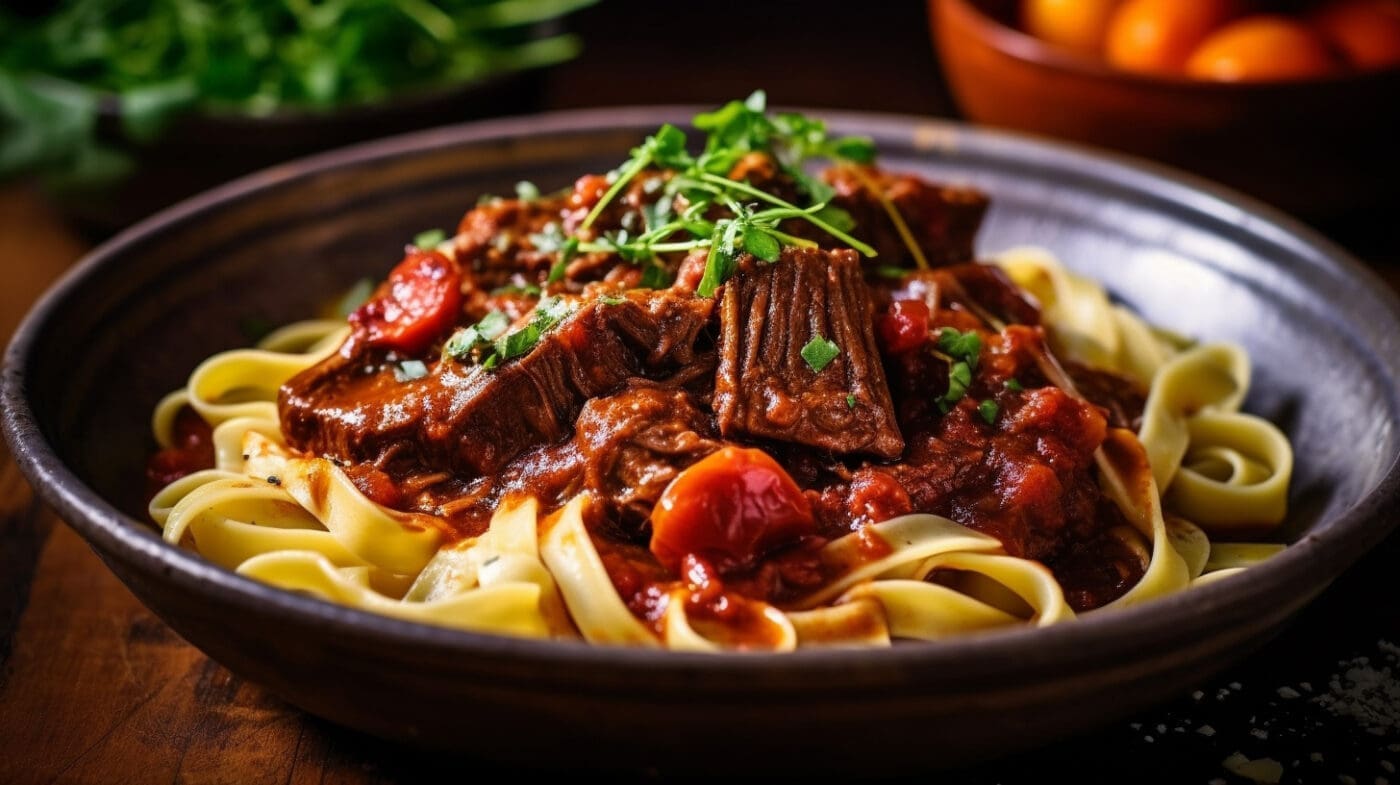 ---
Top 10 Most Common Questions
Can I use a different cut of beef?

Beef cheeks are the best for this recipe due to their tenderness, but chuck could work if you can't find cheeks.

What can I substitute for red wine?

Beef broth mixed with a little red wine vinegar will do the trick.

Is passata the same as tomato sauce?

Not exactly. Passata is uncooked tomato puree that's strained, while most tomato sauces have added ingredients and are cooked.

Can I make it in advance?

Yes, the flavors meld even more if you let it sit overnight.

How do I store leftovers?

Keep it in an airtight container in the fridge for up to 3 days.

Can this be frozen?

Absolutely, it freezes well for up to 3 months.

Is pancetta mandatory?

No, bacon works just fine as a substitute.

What if I don't have fresh herbs?

Dried herbs can be used; just reduce the quantity by half.

Can I use gluten-free pasta?

Of course, any pasta that suits your dietary needs will work.

What's the best way to shred the beef?

Two forks work great for shredding, or you could use your hands if the beef is cool enough to handle.