Level Up Your Scone Game with this Recipe
Scones. They're a humble pastry, often overshadowed by more glamorous bakery fare. But when done right, they can steal the show. Our scones are a departure from the mundane, introducing a jam that's a literal burst of flavors—raspberry for the tart sweetness and pomegranate for a unique twist.
Now, the real secret to making these scones unforgettable lies in how you incorporate the butter. The "quick and gentle" technique ensures that the butter remains cold, leading to a flakier end product. The milk serves as a tenderizer, making each bite melt in your mouth.
It's not just about the flavor though; it's also about the experience. The technique of rotating the cutter as you push down ensures the scones rise to their full potential, making them look as fantastic as they taste.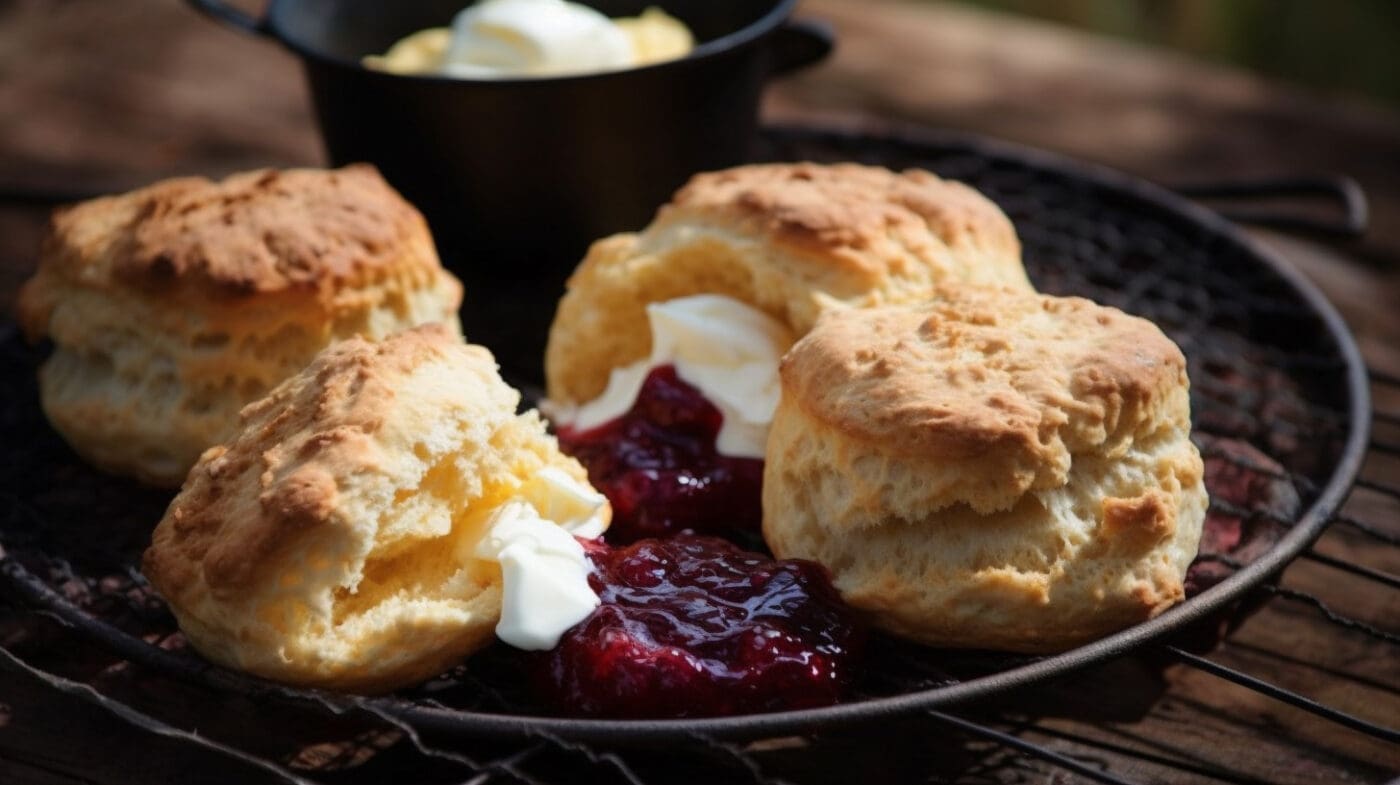 Scones with Raspberry & Pomegranate Jam!
Get ready to take your scone game to new heights. These aren't just any scones, they're THE scones—with a texture so light it's practically sinful and a flavor profile that's all sorts of awesome. Oh, and did we mention the Raspberry & Pomegranate Jam? This jam is not just an accompaniment; it's the show-stealer that turns each bite into a celebration. You're not just baking, you're creating an experience!
Ingredients
450

g

self-raising flour

1

pinch

salt

1

tbsp

baking powder

1

tbsp

caster sugar

100

g

unsalted butter

chilled

320

ml

milk

1

jar

Raspberry & Pomegranate Jam
Instructions
Preheat the Oven: Get it to 220C and set the racks.

Dry Ingredients: Sift flour, salt, baking powder, and caster sugar.

Butter Time: Dice and incorporate chilled butter until mixture is crumbly.

Mix: Add milk gradually, mixing until a soft dough forms.

Roll: Flatten dough to a 2.5-3cm thickness.

Cut: Use a 4cm round cutter, employing a twisting motion for optimal rise.

Second Round: Re-form and cut more scones if needed.

Prep: Place scones on a tray and brush tops with milk.

Bake: 20-25 minutes till golden. No peeking for the first 5 minutes!

Cool and Serve: 5 minutes on a wire rack, then into a towel-lined basket. Serve with the jam.
---
Top 5 Questions People Might Ask About This Recipe:
What's the Importance of Using Chilled Butter?

Cold butter creates pockets of steam as it melts, making the scones flakier.

Can I Substitute the Milk?

Yes, almond or soy milk can be used, but it may slightly alter the taste.

Why Rotate the Cutter?

The twisting motion creates better conditions for the scone to rise, giving you a fluffier texture.

How Long Can I Store the Scones?

These scones are best consumed fresh but can be stored in an airtight container for up to 2 days.

What's the Deal with the Jam?

The Raspberry & Pomegranate Jam is more than a spread; it elevates the whole dish by adding layers of flavor.
Now you've got all you need to make scones that are a cut above the rest. Ready to roll?