Unbeatable Mango Habanero Wings That'll Rock Your World!
Wings are a game-day staple, a BBQ must-have, and let's be honest, they're downright addicting. But sometimes, the usual hot sauce or BBQ dip just won't cut it. Enter Mango Habanero Wings—a divine combination of flavors that tick off all the boxes: sweet, spicy, smoky, and absolutely delicious.
Start by prepping your wings, coating them with olive oil and the aromatic Dad's All Purpose rub, which lends a balanced, mildly spicy undertone. The grill is where these babies get their character; 375 degrees, indirect heat, and patience is all it takes. A good flip midway ensures they cook evenly.
For the knockout punch, we have the homemade Mango Habanero sauce. Here, the tropical allure of ripe mangos marries the fiery zest of habanero peppers. Adding lime juice, honey, and apple cider vinegar rounds out the flavors, creating a sauce that's lip-smackingly good. What's more, you can adjust the heat level, making it as mild or as wild as you like.
This recipe takes ordinary wings and makes them extraordinary. It's the kind of dish that makes you the legend of every cookout and the hero of every game day.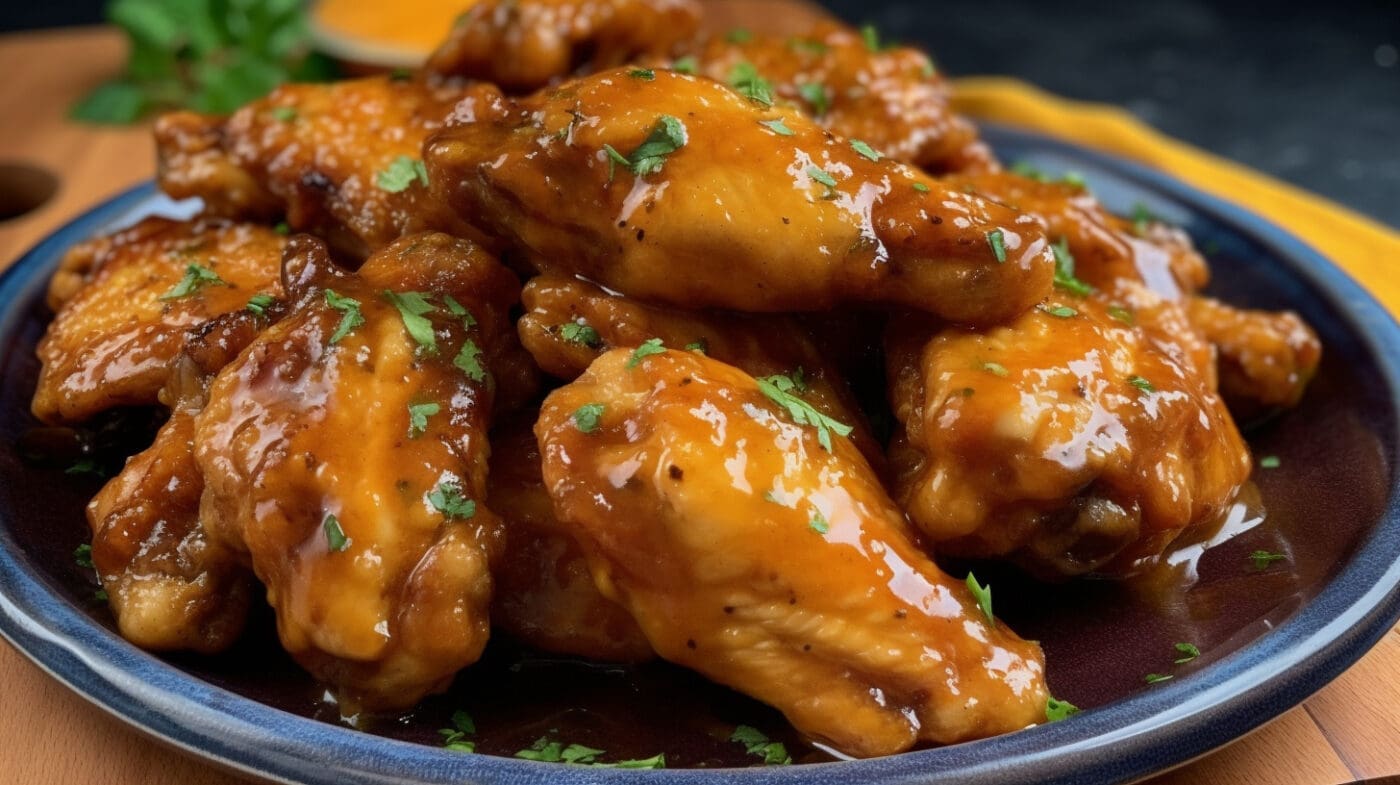 The Ultimate Mango Habanero Wings
Ready to elevate your wing game? Say hello to Mango Habanero Wings—where the grill's smoky charm meets a saucy mix of tropical sweetness and bold heat. Crispy on the outside, juicy on the inside, these wings pack a punch without knocking you out. If you love exploring unique flavors without losing that homestyle comfort, this is the one-way ticket to Wing Paradise.
Ingredients
For the Wings:
2

lbs

Detached chicken wings

3

tbsp

all purpose rub

2

tsp

Olive oil
For the Mango Habanero Sauce:
2

Mangos

peeled and sliced

1

Habanero pepper

deseeded

1

Lime Juice

1/4

cup

Honey

2

tbsp

Apple cider vinegar

1

tsp

Purpose rub
Instructions
Prepping the Wings:
In a large mixing bowl, combine the detached chicken wings, olive oil, and Dad's All Purpose rub.

Make sure to evenly coat the wings with the rub and olive oil. Set aside while you preheat the grill.
Grilling the Wings:
Preheat your grill to 375 degrees Fahrenheit and set it for indirect heat.

Place the seasoned wings directly on the grill grates.

Cook for 45-60 minutes or until the internal temperature reaches 180 degrees Fahrenheit. Make sure to flip the wings halfway through the cooking time for even grilling.

Once done, remove the wings from the grill and let them rest for 10 minutes.
Preparing the Mango Habanero Sauce:
In a blender, combine the peeled and sliced mangos, deseeded habanero pepper, lime juice, honey, apple cider vinegar, and Dad's All Purpose rub.

Blend until you achieve a smooth, thick consistency.

Taste the sauce and adjust the heat level according to your preference. Add more mango to lower the heat or another habanero to spice it up.
Final Steps:
In a large bowl, toss the grilled wings in the homemade mango habanero sauce until well coated.

Serve immediately and enjoy your Mango Habanero Wings!

And there it is, a straightforward guide to making the best Mango Habanero Wings that'll be a hit at any gathering. Time to fire up that grill!
---
Top 5 Questions People Ask:
Can I make the Mango Habanero sauce in advance?

Absolutely, you can make it a day in advance and store it in an airtight container in the fridge. The flavors may even meld better!

Is there an alternative to grilling the wings?

Sure, you can bake them in an oven at 375 degrees for about 45 minutes, flipping halfway through, or air-fry them for a quicker option.

How can I adjust the spice level?

The habanero is the primary source of heat, so add more or less depending on your tolerance. The mango and honey will balance the heat.

What can I pair with these wings?

A light, crisp beer pairs well with the wings. Alternatively, a side of coleslaw or a citrus-based salad would be great.

Can I use frozen mango chunks?

Yes, but let them thaw and drain excess water before using, as this could impact the sauce's texture.
More BBQ Chicken Wing Recipes you might also like to try: