The Ultimate Gochujang Wings Recipe You Can't Resist!
It's time to kick your regular chicken wing game up a notch with this Gochujang Wings Recipe. This isn't your ordinary wing recipe; it's a rollercoaster of flavors, influenced by the beauty of Korean cuisine. The secret? Gochujang paste—a Korean chili paste that adds an umami-rich, spicy kick to any dish.
One of the most compelling reasons to try these wings is the flavor complexity. You've got your sweetness coming from brown sugar and honey, a savory note from soy sauce and sesame oil, and of course, the spicy oomph from Gochujang paste. When combined, they produce an orchestra of flavors that sing to your palate.
The recipe starts with a well-crafted marinade. Combining the sauce ingredients is like creating a magical potion that will breathe life into your chicken wings. And let's talk about the marination time; 30 minutes is all it takes to allow those flavors to seep deep into the meat.
Grilling the wings adds a whole other dimension. The heat from the grill caramelizes the sugars in the marinade, while the smoke infuses the meat with a subtle, earthy flavor. Not to mention, grilling gives you that perfect crispy skin that is so satisfying to bite into.
Here's a pro tip: don't forget to flip the wings halfway through cooking. This ensures that the meat cooks evenly and you don't end up with one side that's drier than the Sahara. And for that final touch of perfection, brush the wings with the remaining sauce in the last five minutes. This creates a glossy, appetizing finish that is irresistibly mouthwatering.
In short, if you're looking for a way to elevate your cooking and impress your friends and family, look no further than this Gochujang Wings Recipe. It's an experience that brings the diverse flavors of Korean cuisine right into your kitchen.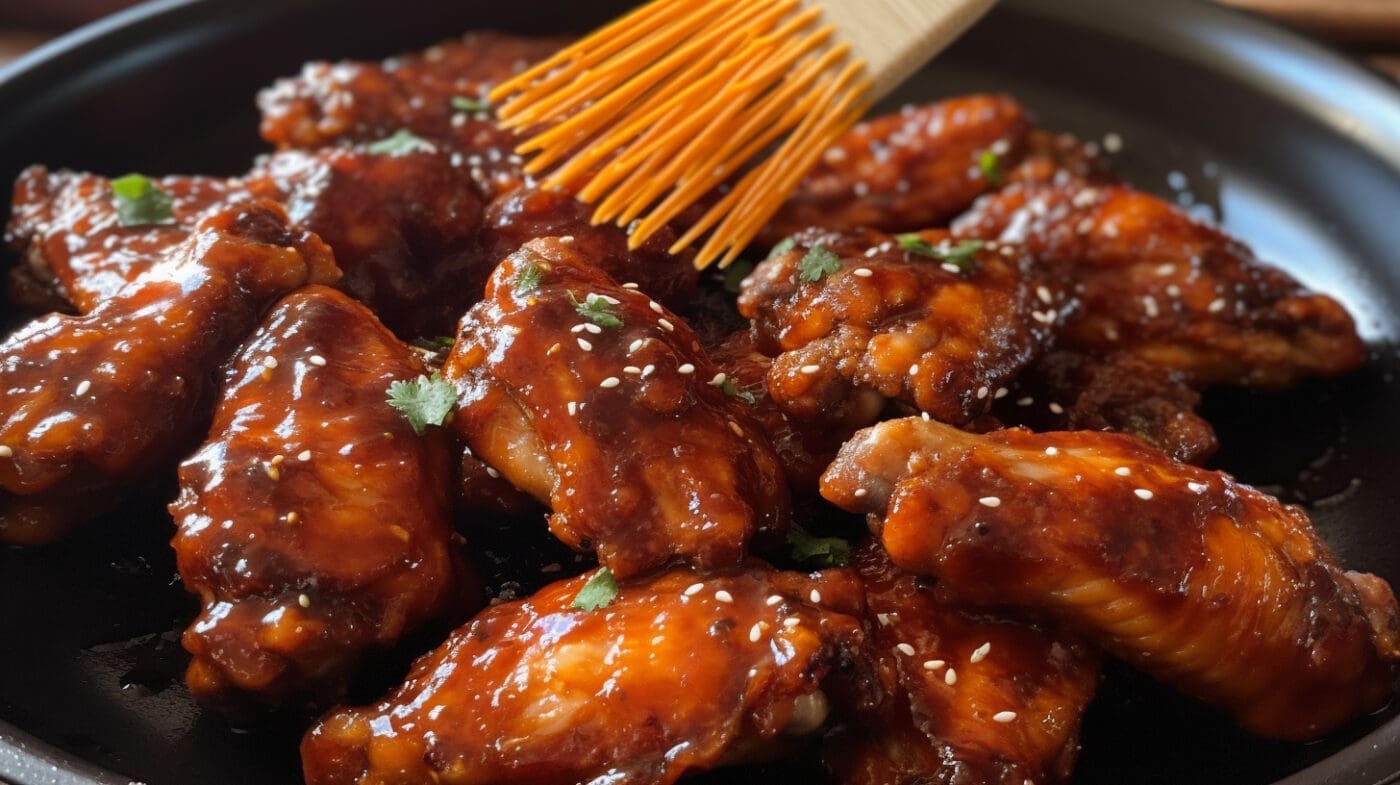 Wings in Gochujang Sauce
You've had buffalo wings and BBQ wings, but have you ever tasted Gochujang Wings? These wings are the culinary equivalent of a firework display—every bite is an explosion of flavor. From the sweetness of honey and brown sugar to the fiery kick of Gochujang paste, this recipe takes you on a taste adventure that's unlike any other. Warning: you may develop a Gochujang addiction.
Ingredients
2

lb

Chicken wings

1/4

cup

Gochujang paste

1/4

cup

Soy sauce

1/4

cup

Brown sugar

2

tbsp

Rice vinegar

2

tbsp

Honey

1

tbsp

Minced garlic

1

tbsp

Minced ginger

1

tbsp

Sesame oil
Instructions
In a bowl, combine Gochujang paste, soy sauce, brown sugar, rice vinegar, honey, minced garlic, minced ginger, and sesame oil. Stir until well mixed.

Pour half the sauce over the chicken wings, ensuring even coating. Let marinate for 30 minutes.

Preheat your grill to 325°F. Position it for indirect heat.

Place the marinated wings on the grill and cook for 45-60 minutes or until internal temperature hits 180°F.

Flip the wings halfway through for even cooking.

In the final 5 minutes, brush the wings with the remaining sauce.
---
Top 5 Questions About This Recipe
Can I use an oven instead of a grill? Absolutely, you can bake these wings at 425°F for about 45 minutes. Make sure to flip them halfway through.

Is there a substitute for Gochujang paste? While there's nothing quite like Gochujang, you could try a mixture of red chili flakes, soy sauce, and a bit of sugar as a makeshift substitute.

Can I make the sauce ahead of time? Yes, the sauce can be made up to 2 days ahead and stored in an airtight container in the refrigerator.

How spicy are these wings? Gochujang offers a moderate level of spiciness. If you want to tone it down, use a little less of the paste in your sauce.

What should I serve with these wings? These wings go great with some steamed white rice, coleslaw, or even simple grilled vegetables.
More BBQ Chicken Wing Recipes you might also like to try: