Can't Get Enough of Garlic and Cheese? These Wings Are Your New Obsession!
Garlic Parmesan Wings might just be the perfect union in the culinary world. There's something about the combination of savory garlic and nutty, salty Parmesan that makes these wings irresistible. This recipe is a testament to simplicity and flavor, marrying the two in a way that makes each bite memorable.
The process is straightforward, ensuring that the wings achieve that ideal crispy exterior. The secret lies in the seasoning and the grilling technique. By grilling the wings over indirect heat at a moderate temperature of 375°F (190°C), you allow them to cook thoroughly without charring, giving the skin enough time to develop a golden crispness.
As the wings reach their final minutes on the grill, the magic happens on your stovetop. The sauce is simplicity at its finest: unsalted butter for a creamy base, minced garlic for that aromatic kick, fresh parsley for a hint of freshness, and a generous amount of Parmesan cheese for a velvety finish.
When tossed in the sauce, the wings are utterly transformed. The sauce, with its melted cheese, clings lovingly to each wing, ensuring that every nook and cranny is filled with garlicky, cheesy goodness. The final touch of extra Parmesan and parsley not only adds flavor but also presents the dish with an artisanal look that's sure to impress.
Whether you're a wing aficionado or just looking for a new recipe to try, these Garlic Parmesan Wings promise satisfaction. They're perfect for nearly any occasion: as a finger-licking appetizer, a game-day essential, or the highlight of a casual family dinner.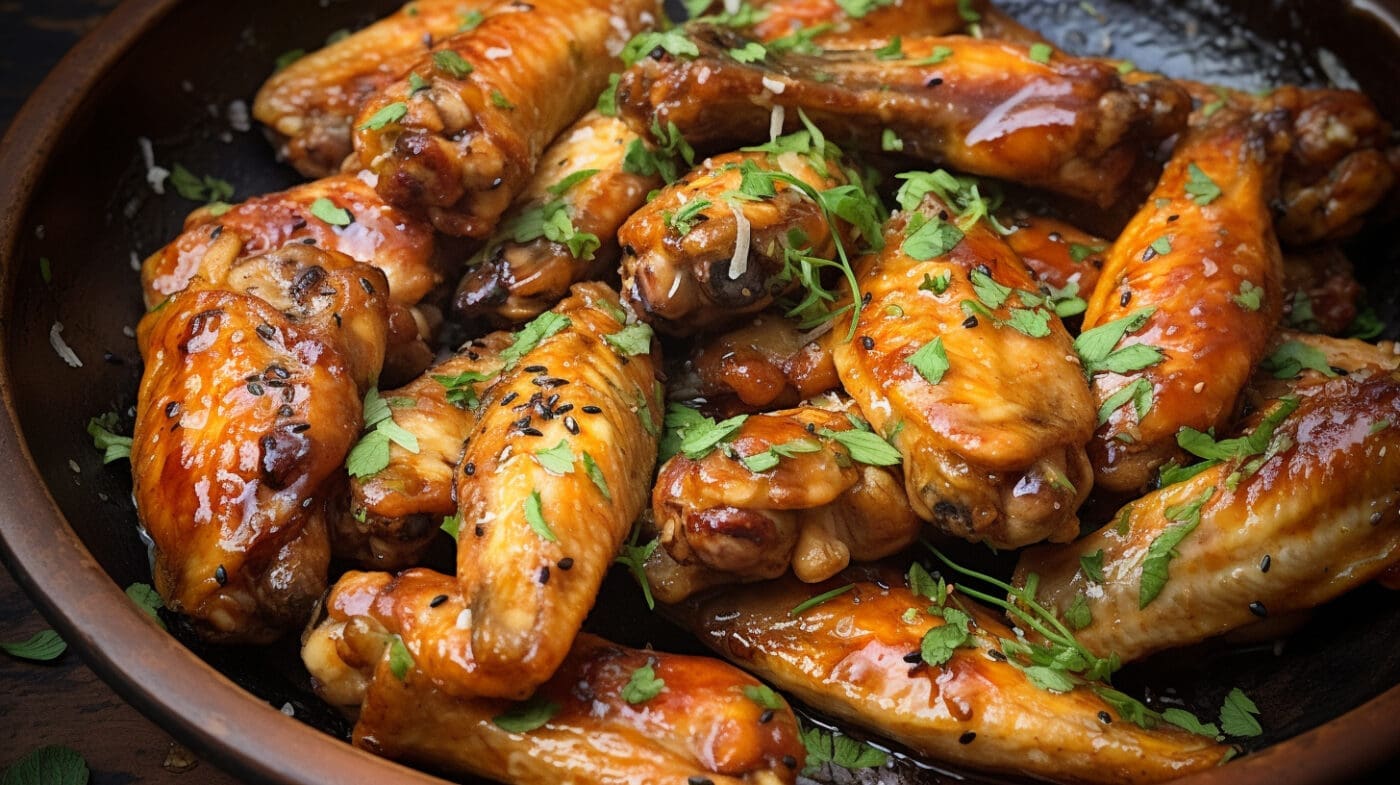 Garlic Parmesan Wings
Get ready to meet the new stars of your dinner table: Garlic Parmesan Wings! Imagine the crispiest wings you've ever had, but with a cheesy, garlicky twist that's downright addictive. We're taking fresh out of the fryer goodness and tossing it in a rich sauce that clings to each wing like a dream. Sprinkled with freshly grated Parmesan and chopped parsley, these wings are not just a dish; they're a decadent escape into flavor paradise. Perfect for game nights, parties, or just when you need a little self-indulgence!
Ingredients
2

pounds

Chicken Wings

2

tbsp

Olive Oil

1

tbsp

Salt

1

tbsp

Pepper

1

tbsp

Granulated Garlic

4

cloves

Minced Garlic

1

stick Unsalted Butter

1

bunch Chopped Parsley

1/2

cup

Fresh Grated Parmesan Cheese
Instructions
Toss the chicken wings in olive oil, then season with salt, pepper, and granulated garlic.

Grill at 375°F (190°C), using indirect heat for 45 minutes, flipping halfway through.

While the wings cook, melt the butter in a saucepan. Stir in minced garlic, Parmesan cheese, and a handful of parsley.

Simmer over low heat, stirring until the cheese melts.

Toss the cooked wings in the garlic Parmesan sauce.

Serve the wings garnished with extra Parmesan and parsley.
---
Top 5 Questions People Ask
Can I bake these wings instead of grilling them? Yes, bake the wings at 375°F (190°C) for about 45-50 minutes or until crispy and cooked through.

Can I use pre-grated Parmesan cheese? For the best flavor and meltability, fresh grated Parmesan is recommended. However, pre-grated can work in a pinch.

How can I make these wings spicier? Add a pinch of red pepper flakes to the sauce for an extra kick.

What's the best way to ensure my wings are crispy? Make sure to pat the wings dry before seasoning, and don't overcrowd them on the grill for optimal air circulation and crispiness.

Can I make these wings ahead of time? Wings are best enjoyed fresh, but you can prep them up to the saucing stage and then reheat and sauce before serving.
Garlic Parmesan Wings are a testament to the delicious results of combining simple ingredients with the right cooking technique. Give them a try, and they might just become your new go-to wing recipe.