Get Cozy with This Spicy Pumpkin Curry Soup:
 It's the time of year when our cravings lean toward the warm, the spicy, and the comforting. That's where this Spicy Pumpkin Curry Soup comes in.
Imagine a soup that perfectly encapsulates the essence of autumn. Pumpkins are the stars of the season and this recipe lets them shine. If you're into DIY, go ahead and make your own pumpkin puree. Trust me, the extra effort is well worth it. The freshness of homemade puree adds a whole other dimension to the soup. But hey, if you're crunched for time or just can't be bothered, canned works just fine.
The blend of spices—curry powder, cumin, and coriander—elevate the soup to another level. These aren't just any spices; they're the warm, comforting kind that perfectly complements the pumpkin. The curry powder, in particular, infuses the soup with a slightly exotic, complex flavor profile. The cumin adds a smoky richness, and the coriander delivers a citrusy, floral note. Even that tiny pinch of cinnamon goes a long way in rounding out the flavors.
Garlic and ginger are the aromatic warriors of this soup. They do more than just smell good; they bring heat and zing that balance the sweetness of the pumpkin. If you're feeling a bit under the weather or just need some warmth, that ginger will work its magic. And let's not forget the heavy cream! This brings a silky texture that makes every spoonful a dream. As for garnish? Toasted pumpkin seeds for crunch and a swirl of yogurt for a slight tang.
Food is more than sustenance; it's an experience, a form of self-expression, a catalyst for gatherings, and in many ways, an emotional comforter. In a bowl of Spicy Pumpkin Curry Soup, you're not just tasting ingredients; you're tasting the season, the labor of love, and the soulful celebration of fall. So, go on and serve yourself a bowl of happiness. After all, it's fall y'all!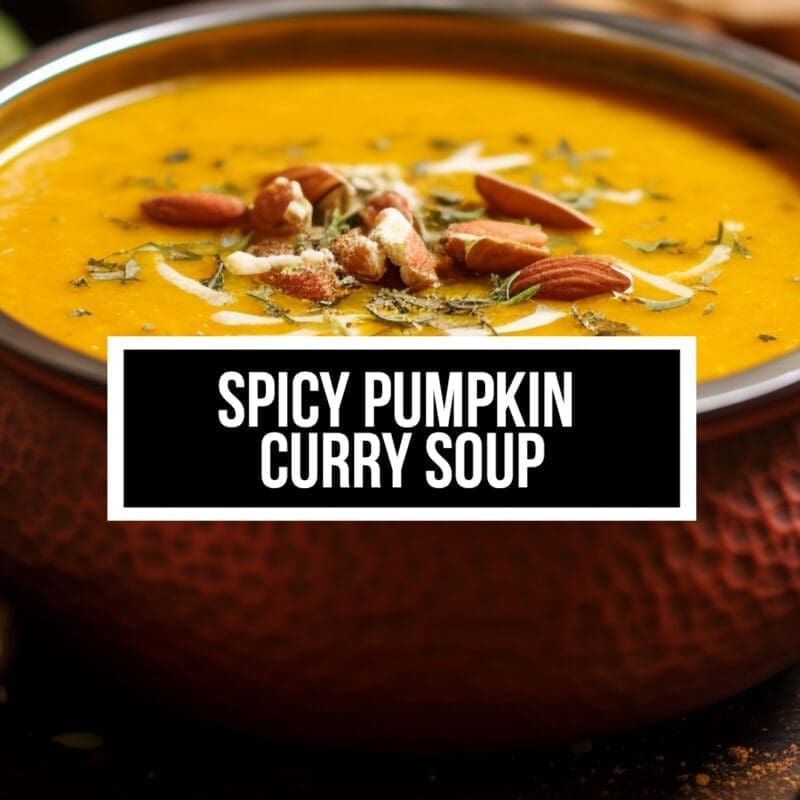 Easy and Spicy Pumpkin Curry Soup Recipe
Indulge in the comforting blend of pumpkin, spices, and creamy texture with this easy-to-make Spicy Pumpkin Curry Soup. Ready in just 45 minutes, it's the perfect fall dish.
Imagine cuddling up with a hot bowl of creamy, spicy pumpkin curry soup as the leaves change color outside. With just the right blend of pumpkin puree, aromatic spices, and a swirl of heavy cream, this soup is the epitome of autumn comfort food.
Not only is it the ultimate seasonal dish, but it's also incredibly simple to whip up! Whether you're using canned pumpkin or homemade puree, this recipe takes less than an hour from start to finish. Perfect for chilly nights and guaranteed to warm both heart and belly!
Ingredients
1

tbsp

unsalted butter

1 1/2

cups

chopped yellow onion

2

cloves

garlic

minced

2

tsp

fresh ginger

minced

1 1/2

tsp

curry powder

3/4

tsp

cumin

1/2

tsp

coriander

A pinch of cinnamon

1

tsp

salt

4

cups

chicken or vegetable stock

2

bay leaves

3 1/2

cups

pumpkin puree

1

cup

water

3

tbsp

heavy cream

A dash of black pepper

Yogurt and toasted pumpkin seeds for garnish
Instructions
Start the Base: Melt butter in a large pot over medium heat. Add onions and cook until soft, about 5 minutes.

Add Aromatics: Toss in garlic and ginger; cook for another minute.

Spice It Up: Stir in curry powder, cumin, coriander, cinnamon, and salt.

Liquid Gold: Add chicken or vegetable stock, bay leaves, pumpkin puree, and water. Stir well.

Bring to Boil: Crank up the heat until it boils, then reduce to low. Simmer for 10-15 minutes.

Blend: Remove bay leaves and use an immersion blender to make the soup smooth.

Final Touch: Stir in the heavy cream and black pepper. Taste and adjust salt if needed.

Serve: Spoon into bowls, drizzle with yogurt, and sprinkle with toasted pumpkin seeds.
Notes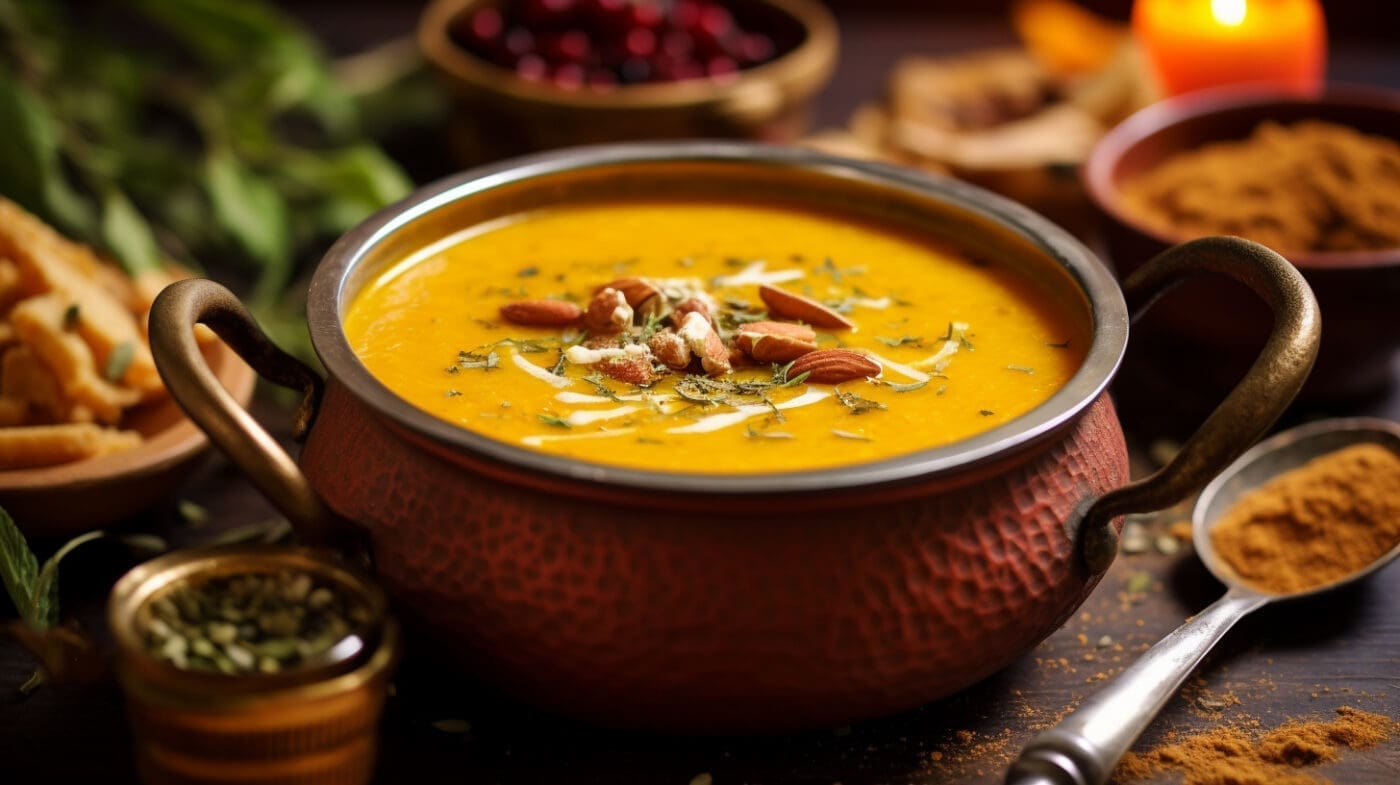 ---
Common Questions
Ah, spicy pumpkin curry soup! A great blend of warmth, spice, and comfort, especially when the weather starts to cool down. But like any recipe, there are always questions about getting it just right. Here are some of the most common ones:
What type of pumpkin is best?
Sugar pumpkins are ideal, but you can also use kobocha or butternut squash.
Can I use dried ginger?
Yes, but fresh is better. Use 1/2 tsp of dried if you must.
Is it vegetarian?
Substitute vegetable stock for chicken stock for a vegetarian version.
Storage?
Keep it in the fridge for up to 5 days or freeze it for up to 3 months. Add cream only when reheating.
Can I use fresh pumpkin instead of canned?
Sure can! Fresh pumpkin will give you a more authentic flavor, but it will also require more prep time.
How do I make the soup vegan?
Swap out chicken or beef broth for vegetable broth and use coconut milk instead of any dairy.
Is the soup freezer-friendly?
Absolutely, just make sure to store it in an airtight container. It should be good for up to 3 months.
How do I make it spicier?
You can add extra curry paste, red pepper flakes, or even a dash of cayenne pepper to kick it up a notch.
Can I make it in an Instant Pot?
Yep! Cooking time will be different, but you can totally make it work.
What can I serve it with?
Crusty bread, rice, or even a light salad make great companions to this hearty soup.
Why is my soup too thin?
If you want a thicker consistency, you can add some cornstarch or reduce the soup by simmering it for a longer time.
Can I substitute the pumpkin with butternut squash?
Definitely. Butternut squash will give you a slightly sweeter taste but is a great alternative.
How long will it keep in the fridge?
Stored in an airtight container, the soup should last for about 4 to 5 days.
Can I add protein like chicken or tofu?
Sure thing! Just make sure to adjust the cooking time accordingly.

Spicy pumpkin curry soup is one of those recipes that you can really make your own, so don't be afraid to experiment. Got any more burning questions? Let's keep the conversation cooking! 🎃🍲