Never Go Hungry Again: The Ultimate Easy Campfire Nachos Recipe!
Listen up, you beautiful wanderers of the open road and endless horizons! There's nothing quite like that satisfying crunch of nachos, coated in melted cheese and a handful of delicious toppings, especially after a long day of adventure. Not only is it a serious palate pleaser, but it's also super easy to whip up right at your campsite. So pull up a log, because today, we're talking about my go-to: an Easy Campfire Nachos recipe.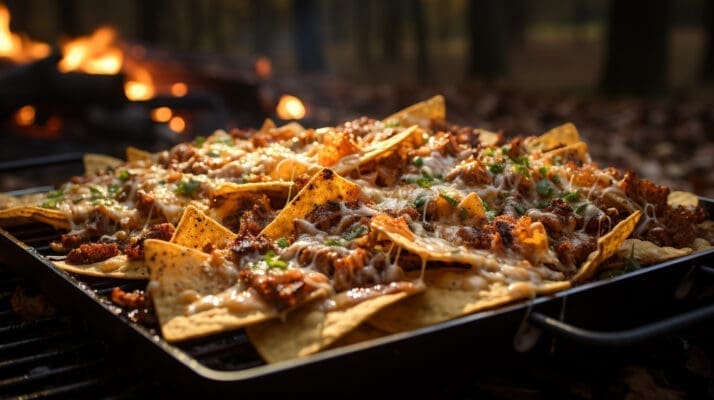 My First Encounter with Campfire Nachos
I still remember the first time I tasted campfire nachos. I was nestled among the towering trees of the National Park, under a sky blazing with stars, when a fellow traveller introduced me to this culinary delight. One bite in, and I was smitten! It's a memory that has stayed with me, and every time I have these nachos, it takes me right back to that starry night.
The Ingredients You'll Need
The magic of campfire nachos lies in its simplicity. Here's what you'll need to create this mouthwatering feast.
The Must-Haves
Tortilla chips: The heart of your nachos. Choose a sturdy chip that can handle the weight of toppings.
Cheese: A blend of melty cheeses like Cheddar and Monterey Jack will do the trick.
The Game-Changers
Beans: Black beans or refried beans add a hearty touch.
Jalapeños, corn, bell peppers: These vibrant veggies add a burst of flavour and color.
Sour cream, guacamole, salsa: For dolloping on top before serving.
Let's Get Cooking: The Easy Campfire Nachos Recipe
With ingredients prepped and ready to go, it's time to dive into our easy campfire nachos recipe.
Preparing the Ingredients
First up, drain and rinse the canned goods – beans, corn, olives, jalapeños. If you've got an avocado on hand, mash it up with a pinch of salt, a squeeze of lime, and voila, guacamole!
Assembling the Nachos
Grab a cast-iron skillet or a heavy-duty aluminium foil pan. Start with a layer of chips, then cheese, beans, and your veggies. Repeat the layers until you've used up your ingredients, ensuring a cheesy chip in every bite.
Cooking Over the Campfire
Cover the pan with aluminium foil and place it on a grill over your campfire. Cook for about 10-15 minutes, or until the cheese is melted and bubbly. Keep a close eye to avoid burnt chips!
Enjoying Your Campfire Nachos
Once the cheese is perfectly melted, remove from the fire, uncover, and let it cool. Then, crown your creation with dollops of sour cream, guacamole, and salsa.
Savouring the Moment
Take a moment to enjoy not just the food, but also the experience. A warm meal, the soft crackling of the fire, laughter and stories shared – there's a certain magic to it, wouldn't you agree?
Variations to Try
And the beauty of this recipe is that it's versatile. Swap in some barbecue chicken for a meaty twist, or add some hot sauce or cayenne for extra kick.
Your New Favourite Campfire Meal
So there you have it, my favourite recipe for easy campfire nachos. Simple, tasty, and comforting, it's the kind of dish that can make any place feel like home.
Alright, I've done enough talking. Now, it's your turn. I'd love to hear about your campfire cooking adventures. Did you try the nachos? Or maybe you have a special ingredient you love to add? So go on, fire away in the comments! Safe travels and happy cooking, everyone!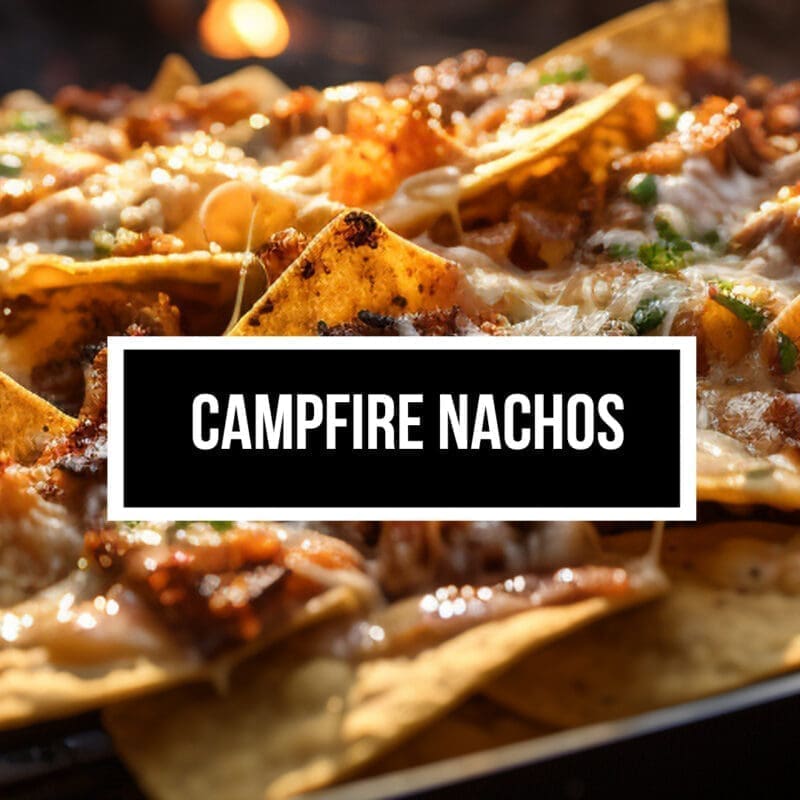 Easy Campfire Nachos
Ready to spice up your Aussie outback evenings, mate? Say 'g'day' to our Easy Campfire Nachos - the perfect camp recipe for a laid-back night under the southern stars. Imagine this: you, a frosty tinny in hand, a warm campfire flickering, and a massive plate of cheesy nachos that would make a kangaroo jump for joy.
The secret to these ripper nachos? It's all about the layers, cobber! Load up a Dutch oven with tortilla chips, gooey cheese, black beans, salsa, and all your top nacho picks, then sit back and call it dinner! This is camp cooking, Aussie style - where the outback meets a Mexican fiesta!
Equipment
Cheese

A bag of Mixed Cheese (Sharp Cheddar, Colby, and Monterey Jack blend)

Mince
Ingredients
corn on the cob

or 1 cup canned corn drained

Olive oil

11

ounces

tortilla chips

15

ounces

canned black beans

rinsed and drained

4

ounces

canned mild diced green chiles

½

red bell pepper

diced

1 ½

cups

shredded cheddar jack cheese

Salsa

optional

Cilantro

optional

Avocado or Guacamole

optional

Sour Cream

optional

Lettuce

optional

Lime

optional
Instructions
If using corn on the cob, cut the corn off the cob.

Place a large cast iron skillet over a fire or stove top heated to medium. Add a drizzle of olive oil, then sauté the corn, stirring, until the color brightens and the corn is crisp tender, about 5 minutes. Transfer the corn to a small bowl or plate.

In the same pan, arrange half the tortilla chips. Top with half the black beans, diced green chiles, bell pepper, corn, and cheese. Add the remaining chips and top with the remaining beans, chiles, pepper, corn, and cheese. Cover loosely with aluminum foil or a lid and allow to heat 5 minutes or until the cheese is melted.

Remove from the heat and top with salsa, cilantro, sliced avocado, sour cream, lettuce, and lime juice as desired.
Notes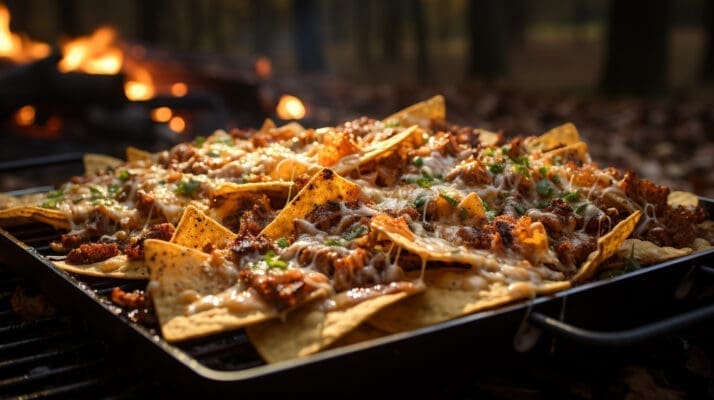 ---