Master the Art of Homemade Pizza Dough in Just 30 Minutes!
Everyone loves pizza, but not everyone has tried making their own pizza dough at home. That changes today. The beauty of this Basic Pizza Dough recipe lies in its simplicity and versatility. Made with just six ingredients—most of which you likely have on hand—it's designed to be easy, quick, and utterly foolproof.
Getting your yeast activated is the first key step. The frothy mixture not only starts the fermentation process but also helps the dough rise and develop those air pockets that make for a light, fluffy base.
Next up is the art of kneading—a step that's more fun than it sounds. You're not just mixing; you're massaging the ingredients, allowing the gluten to develop, which gives your crust that perfect chewy texture.
It's not just about the dough itself; it's also about what you can do with it. Think beyond the classic Margherita. From meat-loaded extravaganzas to gourmet veggie options, the possibilities are endless. The dough is like a canvas, and you're the artist, free to create your unique masterpiece.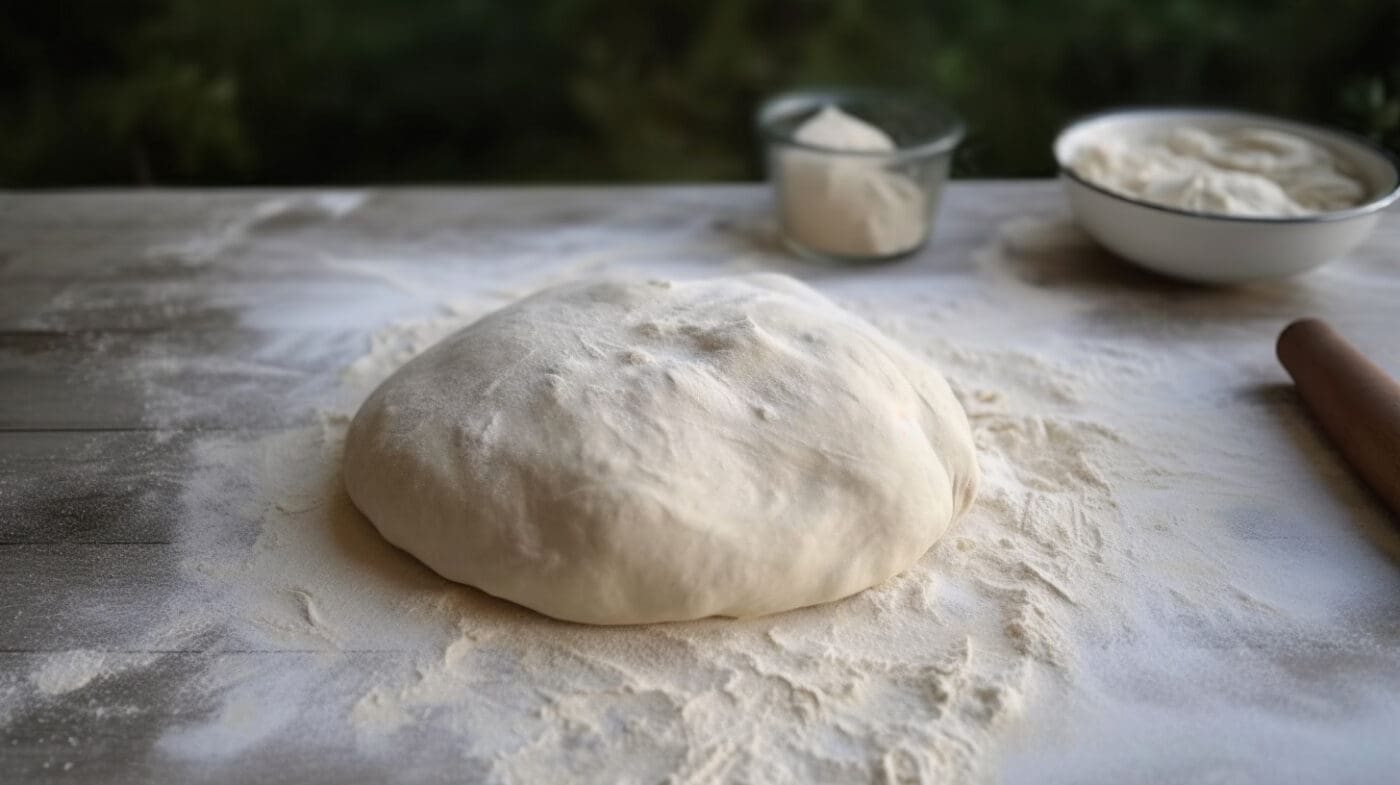 Basic Pizza Dough Recipe
Step aside, store-bought pizza crust! We're bringing the pizzeria experience straight to your kitchen with this fail-proof Basic Pizza Dough recipe. Get ready to wow your tastebuds and be the star of your own cooking show. Mix, knead, and roll your way to pizza heaven with ingredients you already have in your pantry. It's more than just dough—it's the foundation of your next culinary masterpiece.
Ingredients
2

tspn

dried yeast

450

g

plain flour

1

tbspn

caster sugar

1

cup

warm water

1

tbspn

sea salt flakes

1

tbspn

Extra Virgin Olive Oil
Instructions
Activate Yeast: Whisk yeast, 1 teaspoon of flour, caster sugar, and warm water in a small bowl. Let it stand in a warm place for 5–10 minutes until yeast activates.

Prepare Dry Mixture: In a large mixing bowl, combine the remaining flour and salt. Make a well in the center.

Combine Wet & Dry: Pour the yeast mixture into the well and slowly combine with the dry ingredients until a stiff dough forms.

Knead: Turn the dough onto a floured surface and drizzle olive oil. Knead until the dough is shiny and bounces back to touch.

Let it Rise: Grease a large bowl and place the dough in it. Cover and let it rise in a warm place for 30 minutes.
---
Top 5 Questions People Might Ask About This Recipe:
Can I Use Fresh Yeast Instead of Dried?

Absolutely! Just keep in mind that you'll need about twice the amount of fresh yeast as dried.

Do I Have to Use Olive Oil?

Olive oil adds flavor and helps with the texture, but you can use other oils if you prefer. Just know it might slightly alter the taste.

How Long Can I Store the Dough?

If you're not using it right away, you can store the dough in the fridge for up to 2 days. Just let it come to room temperature before you roll it out.

Can I Freeze the Dough?

Yes, you can! Make sure to wrap it tightly in cling film and store in a sealed bag. It can last up to 3 months in the freezer.

Why Didn't My Dough Rise?

There could be several reasons: your yeast may be old, the water might not be the right temperature, or the dough might not have been left to rise in a warm enough place.
So go ahead, roll up those sleeves and start making pizza like a pro. It's a fun, rewarding, and, most importantly, delicious journey you won't regret.