Carrot Cake Extravaganza – The Slice You Didn't Know You Needed
When it comes to cakes that embody the spirit of celebration, this Carrot Cake with Pineapple and Coconut reigns supreme. This isn't just a cake; it's a tradition. It brings families together and brightens up any room it graces. What sets this recipe apart is its moistness and depth of flavor, achieved by an eclectic blend of ingredients that each bring their unique characteristics to the table.
Let's talk about the carrots. These aren't your run-of-the-mill veggies; they are the essence of the cake, offering a subtle sweetness and a pleasant crunch. Then we have the pineapple, a tropical twist that infuses the cake with a tangy zest. Don't skip on the coconut; it adds an island feel that makes this cake nothing short of a tropical paradise.
We've all encountered those dry, crumbly cakes that make you reach for a glass of milk. That's not the case here, my friends. The olive oil works its magic to ensure that each bite is a moist delight. And let's not forget about the walnuts—they provide a crunchy contrast that complements the soft, moist cake beautifully. But the real show-stopper here is the cream cheese frosting. Smooth, creamy, and perfectly tangy, it adds a layer of indulgence that takes this cake from 'great' to 'mind-blowing'.
While this cake is a perfect addition to any festive occasion, it's also versatile enough to serve as a comfort food. Imagine curling up with a slice on a chilly evening—it's the stuff of dreams. This cake has a tendency to inspire, to comfort, and to bring joy, making it the quintessential choice for all your celebrations.
If you're new to the world of baking or just looking for a foolproof crowd-pleaser, give this Carrot Cake a try. With its impeccable balance of flavors and textures, it's a cake that promises to impress, and it never disappoints. So, are you ready to make a cake that will forever change the way you think about Carrot Cake? Let's do this!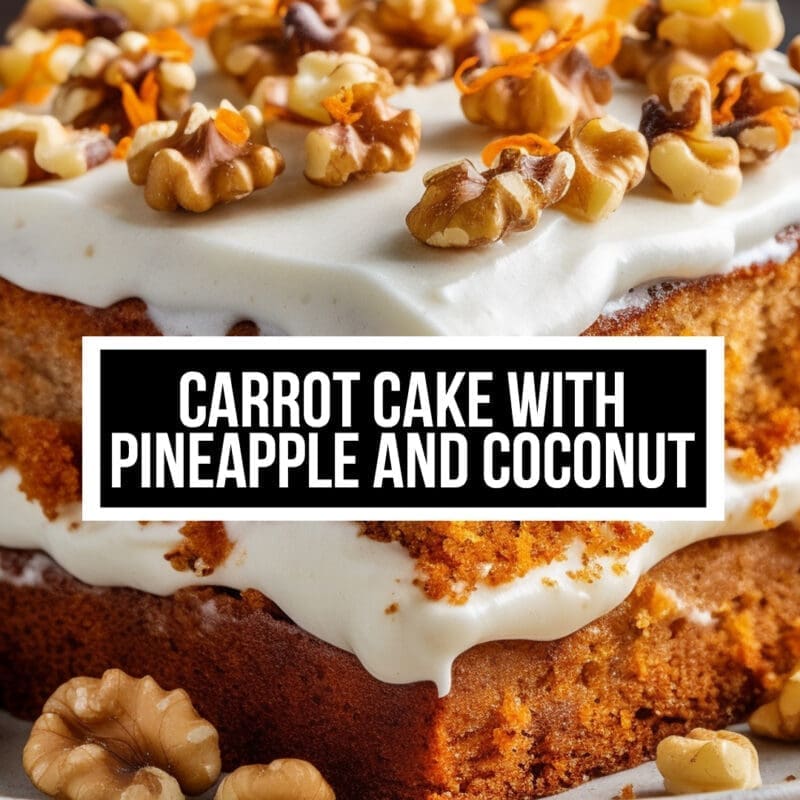 Carrot Cake with Pineapple and Coconut
Are you ready for a cake that will knock your socks off? Say hello to our family-favorite Carrot Cake, loaded with finely grated carrots, bits of pineapple, and coconut shreds, making every bite an unforgettable experience. And don't even get us started on the frosting—it's a cream cheese wonderland!
Whether it's Easter, a birthday, or you're just craving some top-tier cake, this recipe has got you covered. We're talking moist, flavorful, and oozing with cream cheese goodness. Trust us; this cake will turn any gathering into a party!
Ingredients
For the Cake
3

cups

flour

2

cups

sugar

1

tsp

salt

1

tbsp

baking soda

1

tbsp

cinnamon

1 1/2

cups

olive oil

4

large eggs

1

tbsp

vanilla

1 1/2

cups

walnuts

1 1/2

cups

coconut shreds

2

cups

grated carrots

1

cup

crushed pineapple

drained
For the Frosting
12

oz

cream cheese

9

tbsp

unsalted butter

3 3/4

cups

powdered sugar

1 1/2

tsp

vanilla

3

tbsp

lemon juice

Extra walnuts for the topping
Instructions
Preheat Oven: Fire up your oven to 350°F and prep two 9-inch cake pans with parchment paper.

Mix Dry Ingredients: Whisk together flour, sugar, salt, baking soda, and cinnamon in a bowl.

Add the Wet Stuff: Pour in olive oil, eggs, and vanilla. Stir until blended.

The Fun Part: Fold in the walnuts, coconut, carrots, and pineapple.

Pour and Bake: Divide the batter into pans and bake for 45-50 minutes.

Cool It: Remove cakes and let them cool on wire racks.

Frost Away: Whip up the cream cheese frosting and spread it generously.

Decorate: Sprinkle with walnuts and serve.
Notes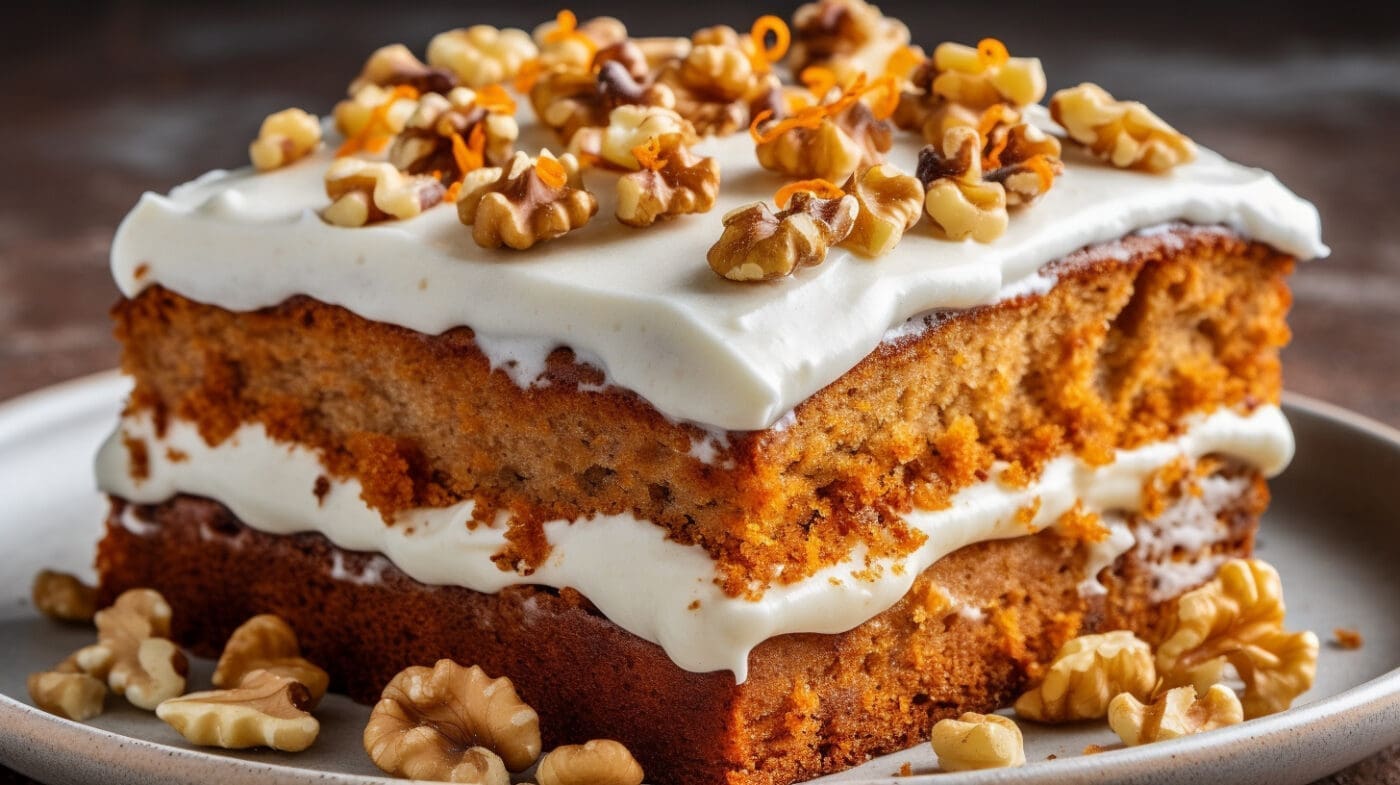 ---
Common Questions
Can I use whole wheat flour?
Absolutely, whole wheat can add a nutty flavor, but the cake may be denser.
What can I use instead of sugar?
You can use honey or maple syrup, but adjust the liquid ingredients accordingly.
Is the olive oil mandatory?
Not really. You can also use vegetable or canola oil if you prefer.
How can I make this dairy-free?
Use vegan cream cheese and butter substitutes for the frosting.
Is the pineapple necessary?
No, but it adds moistness and flavor. You can also try apple sauce.
Can I freeze this cake?
Yes, just wrap it tightly and store it in a freezer bag.
How long will it last in the fridge?
About a week, but it's tastier when fresh.
Can I add raisins?
Sure, raisins can add another layer of sweetness and texture.
Why isn't my cake rising?
Ensure your baking soda is fresh and accurately measured.
What other nuts can I use?
Pecans or almonds can be a great alternative to walnuts.
More Recipes:
More Cocktail Recipes: