Sweet Meets Savory – Candied Bacon That's Impossible to Resist!
In the world of culinary delights, Candied Bacon stands out as a true marvel. Combining the smoky savoriness of bacon with the sweet caress of caramelized brown sugar, this recipe takes two of life's greatest pleasures and fuses them into one mouth-watering delicacy.
The process is simple yet transformative. By marrying the rich, savory taste of bacon with the sweet, spicy, and smoky notes of the BBQ rub and the fiery heat of crushed red peppers, you're creating a tapestry of flavors that's as complex as it is delicious. The brown sugar doesn't just sweeten the bacon; it envelops it in a sticky glaze that crisps up beautifully on the grill, creating a texture that's a delight to bite into.
Grilling the bacon adds an additional layer of flavor. The indirect heat of the grill envelops the bacon, allowing it to cook evenly and the sugar to melt into a glossy, candied coating. It's a hands-off approach that yields exceptional results, giving you the freedom to prepare other dishes or simply bask in the aroma of bacon candy in the making.
But the true beauty of Candied Bacon lies in its versatility. It can be a game-changing addition to your breakfast plate, a quirky twist to your burgers, or even a decadent snack on its own. And let's not forget about its potential as a crowd-pleasing appetizer or a unique gift for food-loving friends.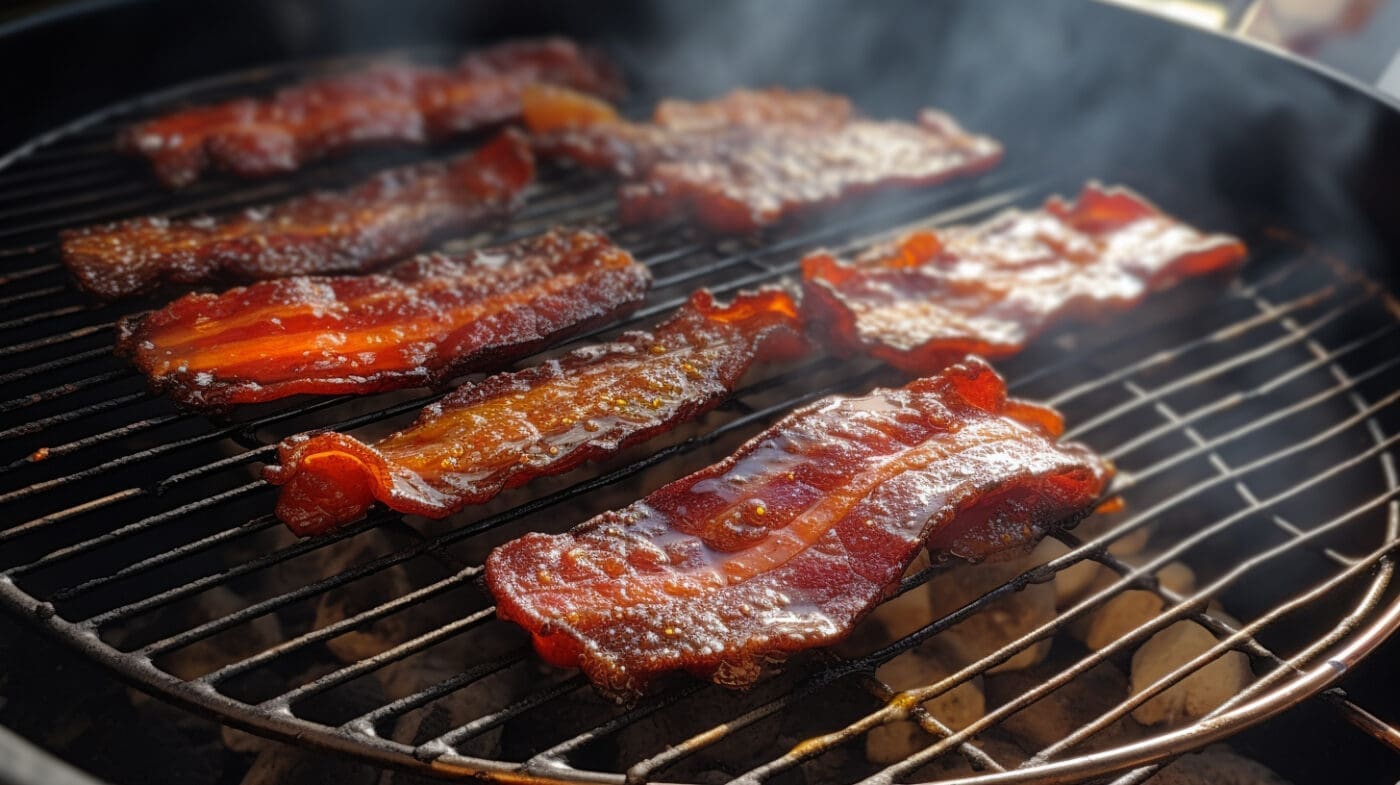 Candied Bacon Recipe
Prepare yourself for the irresistible allure of Candied Bacon. This isn't your average breakfast side; it's bacon that's been taken to epic levels of deliciousness. Imagine strips of thick-cut bacon coated in a caramelized sheath of brown sugar, spiced with your favorite BBQ rub, and given a kick with crushed red pepper. It's a symphony of flavors that sizzles to perfection on the grill, leaving you with a sticky, smoky, sweet treat. Perfect for brunch or as a decadent snack, this candied bacon is the reason you'll want to wake up every morning!
Ingredients
8

Strips of thick-cut bacon

1

cup

Brown sugar

2

tbsp

BBQ rub

1

tbsp

Crushed red peppers
Instructions
Combine brown sugar, BBQ rub, and crushed red peppers on a sheet pan, spreading it out evenly.

Press each bacon strip into the sugar mixture, coating thoroughly.

Place each coated bacon strip onto a wire rack set over a baking sheet.

Set up the grill for indirect heating and preheat to 350°F (175°C).

Place the wire rack on the grill grate and cook for 20-25 minutes.

Once the bacon is crisp and the sugar has melted, remove it from the grill.

Let the candied bacon rest for 5 minutes to allow the sugar coating to harden before serving.
---
Top 5 Questions People Ask
Can I make Candied Bacon in the oven? Absolutely! Bake it at 350°F (175°C) for about 20 minutes or until crisp.

How do I store leftovers? Keep any leftover Candied Bacon in an airtight container at room temperature for up to 3 days.

Can I use regular bacon instead of thick-cut? Yes, but adjust the cooking time as it will cook quicker than thick-cut bacon.

Can I make this recipe less spicy? Simply reduce or omit the crushed red peppers for a milder version.

What can I serve with Candied Bacon? Pair it with pancakes, use it as a cocktail garnish, or chop it up for a salad topping.
Candied Bacon is not just a recipe; it's an experience. It's a versatile treat that promises to bring joy, whether served at brunch or enjoyed as a standalone snack. It's sweet, it's savory, and it's everything you didn't know you needed. Give it a try, and watch this recipe become a beloved addition to your culinary repertoire.