Roasted Potatoes – The Unsung Hero of Dinner Tables
When people think of comfort food, the humble potato often comes to mind. While mashed and fried versions have their charm, nothing hits the spot like a perfectly roasted potato. Crispy on the outside, fluffy on the inside, and aromatic with rosemary, this dish is a triple threat.
The recipe leans on two essential fats: duck fat and Extra Virgin Olive Oil. While duck fat gives the potatoes a rich flavor and ensures maximum crispiness, olive oil adds a fruity complexity. The combination is a game-changer, making each bite a delightful blend of flavors and textures.
Salt is the unsung hero in this dish, highlighting the natural potato flavor. The rosemary adds an earthy, piney aroma that complements the richness of the fats. The herb not only makes the dish smell incredible but also elevates it to gourmet level. Don't be surprised if the scent wafting from the oven makes your kitchen the most popular room in the house!
But don't just take my word for it. The beauty of this dish is in its simplicity. From prep to plate, you're looking at less than an hour, making it ideal for weeknights yet impressive enough for special occasions. And hey, if you're already going to the trouble of roasting a main dish, why not go all out and prepare these glorious potatoes as well? Trust me; these are not your average spuds.
In the world of cooking, sometimes the simplest things bring the most joy. These roasted potatoes with rosemary are one of those gems—easy to make, delicious to eat, and impossible to resist. So go ahead, give it a try and let these roasted wonders steal the show at your next dinner gathering. Enjoy!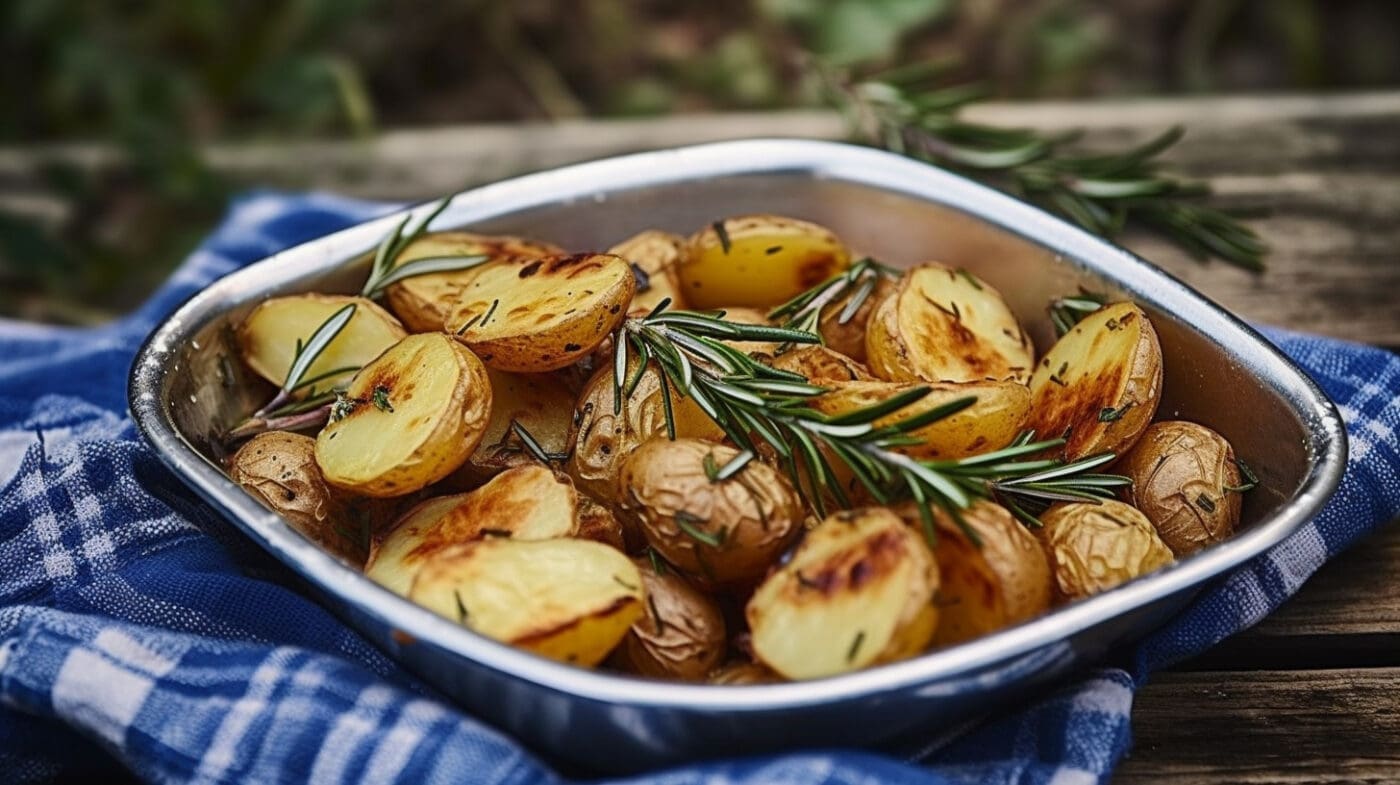 Classic Roasted Potatoes with Rosemary Recipe
Get ready to make the crispiest, most mouth-watering roasted potatoes you've ever tasted! We're talking about spuds so heavenly, they'll steal the spotlight from any main course. Coated in duck fat and olive oil, seasoned with fresh rosemary, these taters roast to a golden perfection that's crunchy on the outside, fluffy on the inside. Elevate your dinner game and leave everyone at the table reaching for seconds, thirds, and, well, you get the idea.
Ingredients
1.2

kg

waxy potatoes

nicola, dutch creams, kipfler, or desiree

A pinch of salt

3

tbspn

duck fat

3

tbspn

Extra Virgin Olive Oil

1/4

cup

rosemary leaves

stripped
Instructions
Preheat Oven: Set your oven to 210°C.

Prep Potatoes: Scrub potatoes and place them in a large saucepan with cold water and a pinch of salt. Heat until a low boil, then reduce to medium heat for 15 minutes.

Cut Potatoes: Drain and cut the potatoes in halves or quarters, based on size.

Heat Fat: Add duck fat and olive oil to a baking dish and place it in the oven to heat.

Toss Potatoes: Remove the dish from the oven, add potatoes and sea salt. Toss well to coat.

Initial Roast: Put the tray back into the oven for 10 minutes.

Add Rosemary: After 10 minutes, sprinkle in the rosemary.

Final Roast: Turn the potatoes and roast for another 15 minutes until golden and crispy.
---