Get Your Taste Buds Dancing with This Easy Indian Butter Chicken!
Ready to dive into the world of Indian cooking?
Meet Butter Chicken, the ultimate comfort food that pairs the richness of butter with the zest of aromatic Indian spices. This dish is your ticket to a quick culinary vacation, perfect for impressing guests or enjoying a quiet dinner at home.
Butter Chicken, known as "Murgh Makhani" in Hindi, has a fascinating history. Created by accident in the 1950s at the famous Moti Mahal restaurant in Delhi, it soon became a global sensation.
Unlike many other Indian curries that use onion as a base, this one starts with tomatoes and is cooked in butter, lending it a unique, slightly sweet character. To add to its richness, we throw in almonds and cashews, giving you that authentic restaurant-like texture and flavor.
Don't worry about hunting down exotic spices; we've got some easy swaps if you can't find them. What makes this recipe perfect for home cooks is its simplicity. No need for any special equipment, and the whole dish comes together in two hours, including the marinating time!
Here's another tip: If you want to get a bit creative, try tossing in some bell peppers or peas for added texture and color. The dish is traditionally served with rice, roti, or naan, but it's equally delicious with some crusty bread.
We should talk about the creaminess. The heavy cream balances the tanginess of the tomatoes and the heat of the spices, resulting in a sauce you'll want to lick off the spoon. If you're looking for a lighter option, you can substitute the heavy cream with coconut milk for a dairy-free version.
So, what are you waiting for? Roll up your sleeves and get ready to turn your kitchen into a mini-Indian restaurant. And remember, the most important ingredient is a sprinkle of love and a dollop of fun.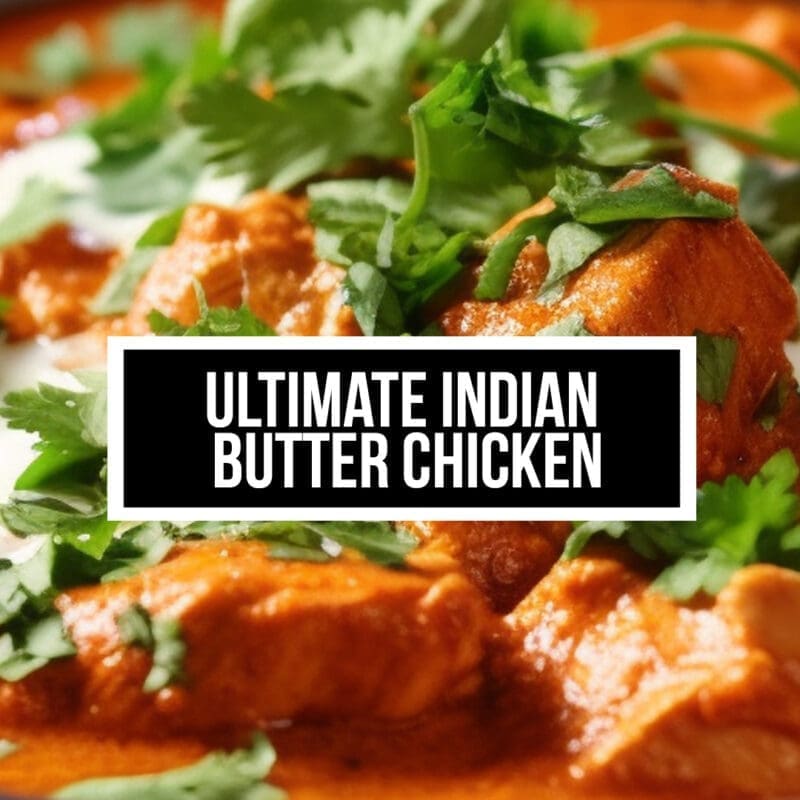 Indian Butter Chicken Recipe
Craving a delicious homemade Indian meal? Our easy-to-follow, flavor-packed Butter Chicken recipe brings the magic of Indian spices right to your dinner table!
Imagine biting into tender chicken chunks soaked in a creamy, aromatic sauce that has a subtle tang and a dash of exotic spices. That's what you get with our Ultimate Indian Butter Chicken recipe! It's the perfect dish for anyone looking to try their hand at Indian cooking, without sweating over a hot stove all day.
This recipe is a one-way ticket to flavor town, bringing together a rich blend of spices, creamy sauce, and succulent chicken. And don't worry, if you're missing out on some exotic spices, we've got you covered with some easy swaps. So get your pan ready and let's embark on a culinary journey to India right from your own kitchen!
Ingredients
For Chicken & Marinade:
1

pound

chicken thighs

diced

1/4

cup

yogurt

1

tablespoon

olive oil

1

tablespoon

ginger-garlic mix

1

teaspoon

coriander powder

1

teaspoon

red chili powder

or Kashmiri Lal Mirch

1

teaspoon

cumin

Salt to taste
For Sauce:
8

almonds

8

cashews

2

tablespoons

butter

1

tablespoon

ginger-garlic mix

1

teaspoon

sugar

1

can diced tomatoes

2

tablespoons

coriander powder

1 1/2

teaspoons

garam masala

1/2

teaspoon

red chili powder

1/2

teaspoon

salt

1

cup

water

1/4

cup

heavy cream

A sprinkle of dried fenugreek leaves

Kasuri Methi
Instructions
Marinate the Chicken: Mix chicken with marinade ingredients. Chill for at least 1 hour.

Prep the Nuts: Soak almonds and cashews in water for at least an hour.

Cook the Chicken: Pan-grill the marinated chicken until done. Set aside.

Sauce Time: Melt butter and sauté ginger-garlic mix and sugar. Add tomatoes and spices.

Blend: Transfer sauce and soaked nuts to a blender. Puree.

Combine: Add chicken and cream to the blended sauce. Simmer for 5 minutes.

Finishing Touch: Add the last bit of butter and fenugreek leaves. Let it sit for 10 minutes before serving with rice or bread.
Notes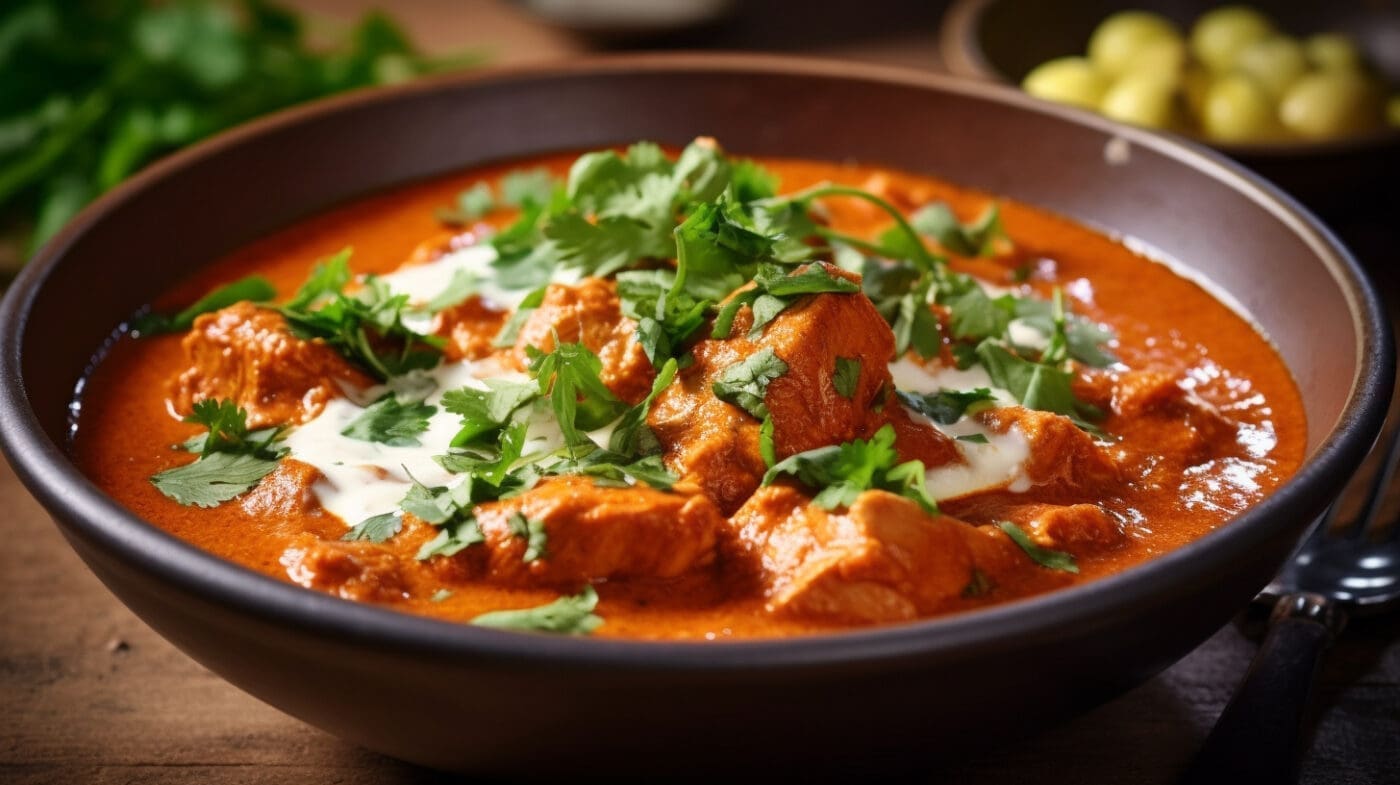 ---
Common Questions
Can I use chicken breasts instead of thighs?
Absolutely! Just adjust the cooking time as breasts cook quicker.

What if I can't find Kashmiri Lal Mirch or Kasuri Methi?
You can use paprika instead of Kashmiri Lal Mirch and skip Kasuri Methi if needed.

Can I freeze it?
Sure, this dish freezes well. Just thaw and reheat when you're ready to feast.

What can I substitute for Kashmiri Lal Mirch?
You can use paprika as a close substitute. For a spicier kick, try a blend of paprika and a little cayenne pepper.
Can I use chicken breast instead of chicken thighs?
Sure, you can use chicken breast. Just be careful not to overcook it, as breast meat can dry out faster than thigh meat.
What's the best alternative for Kasuri Methi?
If you can't find Kasuri Methi, you can use a pinch of fenugreek seeds or a small amount of fresh, finely chopped fenugreek leaves. Dried celery leaves can also work in a pinch.
Can I make this recipe dairy-free?
Absolutely. Use coconut cream instead of heavy cream, and a dairy-free butter alternative for the butter. The taste will change a bit, but it'll still be delish.
How can I thicken the sauce?
You can let the sauce simmer longer to reduce and thicken. Another option is to add a cornstarch slurry (mix a teaspoon of cornstarch with a tablespoon of water) to the sauce.
How long can I store the leftovers?
Leftovers can be stored in the fridge for up to 5 days. Make sure to store it in an airtight container to keep it fresh.
Yes, you can freeze it for up to a month. To reheat, thaw it in the fridge overnight and then reheat on the stove over medium-low heat.
What's the difference between Butter Chicken and Chicken Tikka Masala?
Butter Chicken is generally creamier and sweeter, made with butter and heavy cream. Chicken Tikka Masala is spicier and may not include cream. Butter Chicken originated in India, while Chicken Tikka Masala was created in the United Kingdom.
Can I use store-bought ginger garlic paste?
Definitely. While freshly made paste has a stronger flavor, store-bought paste is a good time-saver and still effective.
Is there a way to make this dish less spicy but still flavorful?
You can reduce the amount of Kashmiri Lal Mirch or substitute it with a milder spice like paprika. Feel free to adjust the other spices according to your taste preference as well.