Get Cozy with Chicken Pot Pie with Puff Pasty Perfection!
Is there anything more quintessentially comforting than a Chicken Pot Pie on a chilly day? I think not! Let's talk about why this particular Chicken Pot Pie recipe will become your new go-to when comfort food is on the agenda. The base of the dish starts off with sizzling bacon, which creates a rich backdrop for the rest of the ingredients. But it doesn't stop there! We add butter for extra luxuriousness, leveling up the comfort factor.
Veggies are the supporting characters in this food story, but they're essential. The medley of carrots, celery, and onion infuses the pie with color and crunch, providing a balanced contrast to the rich and creamy chicken filling. The addition of garlic and shallot is a masterstroke that elevates the entire dish, adding another layer of aroma and flavor.
Herbs like thyme, rosemary, and sage take your senses on a mini vacation to a rustic, homely kitchen. They add an earthiness that pairs beautifully with the dry white wine that's used to deglaze the pan. That's right; this Chicken Pot Pie is slightly boozy but in the most elegant way. It cuts through the richness, adding a layer of complexity you didn't know you needed.
Now, let's discuss the star player: the puff pastry. This isn't just any topping; it's a heavenly cloud of buttery goodness that puffs up in the oven to become the crown of your pot pie. And beneath this flaky crown lies a treasure of shredded chicken that soaks up all the beautiful flavors, delivering satisfaction in every bite.
Chicken Pot Pie with Puff Pastry Recipe
Imagine it's cold outside, and you're craving something that's the epitome of comfort. Look no further than this Chicken Pot Pie with a Puff Pastry topping. Golden, flaky pastry envelops a mouthwatering medley of creamy chicken, veggies, and herbs. A masterpiece in a dish!
Crack through the buttery crust to reveal a treasure trove of flavors underneath. Each spoonful is a warm hug from the inside out, packed with savory bites of shredded chicken, crispy bacon, and garden-fresh veggies. Get ready for an explosion of taste and comfort!
Ingredients
Filling
4

bacon slices

diced

4

Tbs

butter

1 ½

cups

carrots

sliced

1 ½

cups

celery

sliced

1

large yellow onion

diced

1

shallot

finely diced

8-10

garlic cloves

minced

1

tsp

salt

½

tsp

pepper

1

Tbs

each of fresh thyme

rosemary, and sage, chopped

½

cup

dry white wine

A bit less than ½ cup flour

2 ¼

cups

chicken broth

1

cup

milk

1 ½

cups

frozen peas

3 ½

cups

shredded chicken
Puff Pastry Topping
1

pack frozen puff pastry

14 oz, thawed & cut into squares

1

large egg

1

Tbs

water
Instructions
Preheat your oven to 200°C.

Fry the bacon in a large skillet until it browns.

Add butter and melt it.

Toss in carrots and celery; sauté briefly.

Add onions; cook till translucent.

Stir in shallot and garlic until fragrant.

Add salt, pepper, and herbs; mix well.

Pour wine to deglaze; cook until almost gone.

Add flour to form a paste.

Slowly pour in chicken broth while stirring.

Add milk in the same manner.

Stir in the peas; turn off heat.

Fold in the shredded chicken.

Flatten mixture and transfer to oven-safe dish if needed.

Layer puff pastry on top.

Mix egg and water; brush on pastry.

Bake 20-25 mins until golden brown.
Notes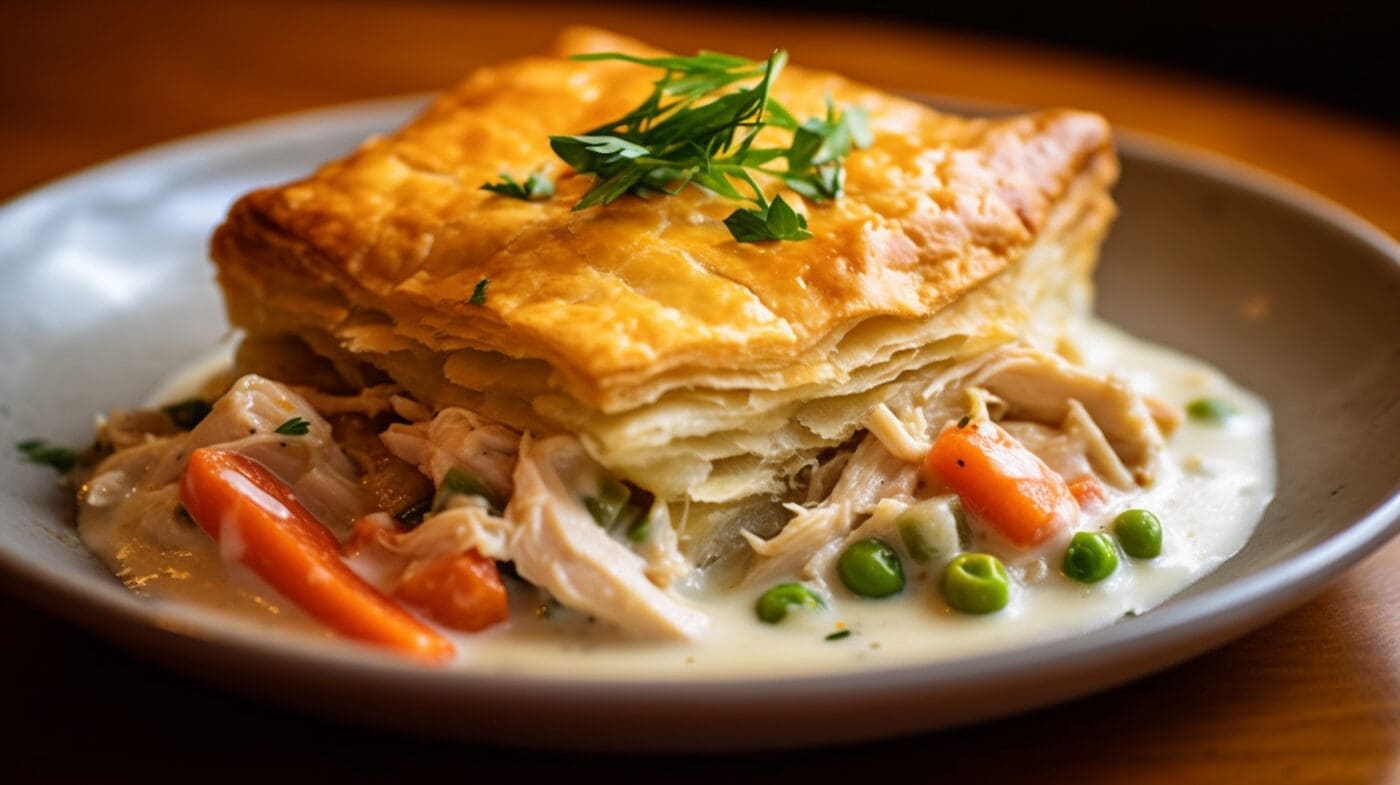 ---
Top 10 Common Questions
Can I use pre-cooked chicken?

Absolutely, rotisserie chicken or leftover chicken both work well.

Any wine substitutes?

Chicken broth with a splash of lemon juice will do.

Can I use different veggies?

Sure, just make sure they have similar cooking times to the original veggies.

Gluten-free options for the crust?

Use a gluten-free puff pastry available at most grocery stores.

Can it be frozen?

Definitely, just bake it a bit longer when you're ready to eat.

How to store leftovers?

Store in an airtight container in the fridge for up to 3 days.

Can I make this dairy-free?

Use dairy-free butter and milk substitutes.

Can I use dried herbs?

Yes, but reduce the quantity by a third.

Why is my crust soggy?

Make sure to bake it until the top is golden and crisp.

Can I make it in individual servings?

Absolutely, just adjust the cooking time down a bit.