Ignite Your Taste Buds with Grilled Hot Wings
When it comes to BBQ, wings often get overshadowed by ribs or pulled pork. But Grilled Hot Wings are the dark horse that's about to steal the show at your next backyard cookout. They're uncomplicated, packed with flavor, and have that wood-fired goodness that only a Big Green Egg can deliver.
First, let's talk about preparation. These wings get an olive oil rubdown, serving as a binder for the BBQ rub. That BBQ rub is key. Whether you go for a store-bought rub or make your own concoction, this is where you can get creative. Love garlic? Add more of it. Want some extra kick? Throw in some cayenne pepper. The rub sets the stage for flavor, and since we're using direct heat, it'll crisp up to perfection.
The Big Green Egg grill isn't just a cooking device; it's an experience. Preheating it to 375°F and placing the wings on an elevated grate ensures that they cook evenly and acquire that distinct smoky aroma. The charcoal gives the meat a more nuanced, rustic flavor that other grills just can't replicate.
Now, the hot sauce. Here's where the Grilled Hot Wings earn their name. You'll sauce them just before they hit that magic internal temperature of 165°F. This timing allows the hot sauce to caramelize, making sure your wings aren't just spicy but have that deep, rich flavor too.
What makes these wings a knockout? The balanced blend of spices from the BBQ rub and the kick from the hot sauce create a complex flavor profile. And let's not underestimate the textural play here; the outside is crisped to perfection, while the inside stays succulent.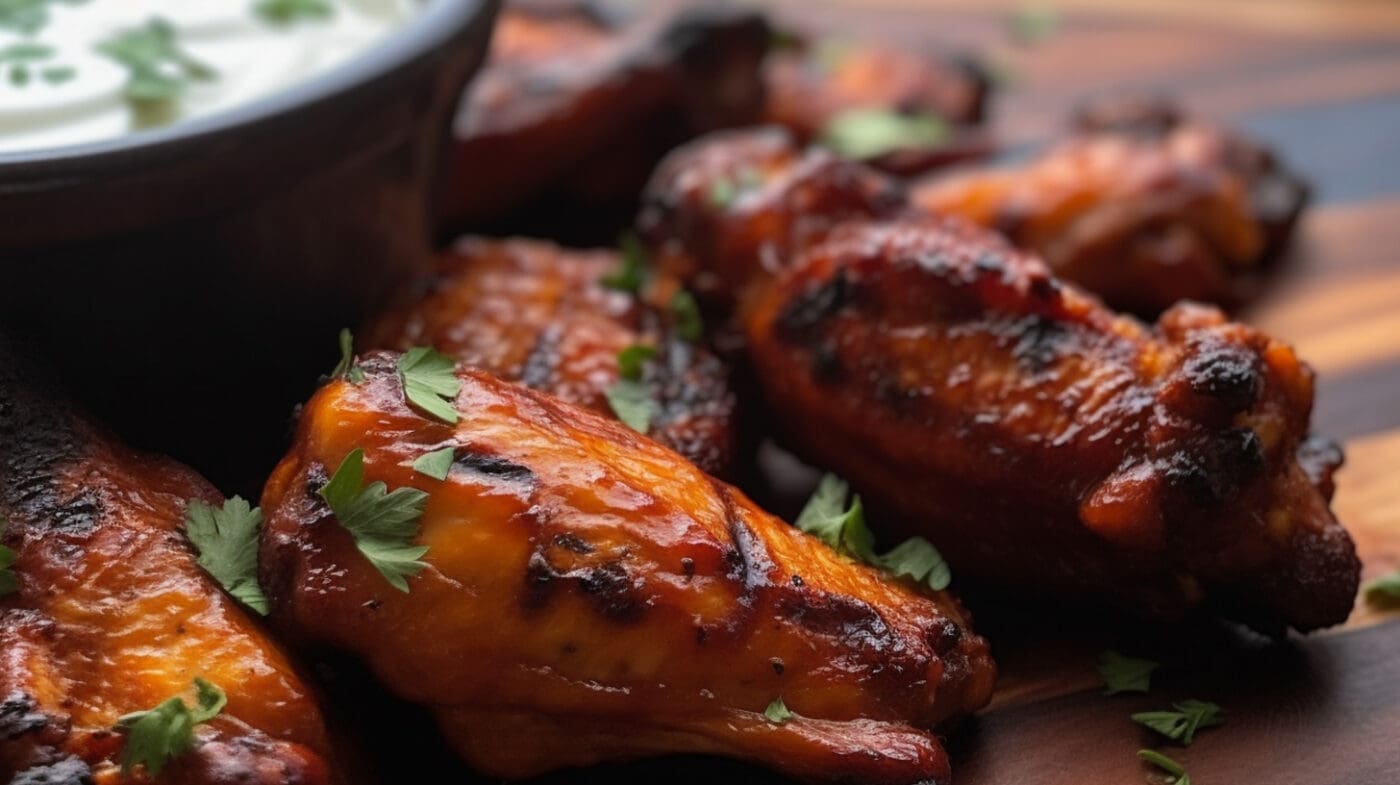 Grilled Hot Wings Recipe
Ditch the oven and fire up the grill for these Grilled Hot Wings. What makes them a knockout? A BBQ rub that brings all the smoky goodness and a hot sauce that kicks up the heat just enough to keep you coming back for more. And the Big Green Egg grill? That's the secret weapon that locks in that wood-fired flavor you crave. This is a wing lover's dream come true!
Ingredients
2

lbs

Whole 3-piece chicken wings

2

tbsp

Olive Oil

3

tbsp

BBQ Rub

3

tbsp

Hot Sauce
Instructions
Toss the chicken wings in olive oil for a sticky base for the seasoning.

Season wings liberally with your favorite BBQ rub.

Preheat Big Green Egg grill to 375°F using direct heat over charcoal. Use the expander system to elevate the grate.

Grill wings for 10 minutes, then flip. Continue this for about an hour.

Before the wings reach an internal temperature of 165°F, slather them with hot sauce.

Allow the sauce to caramelize before removing wings from the grill.
---
Top 5 Questions People Ask
How can I make my own BBQ rub for this recipe? You can blend paprika, brown sugar, garlic powder, onion powder, and a bit of cayenne. Feel free to experiment with the ratios.

Can I use a gas grill instead of a Big Green Egg? Yes, but you might miss out on some of the smoky flavor. Make sure you maintain a consistent temperature of 375°F.

What hot sauces work best for this recipe? Anything from Sriracha to classic Buffalo sauce can work. It really depends on your heat tolerance and flavor preference.

How can I ensure my wings get crispy? The elevated grating system and consistent flipping will help. Just make sure you don't overcrowd the grill.

Can I prepare the wings in advance? Yes, you can marinate the wings in the BBQ rub overnight to let the flavors really sink in.
And there you have it! If you're a wing aficionado or simply someone looking to spice up their BBQ game, Grilled Hot Wings are the ticket. They offer a culinary experience that is both simple and flavorful. Give them a try, and they might just become the star of your next BBQ.
More BBQ Chicken Wing Recipes you might also like to try: