Get Ready for a Flavor Explosion with The Ultimate Honey BBQ Chicken Wings
When it comes to grilling, few things beat the allure of chicken wings—especially when they're doused in a sublime Honey BBQ sauce that's a perfect blend of sweet, spicy, and tangy flavors. Yes, we're talking about Honey BBQ Wings, the ultimate grill snack that's just the right amount of messy and absolutely bursting with flavor.
The allure starts with the grilling technique. A temperature of 375°F ensures that you get that desired crispy skin while the meat stays tender and juicy. The secret? Cooking them on indirect heat, which allows for even cooking without burning the meat or drying it out. And let's not forget the role of the all-purpose BBQ seasoning, which provides an earthy, smoky undertone that serves as the perfect prelude to the sauce.
Ah, the sauce—the heart and soul of this Honey BBQ Wings recipe. What sets it apart is the complex layering of flavors. You've got your ketchup and molasses for sweetness, apple cider vinegar for tang, and a zing from the Worcestershire sauce. Brown sugar adds depth, while honey brings in a floral sweetness that elevates the entire sauce. The kicker? A tablespoon of sriracha for that surprise heat that tingles your taste buds just enough to keep things exciting.
Making the sauce is a simple affair. Just combine the ingredients in a saucepan and let them simmer until they thicken into a glossy, sticky masterpiece. It's like creating a work of culinary art, one that will adorn your grilled wings like a royal cloak.
And when those grilled wings are finally tossed in the sauce, that's when the magic happens. The sauce clings to the crispy skin, adding layers of flavor that soak into the meat, making each bite a mini flavor explosion.
The best part? This recipe is foolproof. As long as you keep an eye on the grill temperature and don't rush the sauce, you're in for a treat that'll make you the star of any BBQ event.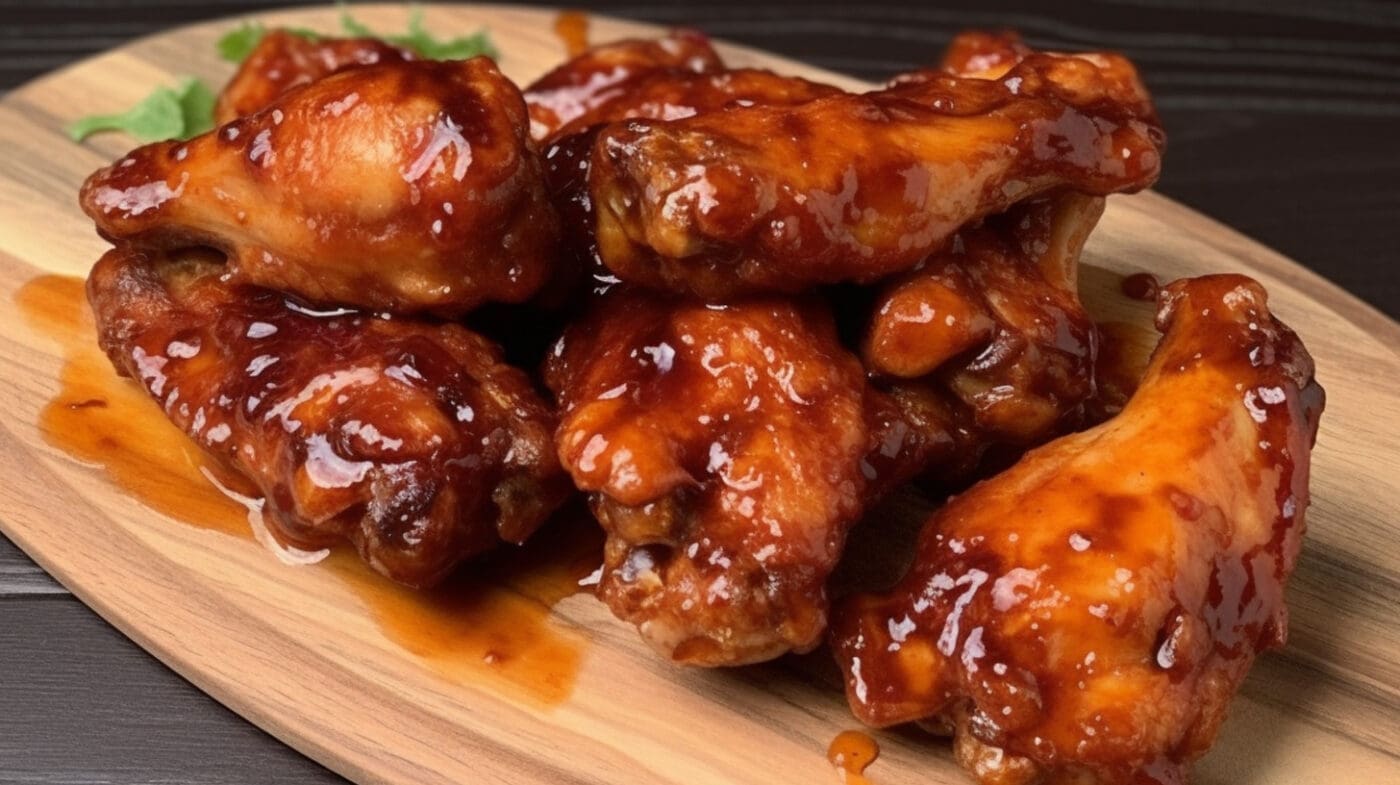 Ultimate Honey BBQ Chicken Wings Recipe
Move over, buffalo wings—Honey BBQ wings are taking center stage. We're talking fall-off-the-bone tenderness with a crispy skin, all smothered in a heavenly sauce that's sweet, tangy, and packs a spicy kick thanks to a dash of sriracha. This is no ordinary BBQ fare; it's like a flavor festival in every bite. Be prepared to get messy, and don't say we didn't warn you: These wings are addictive!
Ingredients
1

lbs

Chicken wings

1

tbsp

Olive oil

2

tbsp

BBQ seasoning
Honey BBQ Sauce Ingredients:
1/2

cup

Ketchup

1/4

cup

Brown sugar

1/4

cup

Molasses

1/4

cup

Apple cider vinegar

1/4

cup

Honey

2

tbsp

Worcestershire sauce

1

tbsp

Sriracha hot sauce

1

tbsp

BBQ seasoning
Instructions
In a large bowl, coat chicken wings with olive oil. Sprinkle all-purpose BBQ seasoning on top and toss well.

Preheat your grill to 375°F, setting it for indirect heat.

Place wings on the grill and cook for 45-60 minutes, flipping halfway, until the internal temperature hits 180°F.

Meanwhile, prepare the sauce. Combine all Honey BBQ sauce ingredients in a saucepan and let simmer over low heat until thickened.

Toss the grilled wings in the thickened Honey BBQ sauce and serve.
---
Top 5 Questions About This Recipe
Can I bake these wings instead of grilling them? Absolutely. Bake them at 425°F for about 45 minutes, flipping halfway through for even cooking.

Is there an alternative for Sriracha? Sure, you can use any hot sauce you prefer, but Sriracha has a unique flavor that pairs well with the honey and BBQ elements.

How long can I store the Honey BBQ sauce? You can keep it in an airtight container in the fridge for up to a week.

Can I use frozen chicken wings? Yes, but make sure to thaw them completely before seasoning and grilling for the best results.

What sides go well with these wings? Coleslaw, cornbread, or a simple garden salad would make excellent side dishes.
So, are you excited to try this Honey BBQ Wings recipe? Trust us, it's a game-changer!
More BBQ Chicken Wing Recipes you might also like to try: