Lemon Garlic Chicken Wings the New BBQ Sensation
Lemon Garlic Chicken Wings are the unsung heroes of wing cuisine. While buffalo wings get all the glory, this citrusy, garlicky alternative is turning heads and earning its spot at the dinner table. Why should you give these a try? Well, they're just the right mix of flavor and refreshment—perfect for those warm summer nights on the patio.
The secret to this recipe's success is its perfect balance of flavors. First off, the lemon provides a vibrant citrus note. This is not just a dash of lemon juice; we're talking zest and juice from whole lemons. That gives the wings an invigorating tanginess that cuts through the richness of the chicken.
The second key player here is garlic. This isn't just a nod to garlic—it's a full-on salute. Minced and simmered in butter, the garlic becomes a flavor powerhouse that infuses the entire dish. It's aromatic, it's intense, and it perfectly complements the lemon's zesty notes.
Adding honey and parsley to the sauce elevates it even further. The honey offers a touch of sweetness to balance out the tangy and garlicky tones, while the parsley adds a fresh, herbal finish. It's this multi-layered sauce that makes the dish so addictive.
Let's talk about grilling. Using the Big Green Egg for this recipe helps lock in that smoky, grilled flavor while ensuring the wings are cooked to crispy perfection. Remember to keep an eye on those wings and flip them every 5 minutes to get an even cook.
Once the wings are done, they get a generous coating of the lemon garlic sauce. And let's not forget the garnish. A sprinkle of freshly shredded parmesan cheese and more parsley gives them that final mouth-watering touch.
The result? Wings that are crispy, tangy, garlicky, and just a tiny bit sweet—a culinary quadruple threat. Whether you're serving them up at a family gathering or impressing your friends at a BBQ, these wings are set to steal the show.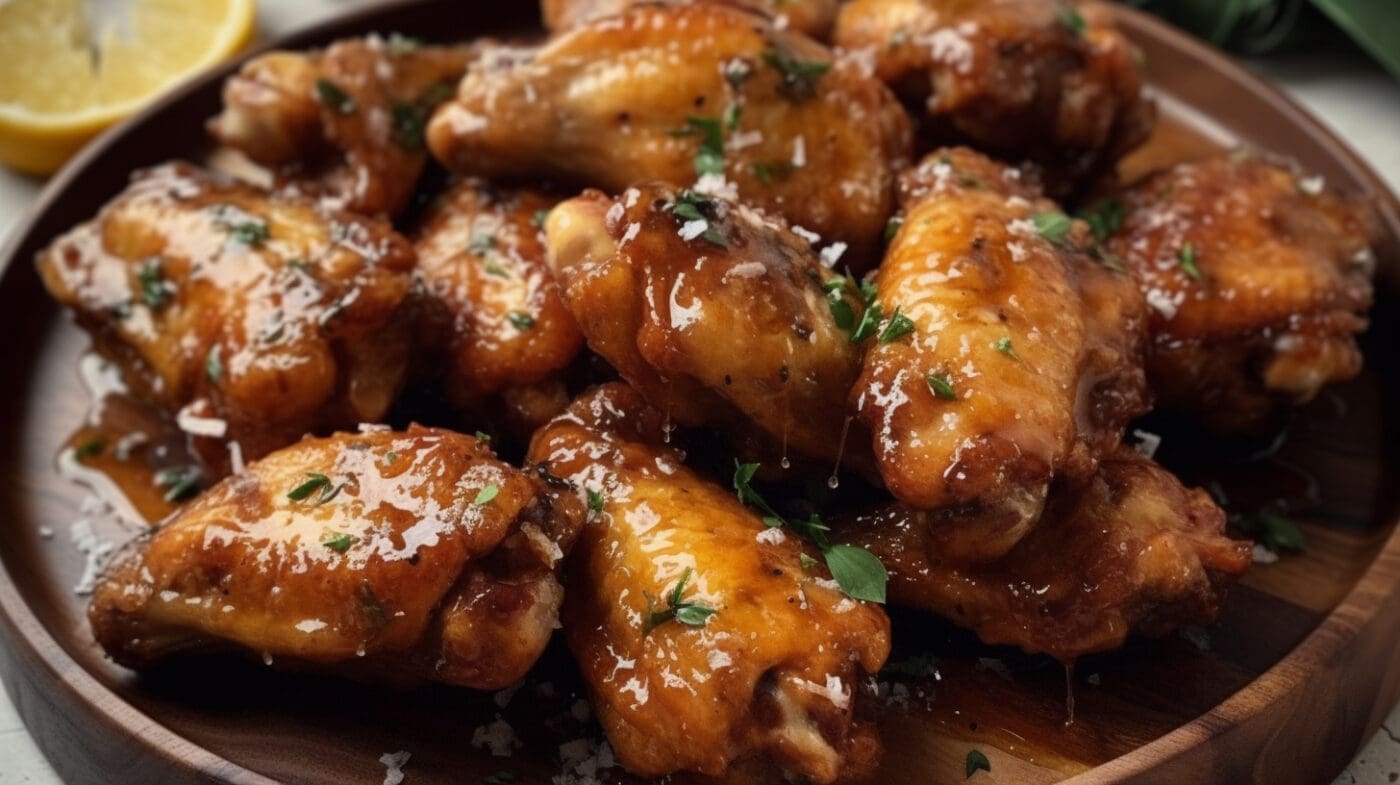 Lemon Garlic Chicken Wings Recipe
Move over, buffalo sauce, there's a new wing flavor in town! Lemon Garlic Chicken Wings offer a killer combo of zesty lemon, aromatic garlic, and just a touch of sweetness from honey. Perfect for family dinners or outdoor BBQs, these wings bring a burst of summer to your plate. Plus, grilling them on the Big Green Egg gives them that unbeatable crispy texture.
Ingredients
1

pkg

Chicken wings

1

stick

Unsalted butter

2

tbsp

Lemon pepper seasoning

1

tbsp

Minced garlic

2

tbsp

Honey

1/4

cup

Chopped parsley

2

Lemon Juice

1

Lemon Zest
Instructions
In a large bowl, coat chicken wings with olive oil and lemon pepper seasoning. Toss to ensure even coating.

Preheat the Big Green Egg grill to 350°F -175°C and place the wings on indirect heat.

Flip wings every 5 minutes for 35-40 minutes, or until they reach an internal temperature of 190-195°F. 85-90°C

For the sauce, combine butter, minced garlic, lemon juice, lemon zest, honey, lemon pepper seasoning, and parsley in a pan. Simmer for 10 minutes.

Toss cooked wings in the sauce.

Garnish with freshly shredded parmesan cheese and additional chopped parsley.
---
Top 5 Questions People Ask
Can I use lime instead of lemon? You can, but it will alter the flavor profile. Lime is a bit more tart and less sweet than lemon.

What if I don't have a Big Green Egg grill? No worries! Any grill with the capability for indirect heat will do. Just maintain the 350°F temperature.

Can I use dried parsley instead of fresh? Fresh is best for this recipe, but if you only have dried parsley, use about 1/3 of the amount as it's more concentrated.

How do I store leftovers? Store any leftover wings in an airtight container in the fridge for up to 3-4 days. Reheat in the oven to retain crispiness.

Can I make this recipe spicy? Absolutely! Feel free to add a dash of cayenne pepper to the sauce for some extra kick.
Get your grilling gear ready and prep those taste buds, once you try these Lemon Garlic Chicken Wings, you might just find your new
More BBQ Chicken Wing Recipes you might also like to try: