10 Easy Steps to Perfect Easy Camp French Toast Every Time!
Let's Talk About Making Camp French Toast!
Good morning, campers and vanlifers! There's nothing quite like waking up to the sound of kookaburras in the gum trees and the smell of eucalyptus in the air. But do you know what could make your morning even better? A hearty breakfast of Camp French Toast! So grab your tucker bag, your cast-iron skillet, and let's get into it.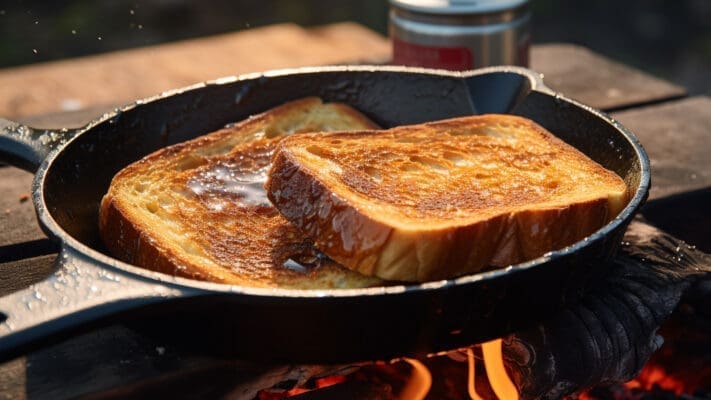 Step 1: Choosing Your Bread for Your Camp French Toast
Now, we all know that the base of a good French toast starts with the bread. Remember when I was camping up in the Daintree Rainforest? Well, I learned then that a good, dense bread works best for our beloved Camp French Toast. A traditional Aussie damper or a crusty sourdough bread does wonders. It soaks up the batter beautifully and crisps up perfectly on the skillet.
Step 2: Creating the Perfect Batter for Camp French Toast
Next up is our batter – the soul of the French toast. You'll need fresh eggs, full cream milk (none of that skimmed business), a touch of ground cinnamon and a dash of vanilla extract. It's like how my Mum always said, "If you want to feel at home, no matter where you are, just add a bit of vanilla."
Step 3: Packing the Right Gear for Making Camp French Toast
One of the lessons I learned from a bloke I met in the Outback was the importance of packing the right gear. For Camp French Toast, a good cast-iron skillet is your best mate. It holds heat well and gives the toast a nice, crispy exterior. If you've got a camping stove, bring it along. It's a game changer, I tell you.
Step 4: Setting Up the Cooking Area for Camp French Toast
No matter if you're in the red centre or coastal bush, setting up your cooking area is vital. Keep it clean and organized, A bit of preparation saves a lot of hassle, especially when the magpies are eyeing off your brekkie!
Step 5: Dipping the Bread for Your Camp French Toast
Soaking your bread is like surfing in Byron Bay – timing is everything. You want the bread to soak up the goodness, but not too long or it'll go soggy. Just like catching the perfect wave, it requires a bit of practice, but once you've got the hang of it, you're in for a ride.
Step 6: Cooking the Camp French Toast
Now for the fun part, cooking the toast. Keep the heat low to medium, and remember to give both sides a nice browning. Once, while camping in the Grampians, I was busy admiring the kangaroos hopping around and left my toast on the skillet for a tad too long. The black cockatoos had a field day with that one!
Step 7: Checking for Doneness of Your Camp French Toast
It's all about that golden colour, a crispy outside with a soft, almost creamy inside. That's the sweet spot we're aiming for.
Step 8: Adding Toppings to Your Camp French Toast
Remember when we were talking about feeling at home? Well, that's what your chosen toppings can do for you. Some good ol' Aussie honey, a handful of fresh berries from the local farmer's market, or a classic sprinkle of icing sugar can really lift the spirits, especially when you're in the wild.
Step 9: Serving the Camp French Toast
Nothing beats a hot meal in the great outdoors. Serve the French toast straight off the pan for the best taste and texture. Don't forget to share with your mates, as it's all about the shared experiences.
Step 10: Enjoying Your Meal of Camp French Toast
Now, here's the best part. Sit back, take in the beauty of nature, and savour every bite of your Camp French Toast. Whether you're by the sea in beautiful Bondi or tucked away in the lush Tasmanian wilderness, there's nothing like enjoying a delicious meal in the great outdoors.
So, there you have it, my friends. Our 10 steps to the perfect Camp French Toast. It's not just about the food, but the memories we create while cooking and sharing it. I still remember the first time I made French toast at a campsite in Atherton Tablelands. The taste of that Camp French Toast still takes me back to the breathtaking views of the wetlands and escarpments. So, next time you're heading out for an adventure, give this recipe a crack. You'll be the talk of the campsite, I guarantee it!
Don't forget to share your Camp French Toast adventures with us. Have you tried a different bread or added some unique Aussie toppings?
I'd love to hear about it.
Here is the simple Camp French toast recipe: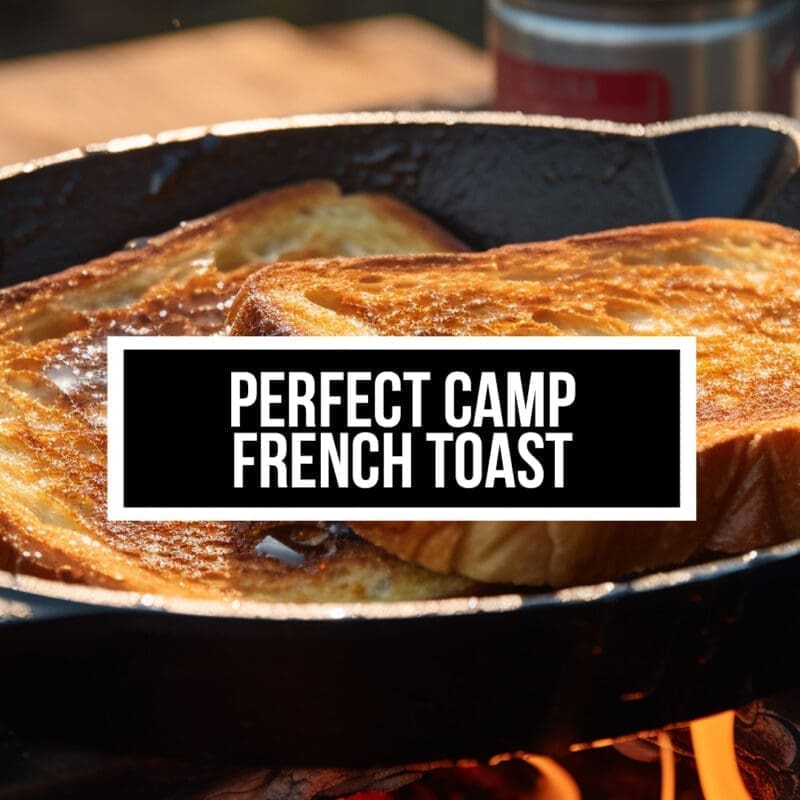 Perfect Camp French Toast
We've got a camp cooking classic with an Australian twist that'll make you shout 'ripper'! Say hello to the Perfect Camp French Toast, an outback brekkie legend! This camp recipe brings a dash of French finesse to the Aussie bush, creating a meal you'll want to whip up every morning, no worries. Once you've had a crack at this golden, fluffy delight, you'll be as loyal to it as a kangaroo to its joey. So put on your bush hat, fire up the camp stove, and get ready for a breakfast that's bonza, mate!
Ingredients
½

lb

loaf bread

3

Eggs

1

cup

milk

2

tablespoons

Sugar

plus more for sprinkling

1

teaspoon

Cinnamon

1

teaspoon

vanilla extract

optional

¼

teaspoon

nutmeg

optional

4

tablespoons

butter for pan

Maple syrup & berries to top
Instructions
Cut the bread into 3/4" - 1" thick slices.

Beat the eggs first in a bowl large enough to accommodate a slice of the bread. Then add milk, cinnamon, nutmeg, vanilla, and sugar together, until thoroughly mixed.

Heat 4 tablespoon butter in a skillet over medium heat.

Dip a slice of bread in the egg and milk mixture and let it soak for about 10 seconds on each side. Let the excess drip off, sprinkle each side with additional sugar, and then fry it in the skillet until golden and crispy on each side, about 3 minutes per side.

Repeat with the rest of the bread, adding more butter to the skillet as needed.

Serve with maple syrup, fresh fruit, and a cup of hot coffee. Enjoy!
Notes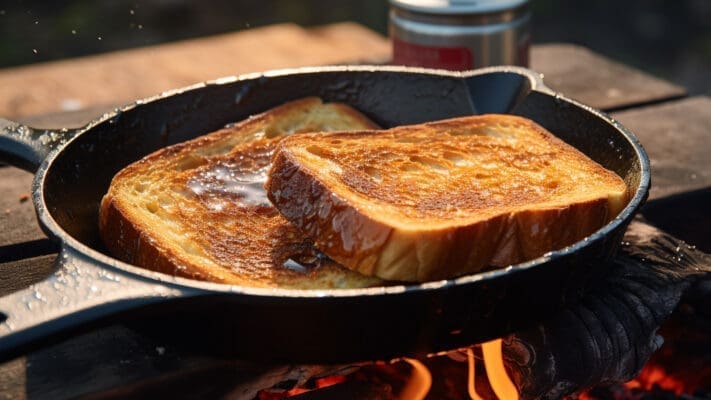 ---