Honey Soy Glazed Tomahawk Pork Chops That Will Wow!
When it comes to pork chops, the Tomahawk cut is in a league of its own—majestic in size and flavor, this cut is primed to impress. Often overshadowed by its beef counterpart, the Tomahawk pork chop offers a tender, flavorful alternative that's every bit as satisfying.
This recipe calls for the simplest of seasonings: salt and pepper. Why? Because when you're working with a cut this magnificent, you let the meat do the talking. The olive oil is more than just a binder for the seasonings; it's the key to achieving that gloriously golden crust that provides texture and taste in every bite.
The real game-changer, however, is the honey soy glaze. It's a concoction that sings with the chops—a melody of sweet, salty, and rich umami notes. The minced garlic brings a warm, aromatic quality that infuses the glaze, ensuring that each brush of sauce adds depth and complexity to the meat.
Grilling these chops isn't just cooking; it's an act of culinary artistry. The direct heat of the grill sears the meat, locking in juices and creating a symphony of smoky flavors. Flipping the chops regularly ensures even cooking and that coveted grill-mark charm.
As the meat nears its final temperature, the honey soy glaze caramelizes onto the surface, wrapping the pork in a sticky, savory-sweet jacket that's utterly irresistible. By the time the chops reach an internal temperature of 140°F, they're not just cooked—they're transformed.
After a brief rest—where the juices redistribute throughout the meat—the Tomahawk pork chops are ready to serve. What hits the plate is a masterpiece: juicy, flavorful, with a glaze that's a flavor bomb in every bite.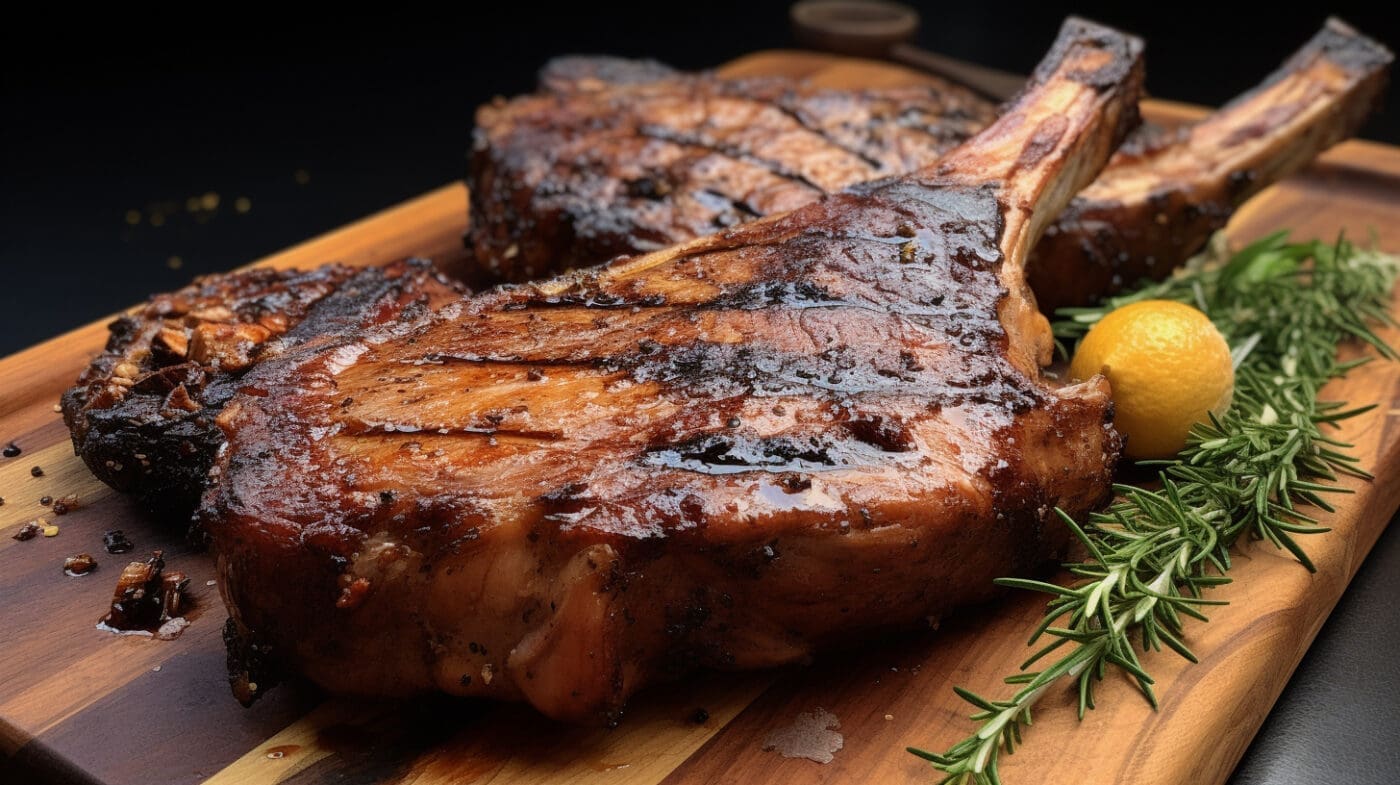 Tomahawk Pork Chops
Elevate your grilling repertoire with Tomahawk Pork Chops, the VIPs of the pork world! These hefty chops, seasoned simply and seared to perfection, are about to get a serious flavor upgrade. Just when you think they can't get any better, they're slathered in a sticky honey soy glaze that's garlicky, sweet, and completely addictive. It's a simple recipe with complex tastes that'll have everyone at your table reaching for seconds. These chops aren't just dinner, they're a statement piece on your plate!
Ingredients
3

Tomahawk pork chops

1

tbsp

Olive oil

1

tbsp

Salt

1

tbsp

Pepper
Honey Soy Glaze Ingredients:
1/2

cup

Soy sauce

1/2

cup

Honey

4

Garlic cloves

minced
Instructions
Pat pork chops dry and rub with olive oil. Season evenly with salt and pepper.

For the glaze, combine soy sauce, honey, and garlic in a saucepan. Simmer on low heat until the sauce thickens.

Preheat your grill to 350°F 175°C for direct heating. Grill the chops, flipping every 2-3 minutes.

When the internal temperature hits 130°F 54.5°C, brush the chops with the honey soy glaze.

Continue grilling until they reach 140°F, 60°C

Remove from the grill and let rest for 10 minutes before serving.
---
Top 5 Questions People Ask
Can I cook Tomahawk pork chops in the oven? Yes, you can sear them in a pan and finish them in the oven if you prefer.

What's the best way to ensure the pork chops are juicy? Don't skip the resting period after grilling; it's crucial for retaining juices.

Can I substitute the honey in the glaze? Maple syrup can be a good substitute for honey if needed.

What sides pair well with these pork chops? Consider classic sides like mashed potatoes, grilled asparagus, or a crisp apple slaw.

How do I know when the pork chops are done? Use a meat thermometer to check for an internal temperature of 140°F for the best results.
Whether you're an experienced pitmaster or a weekend griller, these Tomahawk pork chops with honey soy glaze are sure to become a favorite in your culinary arsenal.