Unleash Your Inner Italian Chef with This Epic Lasagna Recipe
This homemade lasagna recipe isn't just food; it's an experience, a love letter to Italian cuisine, and an instant mood lifter. Designed to feed the soul as much as the stomach, it's the comfort food of champions. And let's face it, who doesn't need a little comfort nowadays?
The journey begins with the meat sauce, which is where the magic happens. We're not just browning beef here; we're creating a pot of heaven that fuses ground meat with vibrant veggies and herbs. The touch of vinegar and optional sugar creates a balanced, palate-pleasing flavor that makes this dish uniquely irresistible. And here's the best part: you don't need to be a professional chef to nail it.
Now, let's talk noodles. The pasta is the backbone of any lasagna, so don't skimp on quality. You're looking for that al dente perfection that holds up the meat sauce and cheese without becoming mushy. And speaking of cheese, the blend of ricotta, mozzarella, and Parmesan delivers a creamy, cheesy goodness that complements the meaty sauce in the best way possible.
Assembly is where the fun really begins. You get to construct your culinary masterpiece layer by layer, making sure each one is generously packed with sauce, cheese, and love. Yes, love! Because a good lasagna is like a warm hug, and who couldn't use one of those?
This lasagna is also a fantastic make-ahead meal. It holds up beautifully in the freezer and reheats like a dream, making it a practical choice for weekday meals or unexpected guests. Imagine coming home after a long day and being just an oven preheat away from this delectable treat.
In essence, this isn't just a recipe; it's a celebration of simple ingredients coming together to create something extraordinary. Whether you're a lasagna rookie or a seasoned pro, this dish has something for everyone. So put on your chef's hat, roll up those sleeves, and let's make something amazing together.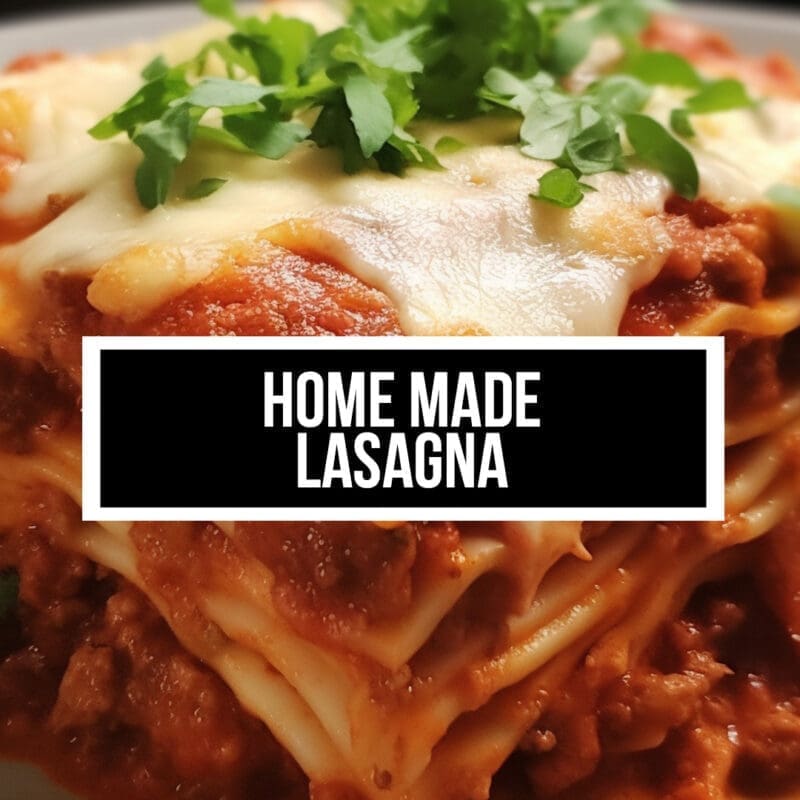 The Lasagna Recipe That'll Make You a Dinner Hero
Who can resist a hearty, cheesy lasagna? This isn't just any lasagna, folks; it's the ultimate comfort food masterpiece that will have your friends and family asking for seconds—or thirds! Get ready to conquer dinnertime!
With a meat sauce so flavorful you'll dream about it and cheese layers that feel like a warm hug, this lasagna also passes the leftovers test—it's just as delicious the next day. Plus, our storage and freezing tips ensure you get the same heavenly experience every time.
Ingredients
Meat Sauce:

2

tsp

olive oil

1

lb

ground beef

1/2

onion

chopped

1/2

bell pepper

chopped

2

garlic cloves

minced

1

can

28 oz tomato sauce

3

oz

tomato paste

1

can

14 oz crushed tomatoes

2

tbsp

fresh oregano

or 2 tsp dried

1/4

cup

fresh parsley

chopped

1

tbsp

Italian seasoning

A pinch of garlic powder or salt

1

tbsp

red or white vinegar

Optional: 1 tbsp to 1/4 cup sugar

Salt to taste

For Assembling:

1/2

lb

lasagna noodles

15

oz

ricotta cheese

1.5

lb

mozzarella cheese

grated or sliced

1/4

lb

Parmesan cheese

grated
Instructions
Prep Work:
Heat Up that H2O: Put a pot of salted water on high heat for your pasta. Get it boiling while you work on the sauce.
Meat Sauce Magic:
Sizzle Time: In a large skillet, heat olive oil over medium-high heat. Add ground beef and brown it up.

Veggie Vibes: Add the chopped onion and bell pepper to the skillet. Cook until they soften.

Garlic Galore: Toss in minced garlic and cook for another 30 seconds.

Sauce Symphony: Move your beef and veggies to a pot. Add the tomato sauce, paste, and crushed tomatoes.

Herb Heaven: Throw in oregano, parsley, and Italian seasoning. Adjust the taste with garlic powder or salt.

Finishing Touches: Add vinegar and optional sugar. Let this glorious sauce simmer for about 15-45 minutes. Stir occasionally and taste test for salt.
Noodle Know-How:
Boil the Noodles: Your water should be boiling by now. Cook the lasagna noodles until they're al dente. Drain and rinse them in cold water.

Oil 'Em Up: Lay your noodles flat on a baking sheet and coat them lightly with olive oil to avoid sticking.
Assembly Line:
Sauce Base: Spread a cup of meat sauce at the bottom of a 9x13-inch baking dish.

Layering 101: Place a layer of noodles over the sauce. Add more sauce, mozzarella, dollops of ricotta, and a sprinkle of Parmesan.

Repeat: Layer again following the same sequence. Finish with a final layer of noodles, sauce, and cheese.
Baking Bliss:
Foil Cover: Tent a foil over your masterpiece. Make sure it doesn't touch the cheese.

Oven Time: Bake at 375°F for 45 minutes. For a crusty top, remove the foil for the last 10 minutes.
Cool & Serve:
Patience is a Virtue: Allow it to cool for at least 15 minutes before diving in. Enjoy your culinary triumph!
Notes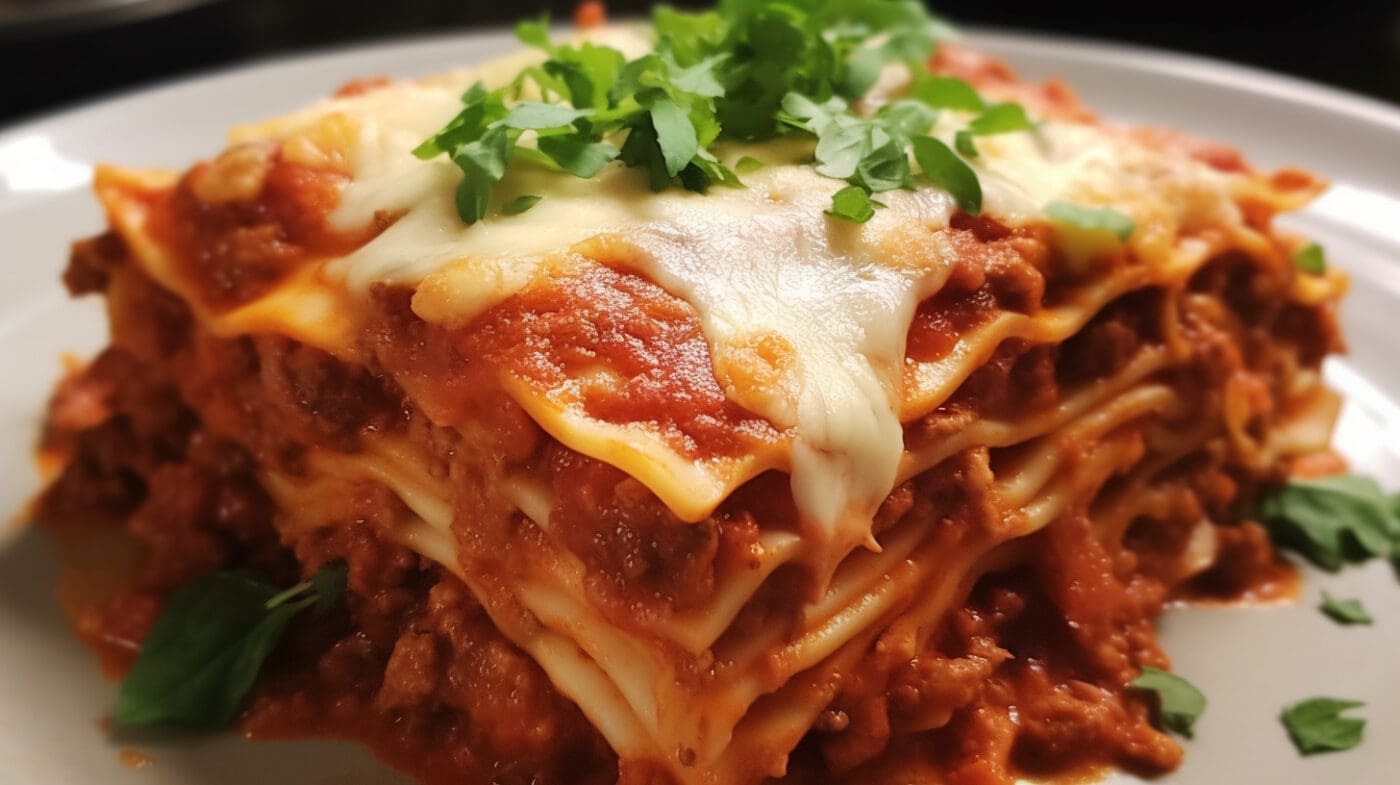 ---
Common Questions
Can I use different types of cheese?
Absolutely! Feel free to experiment with different cheese blends for a unique twist.
How long does the lasagna last in the fridge?
You can safely store it in the fridge for up to 5 days.
Can I freeze the lasagna?
Yes, either bake it first or freeze it unbaked. Either way works well.
How do I reheat frozen lasagna?
Thaw it in the fridge overnight and then reheat at 350°F until bubbly.
Can I make it vegetarian?
Sure, replace the beef with a meat alternative or use layers of veggies like zucchini or spinach.
What's the best way to layer?
Sauce, noodle, cheese is the ideal order, but feel free to mix it up!
How do I prevent the noodles from sticking together?
Drizzle some olive oil on cooked noodles to keep them separated.
Is sugar necessary in the sauce?
The sugar balances the acidity of the tomatoes, but it's optional.
Can I prepare it ahead of time?
Absolutely, you can assemble it a day in advance or freeze it for later.
Why does my lasagna turn out watery?
Overcooking the noodles or using watery sauce can be the culprit. Stick to the recipe guidelines for best results.