Harvest in a Bowl – The Ultimate Roast Pumpkin and Beetroot Salad
First off, the stars of the show: pumpkin and beetroot. Pumpkin brings a sweet, nutty flavor and soft texture, while beetroot counters that with its earthy tones and a firmer bite. Most types of pumpkin work, but butternut or kabocha squash can really elevate the dish. As for the beetroots, fresh is best. Canned might be quicker but you'll sacrifice taste and texture.
The Roasting Process
Ah, roasting—the magical process that turns ordinary vegetables into caramelized delights. Roasting draws out the natural sugars in the pumpkin and beetroot, giving them a slightly crispy exterior and a soft, almost creamy interior. And let's talk about that aroma—pure fall coziness filling your kitchen.
Dress to Impress
While the veggies are the cornerstone, the dressing is where you can get really creative. A classic vinaigrette made from olive oil, balsamic vinegar, and a dash of honey works wonders. It's like a warm hug to your earthy, roasted veggies. But don't stop there; how about a lemon-tahini dressing for a Middle Eastern twist, or a spicy Sriracha-honey combo for those who like it hot?
Add-Ons and Substitutes
We're all about customization here. Want to add more greens? Toss in some baby spinach or arugula. Not a fan of feta? Goat cheese or even a vegan alternative could make the cut. For crunch, consider toasted walnuts or pine nuts. The beauty of this salad is that it's a canvas for your culinary artistry.
Make-Ahead and Storage
The question on everyone's mind: "Can I make this ahead?" Yes, you can! Just roast the veggies and store them separately from the dressing. This way, you get to enjoy a quick, hearty meal whenever you want without losing that fresh crunch and flavor.
The Final Touch
Before you serve, toss everything together, ensuring that the dressing coats every morsel evenly. A final sprinkle of freshly chopped parsley or basil can add a burst of freshness, and there you have it—a salad that's hearty enough to stand alone but also shines as a side dish.
The Roast Pumpkin and Beetroot Salad is more than a meal; it's an experience. It embodies authenticity and resilience, much like the seasons it represents. Whether you're an experienced chef or a newbie in the kitchen, this is a dish that rewards creativity and offers a gastronomic journey through texture and flavor. Plus, it photographs beautifully, just begging to be the star of your next food blog or Instagram post.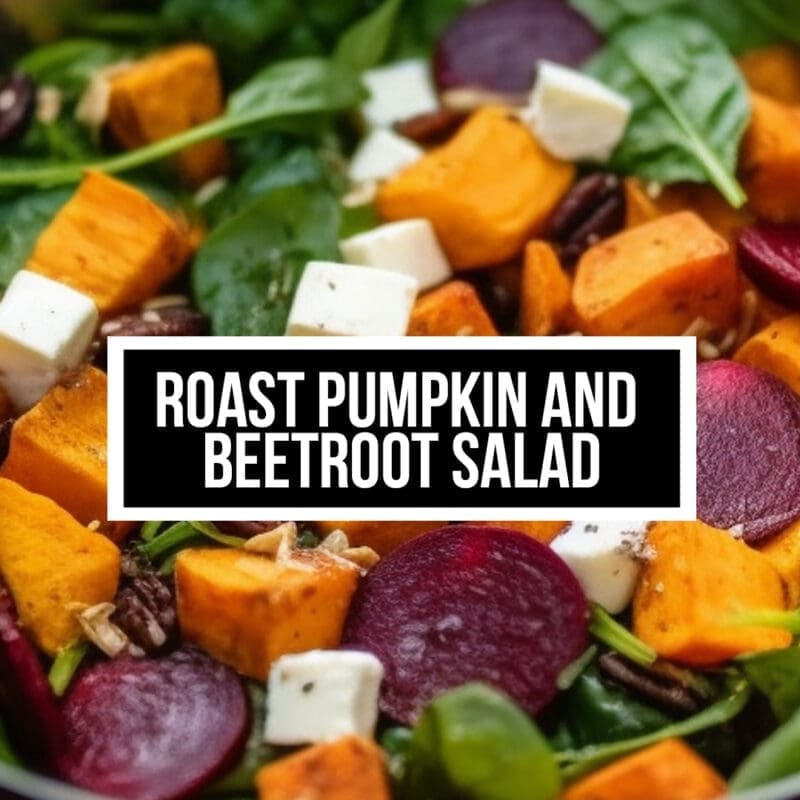 Pumpkin and Beetroot Salad
Indulge in a vibrant burst of flavors with our Roasted Pumpkin and Beetroot Salad—an absolute showstopper! Featuring succulent chunks of butternut pumpkin roasted to golden perfection with a hint of caraway seeds, this salad takes your taste buds on a culinary adventure. Paired with earthy beetroot and crisp baby spinach, every bite is a celebration.
Drizzled with signature balsamic & roasted garlic dressing, this dish is a harmonious blend of textures and flavors. And let's not forget the creamy torn cheese and toasted pumpkin seeds that add the perfect finishing touch.
Whether you serve it warm or cold, it's guaranteed to be the talk of any BBQ or festive gathering. Substitutions like feta or apple balsamic vinegar? Absolutely welcome.
This versatile, crowd-pleaser of a salad is bound to make it onto your favorites list!
Ingredients
700

g

diced butternut pumpkin

or

700

g

peeled pumpkin

cut into 2cm pieces

2

tsp

olive oil

1

tsp

caraway seeds

2

tbsp

pumpkin seeds

250

g

cooked beetroot

halved or cut into wedges if large

280

g

baby spinach

1/4

cup

60ml Praise deli style balsamic & roasted garlic dressing

150

g

Creamy cheese

torn
Instructions
Step 1: Prepare and Roast Pumpkin
Preheat your oven to 200°C (392°F).

Line a baking tray with parchment paper.

Scatter pumpkin chunks evenly across the tray.

Drizzle the pumpkin with your choice of oil.

Sprinkle caraway seeds over the pumpkin for added flavor.

Season to your taste with salt and pepper.

Place the tray in the oven and roast for 20 minutes. Make sure to toss the pumpkin occasionally.

After 20 minutes, check that the pumpkin is light golden and tender. If it is, move on to the next step.

Sprinkle pepitas around the pumpkin on the tray.

Bake for an additional 2 minutes to toast the pepitas.

Once done, remove from the oven and set aside to cool slightly.
Step 2: Prepare the Salad
In a large mixing bowl, combine the roasted pumpkin, beetroot, and spinach.

Drizzle your favorite dressing over the mixture.

Toss everything together until well combined.
Step 3: Serve
Transfer the salad to a serving bowl.

Finish by sprinkling blue cheese and the toasted pepitas on top.

There you go! Your dish is ready to serve and impress.
Notes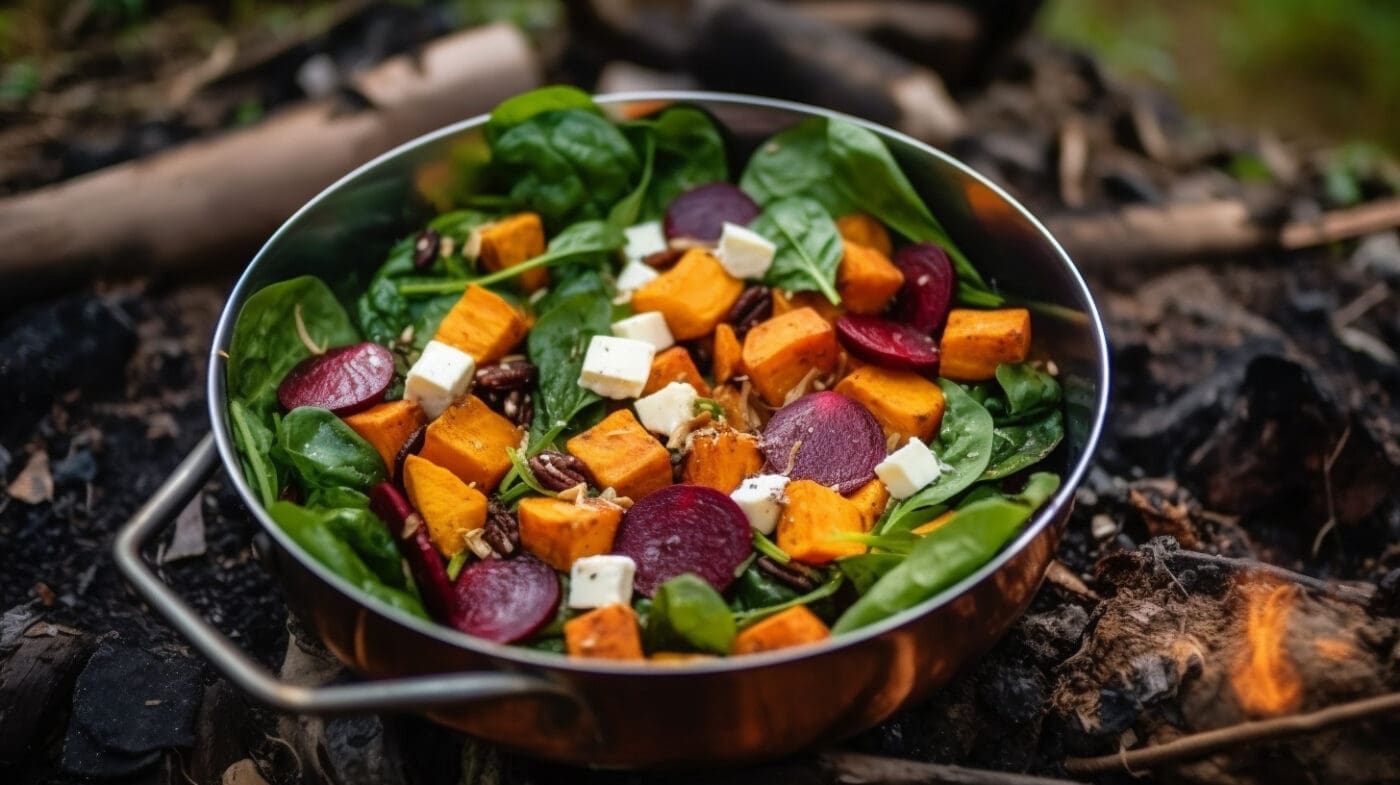 ---
Common Questions:
Ah, a roast pumpkin and beetroot salad! Talk about a colorful dish that screams autumn. But even with something as straightforward as a salad, there's always a bit of curiosity about how to perfect it. Here are some of the most commonly asked questions:
Can I use canned beets instead of fresh?
You can, but fresh beets will offer better flavor and texture. Just know that canned ones will save you some time.
What's the best type of pumpkin to use?
Butternut or kabocha squash work great, but honestly, most types of pumpkin should do the trick.
Can I make it ahead of time?
Yes, but it's best to keep the dressing and the roasted veggies separate until you're ready to serve.
What other veggies can I add?
Feel free to throw in some arugula, kale, or even some toasted nuts for extra crunch.
What dressings work well?
A simple vinaigrette made from olive oil, balsamic vinegar, and a touch of honey complements the earthy flavors beautifully.
Can I use goat cheese instead of feta?
Absolutely, goat cheese will bring a creamier, tangier twist to your salad.
How long can I store it in the fridge?
If undressed, the salad should last 2–3 days. If you've already added the dressing, aim to eat it within a day for best taste.
Do I have to roast the pumpkin and beetroot?
Roasting brings out the sweetness, but you could also steam them if you're short on time.
How can I make it vegan?
Skip the cheese or use a vegan cheese alternative, and make sure your dressing is plant-based.
Is there a low-fat dressing option?
You could go for a lemon-tahini dressing or even just a sprinkle of lemon juice and herbs.
Like with any recipe, making a roast pumpkin and beetroot salad is all about balancing flavors and textures to your liking.