Grilled Halloumi Breakfast Sandwich Recipe
If you're looking to truly elevate your mornings, especially those beautiful sunrises out on the road or at camp, then you've come to the right place.
Picture this: a grilled halloumi breakfast sandwich recipe, oozing with flavour and texture, served up with a hearty dose of adventure. I remember the first time I had this grilled halloumi recipe while camping on the outskirts of the Great Sandy Desert. The sunrise, the freshness of the morning, and the sandwich – it was a moment of pure bliss.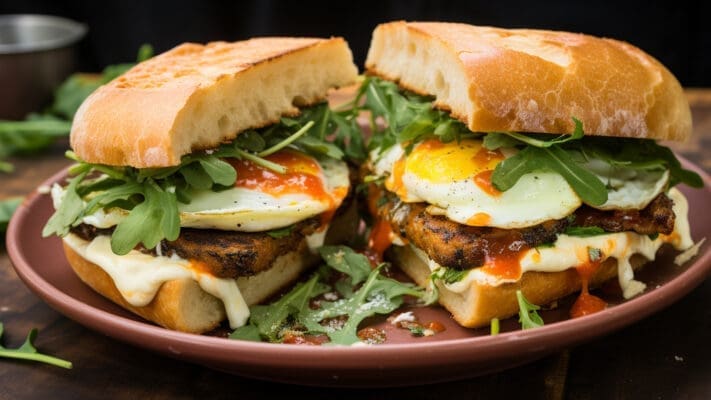 Grilled Halloumi in the Spotlight
If you haven't already jumped on the halloumi bandwagon, it's high time you did! This delightful cheese from Cyprus has a unique ability to hold up under heat. Grilling it brings out an amazing smoky flavour and leaves it with a delightful chewy texture. Plus, its salty goodness can elevate any breakfast from basic to brilliant. I fell in love with grilled halloumi when frriends introducted me to it in Melbourne.
The Perfect Bread for Your Grilled Halloumi Breakfast Sandwich
Now, let's talk about the backbone of any good sandwich – the bread. For our grilled halloumi breakfast sandwich, a hearty, robust bread works wonders. Think sourdough or a good, sturdy whole grain loaf. I found out just how important this was during a camping trip in the Blue Mountains. My bread was too soft and everything fell apart – a tasty disaster, sure, but not what you want when you're hungry in the morning.
The Art of Grilling Halloumi
Grilling halloumi is an art in itself. You want a medium-high heat and a well-oiled grill. Grill each side for just a couple of minutes until you have those lovely browned marks. I recall once I was so engrossed in the kangaroos bouncing around, I left my cheese on a tad too long. Let's just say I learned the hard way that grilled doesn't mean charred.
Preparing the Remaining Ingredients for your Grilled Halloumi Breakfast Sandwich Recipe
The rest of this breakfast masterpiece is a cinch. Fresh veggies are key – think juicy tomatoes, crisp lettuce, and maybe a bit of cucumber for crunch, maybe even an egg. Then there's the sauce – a good quality mayo or a tangy relish works a treat. I remember, while travelling in a van along the Queensland coast, how I stumbled upon a local homemade tomato chutney. That, my friends, took this grilled halloumi sandwich recipe to a whole new level.
Assembling the Grilled Halloumi Breakfast Sandwich
Here's where it all comes together. Layer your veggies on one slice of bread, stack on your perfectly grilled halloumi, and spread your chosen sauce on the other slice. Then, put it all together. The trick is to press it lightly, so everything melds together, but not too hard or your fillings will squeeze out the sides. I've spent many mornings perfecting this delicate press – it's a skill worth mastering.
Cooking Tips for Grilled Halloumi Breakfast Sandwich Campers and Vanlifers
Adapting this grilled halloumi recipe for campfire cooking is simple. A cast-iron skillet or a grill pan works well over the fire. To store the ingredients, keep your veggies in a cooler and your bread and cheese in a dry food box. And remember, just like that epic surf at Bells Beach, timing is everything when it comes to grilling your halloumi – so keep an eye on it!
So there you have it, my fellow adventurers. A grilled halloumi breakfast sandwich recipe to truly elevate your mornings. Remember, it's more than just the sandwich – it's the experience of making it, whether you're parked up by the beach or nestled in the bush. Go ahead, give it a crack!
I'd love to hear about your own experiences making this grilled halloumi breakfast sandwich recipe on your travels. And if you've found any local gems – a sauce, a relish, or maybe even a special type of bread – share it with the rest of us! After all, we're all in this grand adventure together.
Happy cooking, and see you down the road!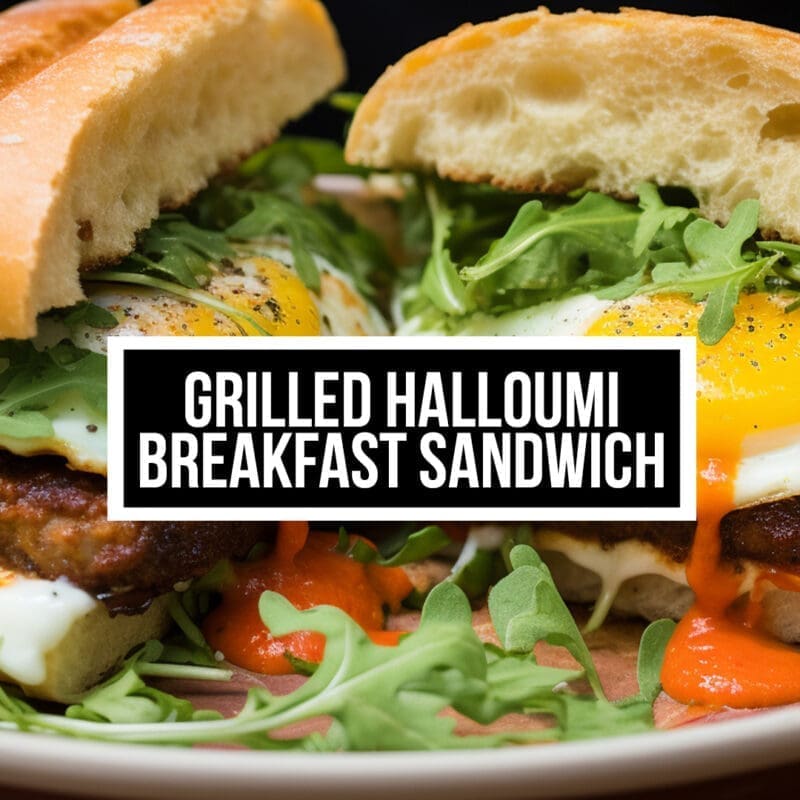 Grilled Halloumi Breakfast Sandwich
Ready to put some real ripper flavour into your campfire brekkie? Say g'day to our Grilled Halloumi Breakfast Sandwich, a bushman's delight straight from the land Down Under! It's got everything: fried halloumi cheese, a fresh egg, all tucked between a sweet, soft Hawaiian roll bun. This sweet & spicy camp recipe is the bee's knees of Australian camp cooking! The moment you catch a whiff of it grilling, you'll be springing out of your swag faster than a kangaroo at sunrise! This is more than a camping breakfast, it's a true-blue Aussie morning adventure!
Ingredients
1

Turkish Bread

(use the sandwich buns if you can find them)

1

tablespoon

butter or oil

divided

2

oz

halloumi cheese

sliced

1

Eggs

3

tablespoons

mayo

1

tablespoon

Sriracha

(more or less depending on your heat preference)

1

scallion

sliced or julienned

salt + pepper

to taste
Instructions
Toast the sandwich buns either in your skillet or over a grill. Set aside.

Heat half the butter or oil in your skillet over medium high heat. Once melted, add the cheese. Fry on each side until golden brown in spots, about 3-4 minutes per side. Set aside. This step could also be done on a grill if you have one going. In that case, skip the butter/oil, and place the cheese directly on the grill.

Heat the remaining butter or oil over medium heat. Once melted, crack the egg into the skillet. Totally optional step: Once the whites begin to set, you can use a fork to mix up the yolk a bit so that it gets distributed throughout the egg a bit, so there will be yolk in every bite. Cook the egg for about 4 minutes, or until they are cooked to your preferred doneness.

While the egg is cooking, prep the spicy mayo. In a small bowl (or in a measuring cup), mix together the mayo and the Sriracha.

To assemble, spread the spicy mayo on each cut surface of the buns. Layer on the grilled halloumi, egg, scallions, and salt & pepper to taste.
Notes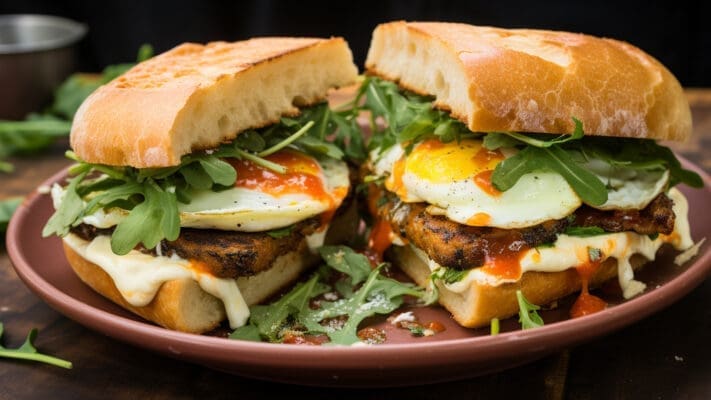 ---