A Journey through Queensland's Tropical Treasures
Ready for an Aussie adventure filled with tropical wonders, delicious eats, and sun-soaked beaches? This Cairns to Cardwell road trip itinerary showcases the best of Far North Queensland. Hit the road for scenic swimming spots, fresh local produce, and hidden gems that'll make your Instagram followers green with envy.
Cairns Esplanade Lagoon
Babinda Boulders
Josephine Falls
Art Deco Innisfail
Paronella Park
---
Tropical Fruit at The Pocket, El Arish
Lacey Creek, Djiru National Park
Bingil Bay Cafe
Stay at Castaways Resort & Spa
---
Mission Beach
Golden Gumboot, Tully
Murray Falls
Stay at Cardwell Beachcomber Motel and Tourist Park
---
Cardwell Spa Pool
Attie Creek Falls
Tropical North Queensland is a part of Australia that dazzles the senses. From the stunning beaches of Cairns to the mysterious depths of the Daintree, this road trip promises a kaleidoscope of experiences. We're talking about majestic waterfalls, scrumptious roadside eateries, and national parks that seem to ooze green. You'll not only get to see some of the most breathtaking scenery Australia has to offer but also taste your way through the Cassowary Coast.
This 4-day itinerary is perfect for those looking to break free and explore the hidden gems of Far North Queensland. It doesn't matter if you're in a van or a vintage convertible, the trip from Cairns to Cardwell is one you won't forget.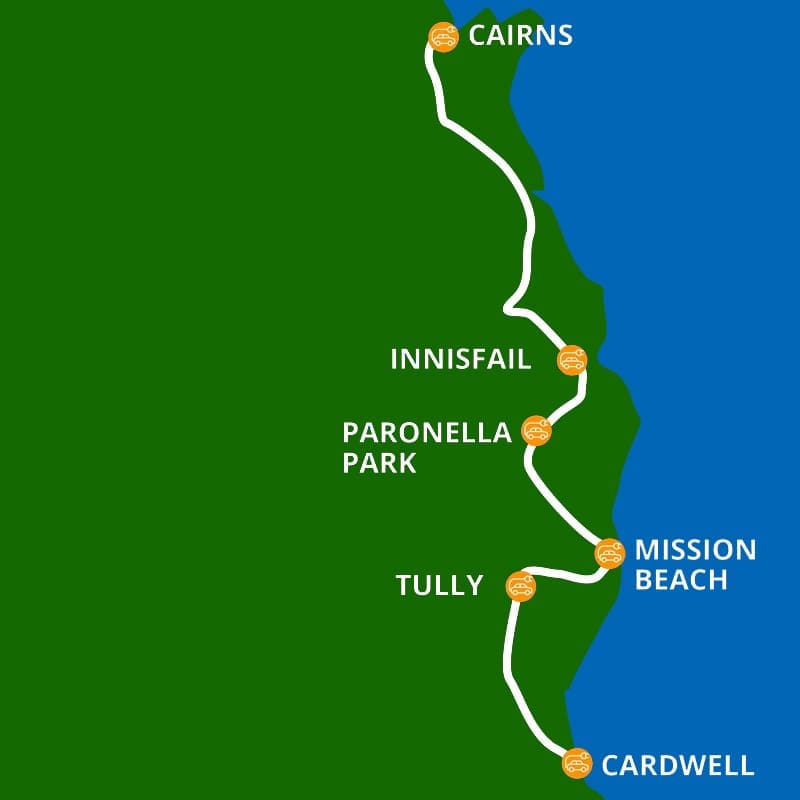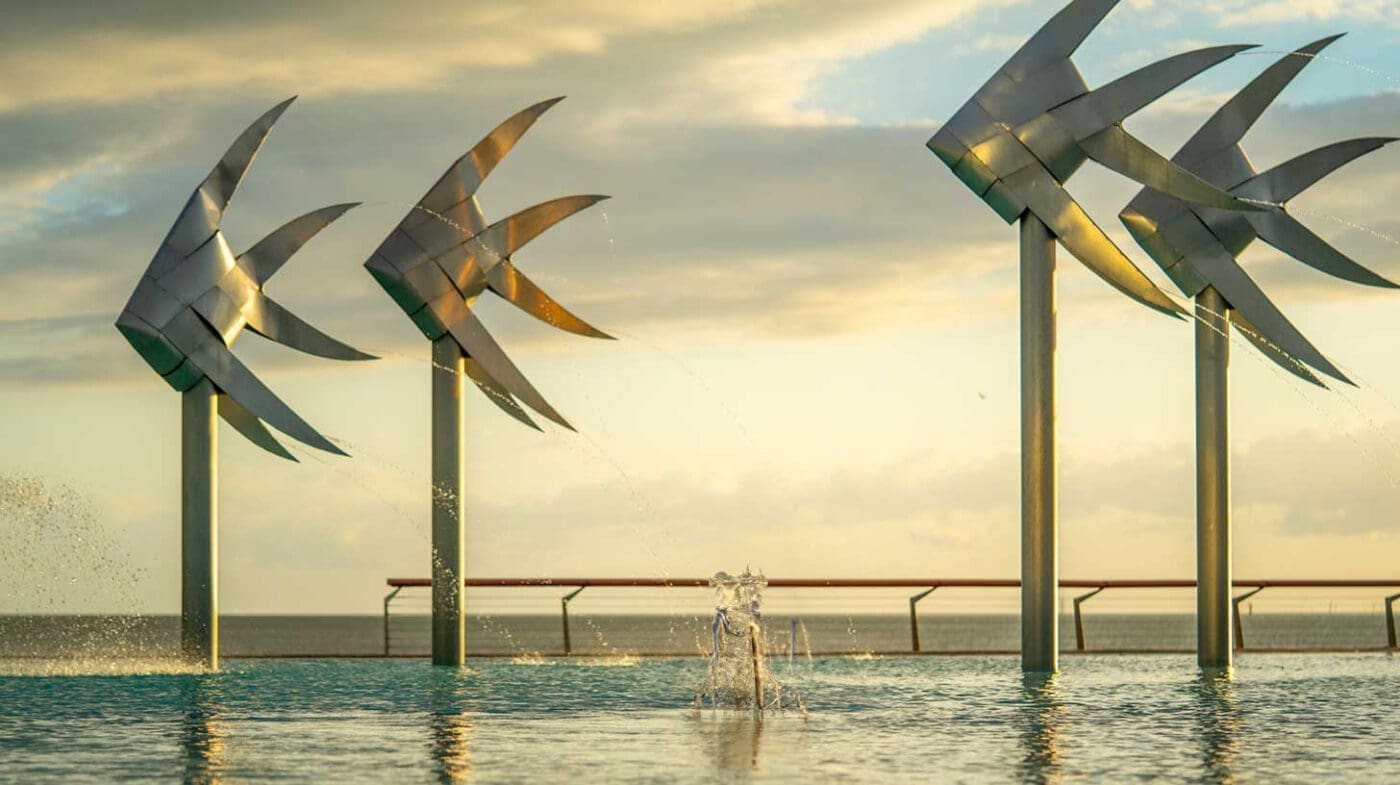 DAY 1
Cairns to Paronella Park – A Day of Dips, Deli & Dreamy Castles
Morning: Cairns Esplanade Lagoon
What's up: Start your day with an invigorating dip in the saltwater Cairns Lagoon. Take in the views of the Coral Sea and let the excitement of the day ahead wash over you.
Fuel Up: Head over to the Backyard Café right next to the Lagoon for a hearty breakfast. From smashed avo to a full Aussie breakfast, they've got all your morning favorites.
Mid-Morning: Babinda Boulders
What's up: Cruise down the scenic highway towards Babinda and prepare for a serene floating experience. The swimming area here is practically an oasis, encircled by lush rainforest.
Snack Attack: Before you hit the road again, swing by Babinda Bakery. Locals rave about their cream buns, so don't miss out!
Late Morning to Early Afternoon: Josephine Falls
What's up: Drive to Josephine Falls for a refreshing soak. It's like a water park, but Mother Nature is the architect. The waterfall's lower tier serves as a natural waterslide.
Pro Tip: If you're into photography, this place is a gem for some great waterfall shots.
Afternoon: Art Deco Innisfail
What's up: Step back in time in Innisfail, a town that flaunts its Art Deco architecture with pride. Walk down the historic streets and maybe even grab a selfie or two.
Lunch: You're gonna love Oliveri's Continental Deli. Whether you're into paninis, pies, or pastries, they've got your back.
What's up: Dive into the fairy-tale world of Paronella Park. Walk through the 'castle' built in the 1930s, and hear the touching love story behind it.
Dinner: Head over to Mena Creek Hotel, just a short drive from the park, for a cozy and fulfilling meal. They offer a mix of pub classics and modern Aussie fare.
Choices, Choices: Wrap up your day by choosing between sleeping under the stars with complimentary camping at Paronella Park or opt for a comfy air-conditioned cabin.
Hot Tip: Paronella Park admission includes day and night tours, and 1 night camping (must bring your own caravan/campervan/camper trailer etc.)
Visit their website for more info
So there you have it, the perfect "Splash & Dash" day! Whether you're in it for the chill vibes or for a dash of culture and romance, Day 1's got a bit of everything to make it a memorable start.
Ready for day 2?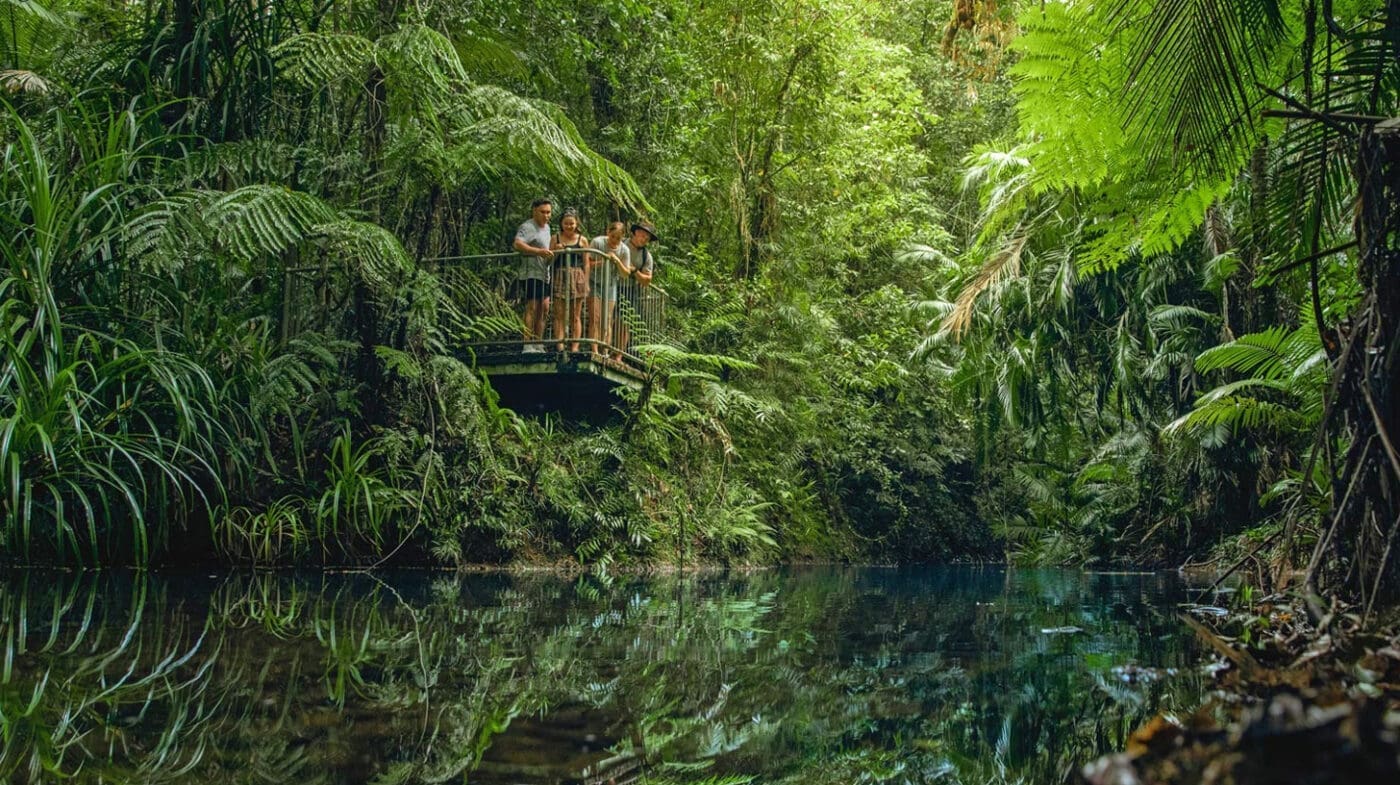 Day 2
Paronella Park to Mission Beach – A Day of Fruits, Forests, and Ocean Frolic
Morning: Tropical Fruit at The Pocket, El Arish
What's up: Start your day on a fruity note at The Pocket in El Arish. Trust me, you've never tasted fruits this fresh.
Morning Joe: While you're here, make sure to grab a cup of their local coffee. It's the ideal wake-up call for the adventures ahead.
Mid-Morning: Lacey Creek, Djiru National Park
What's up: A visit to Lacey Creek is like stepping into a nature documentary. Walk through the park and feel the calmness of the ancient rainforest envelop you.
Wildlife Alert: Keep an eye out for turtles and fish swimming in the crystalline waters. The place is a haven for amateur nature photographers.
What's up: By this point, you'll probably be starving, so let's head over to Bingil Bay Cafe.
Menu Must-Haves: Whether you're a pizza aficionado or a burger connoisseur, Bingil Bay has you sorted. Their gourmet pizzas are a local legend!
Late Afternoon to Evening: Stay at Castaways Resort & Spa
What's up: Time to trade in those walking shoes for some flip-flops. Castaways Resort & Spa awaits with its mesmerizing ocean views.
Wind Down: Treat yourself to a spa treatment to relax those muscles. You've earned it!
Ocean Dreaming: Let the sound of waves lull you to sleep in your plush room at Castaways Resort & Spa. It's the kind of luxury you deserve after a day of exploration and flavor.
So, Day 2 sets the stage for an unforgettable blend of nature and luxury. Whether you're munching on tropical fruits, strolling through serene rainforests, or treating yourself to oceanfront luxury, you're in for an array of experiences that define what it means to be in paradise. 🌳🍍🌊. Ready for Day 3?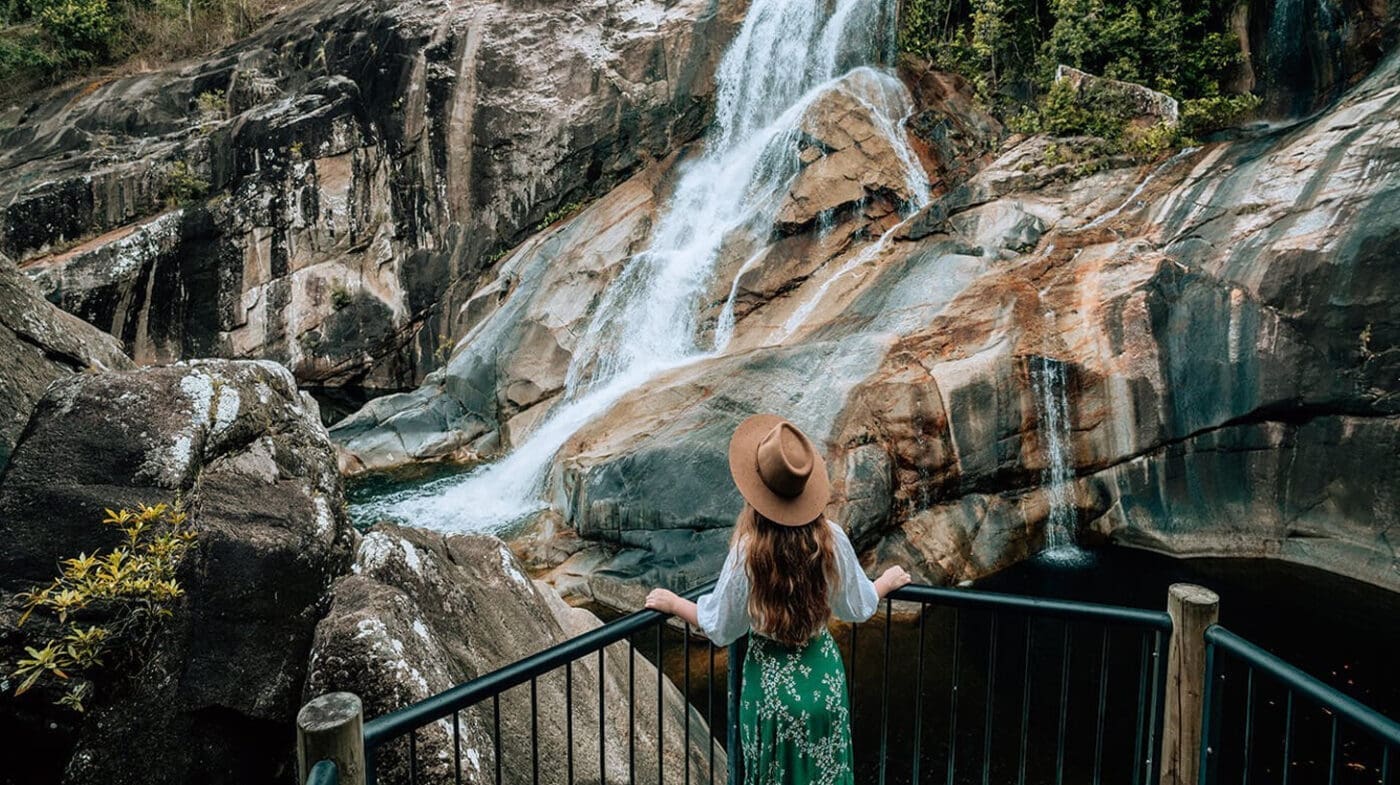 Day 3
Mission Beach to Cardwell – Waves, Wellingtons, and Waterfalls
What's up: Kickstart your day with some vitamin sea at Mission Beach. With multiple golden stretches to pick from, you're spoiled for choice here.
Beachside Vibes: Work on your tan, catch up on some reading, or take that Instagram-perfect shot with a backdrop of azure waters. Life's a beach, enjoy it!
Mid-Morning: Golden Gumboot, Tully
What's up: Hop back into your vehicle and hit the road to Tully, famously the wettest town in Australia. The highlight? An oversized Golden Gumboot statue!
Town Tales: There's more to Tully than just rain. Take a little time to explore the area and soak in its uniquely wet-and-wild charm.
What's up: Pack a picnic or grab some local grub to go. You'll want to maximize your time at our next destination.
Early Afternoon: Murray Falls
What's up: Welcome to Murray Falls, one of the hidden gems in Queensland. Perfect for a mid-day dip or simply basking in nature's grandeur.
Picture Perfect: The falls offer scenic views that'll make you feel like you've stepped into a postcard. Don't forget your camera!
Late Afternoon to Evening: Stay at Cardwell Beachcomber Motel and Tourist Park
What's up: As the sun dips, make your way to Cardwell Beachcomer Motel and Tourist Park for the night.
Pick Your Spot: Whether you prefer roughing it in a camp or the comfort of a fully-equipped room, they've got options to suit all tastes.
Rest & Recharge: After a day of beach bumming and waterfall chasing, you'll appreciate a good night's sleep. Cardwell Beachcomber ensures you get just that.
From stretches of golden sand to the quirky charm of Tully and the natural allure of Murray Falls, Day 3 offers a diverse set of experiences. It's days like these that make you appreciate the sheer variety that Australia's East Coast brings to the table. 🏖️🌦️🌊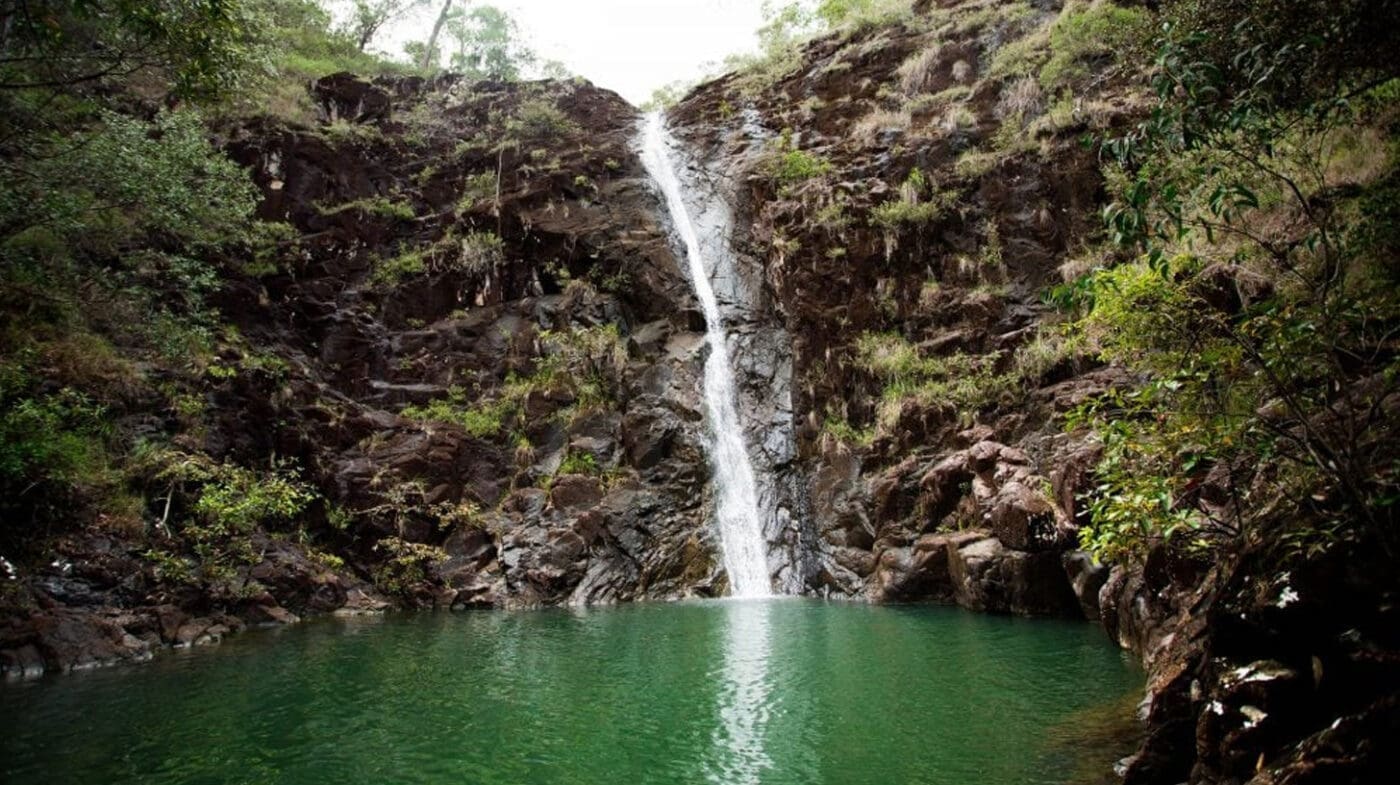 Day 4
Cardwell – Blue Pools and Cascading Falls – A Picturesque Farewell
Morning: Cardwell Spa Pool
What's Up: Rise and shine for a day that promises nothing short of magical. Cardwell Spa Pool, known for its mystifying blue waters, awaits.
Breakfast & Bath: How about a picnic breakfast by the pool? Imagine sipping your morning coffee with your feet dipped in the mesmerizing blue waters. It's an Instagram moment waiting to happen.
Mid-Morning: Exploring Cardwell
What's Up: With breakfast ticked off, take some time to wander around Cardwell. Maybe pick up some souvenirs or simply enjoy the laid-back vibe.
Local Hangouts: If you're keen to interact with locals or other travelers, this is a good time. You never know what hidden gems you might discover through casual chit-chat.
What's Up: You can either check out a local café for some grub or make your own lunch. If you opt for the latter, remember, simple sandwiches or salads work great on the road.
Early Afternoon: Attie Creek Falls
What's Up: Time to wrap up your journey with a bang at Attie Creek Falls. Just a short walk from the parking area, this waterfall is nature's own amphitheater.
Captured Moments: Perfect for the 'final shot' of your trip, the falls offer a backdrop that's pure magic. Whether it's a selfie or a panoramic view, make sure to capture this memory.
Late Afternoon: Final Reflections
What's Up: As the day winds down, take a moment to reflect on the adventure you've just had. From tropical fruits to cultural sights, azure waters, and cascading waterfalls, it's been quite the ride!
Your road trip from Cairns to Cardwell is more than just a journey; it's a tapestry of experiences woven together by the very fabric of Australia's diverse landscapes and vibrant cultures. Buckle up, and let the adventure begin!
But wait theres more!!! Here are more things to do in the area:
More Cairns Travel Guides: