From Coral Reefs to Rainforests – The Ultimate Queensland Road Trip Cairns to Cape Tribulation
Embark on a tropical journey from Cairns to Cape Tribulation, where the rainforest meets the reef. This 5-day itinerary covers idyllic beach villages, iconic Australian wildlife, and the captivating Daintree Rainforest. Whether you're a foodie, nature lover, or adventure seeker, this trip has something for everyone.
From sunrise breakfasts overlooking the Coral Sea to snorkeling adventures on the Great Barrier Reef, this trip serves up the best of Queensland in a laid-back, stunning setting. Lace-up those sandals and let's hit the road!
Breakfast with ocean views at Chill at Portofino
Relax at Palm Cove's day spas or lounge on its golden sands
Stay: Choose from various resorts or camp by the seaside
Day 2: Palm Cove to Port Douglas
Breakfast at Ellis Beach Bar and Grill
Visit Thala Beach Nature Reserve & lunch at Osprey's Restaurant
Wildlife Habitat visit
Stay: Resort or camping options in Port Douglas
Breakfast at Choo Choos at the Marina
Shopping at Macrossan Street
Snorkeling trip to the Low Isles
Dinner options from casual to gourmet
Stay: Resort options in Port Douglas
Day 4: Port Douglas to Mossman Gorge
Breakfast at a local café
Ngadiku Dreamtime Walk with a local Indigenous guide
Stay: Silky Oaks Lodge or budget options near Daintree Village
Day 5: Mossman Gorge to Cape Tribulation
Crocodile spotting on a river cruise
Visit to Alexandra Lookout and Daintree Discovery Centre
Try local flavors at Daintree Ice Cream Company
Explore Cape Tribulation beaches and boardwalks
Stay: Choose from various sustainable and off-grid properties
Australia's tropical north is more than just a travel destination; it's an experience. Kicking off in Cairns, the gateway to the Great Barrier Reef, this road trip takes you through some of the most picturesque and lush landscapes the Land Down Under has to offer. Dive into local cultures, savor world-class cuisines, and soak up the unbeatable coastal views as you make your way through Palm Cove, Port Douglas, and eventually to Cape Tribulation where two World Heritage Sites meet.
Start your journey with a leisurely breakfast at Palm Cove, with ocean views that'll have you pinching yourself. When you're ready to get up from your sunbed, take a dip in the sea or explore spas that redefine relaxation. Next, take the scenic coastal road to Port Douglas, a charming resort town that oozes laid-back luxury. Don't miss the opportunity to see iconic Australian wildlife up close or snorkel among the coral gardens of the Great Barrier Reef.
Continuing your adventure, you'll head to Mossman Gorge for an authentic Indigenous experience and a walk through the oldest rainforest on the planet. Ready to unplug? Stay in a secluded lodge surrounded by the sights and sounds of the Daintree Rainforest.
Finally, make your way to Cape Tribulation where you'll explore mangrove swamps, stroll through ancient forests, and maybe even see a crocodile in the wild. Cap off your trip with unique tropical flavors from local cafes and eateries. This is not just a road trip; it's a journey through Australia's tropical wonderland.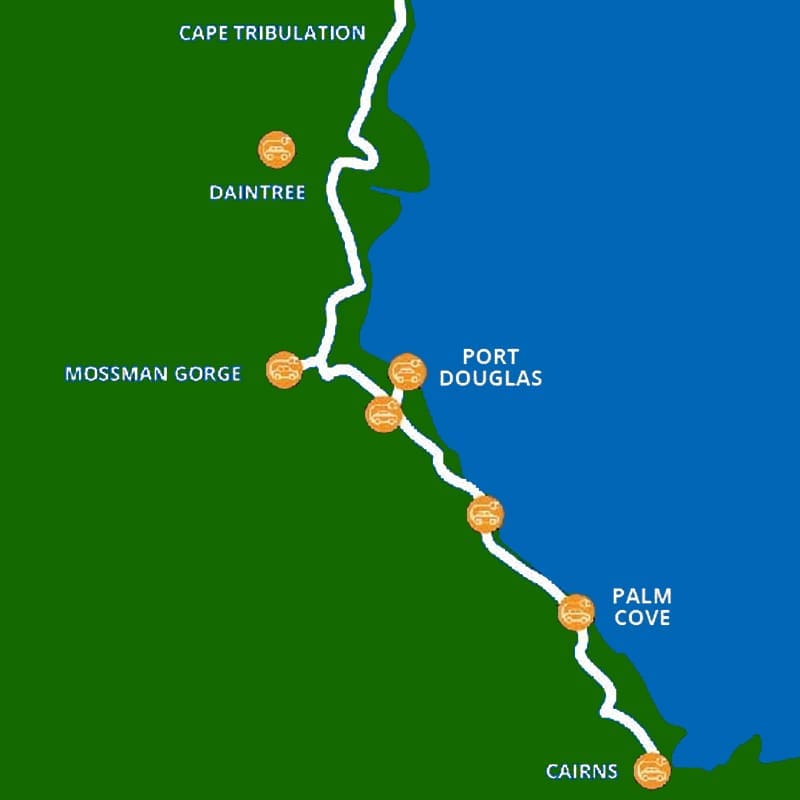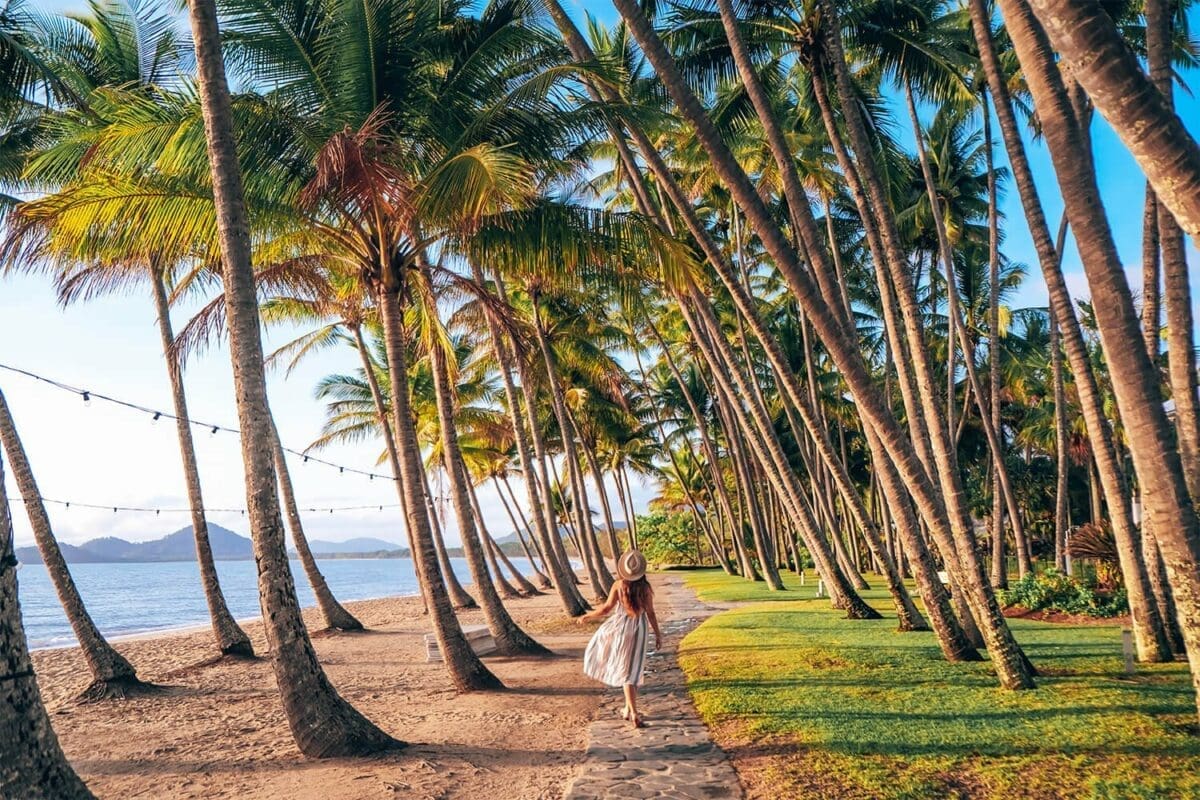 DAY 1
Cairns to Palm Cove – A Blissful Beginning
Start your day bright and early in Cairns, a tropical city that's your gateway to adventure. If you're staying in the city, grab breakfast at Caffiend, a local gem that serves up some of the best coffee and breakfast bowls around. Feel like something a bit more classic? Head to Perrotta's at the Gallery, where you can enjoy traditional Aussie brekkie options like smashed avocado and toast, all while overlooking a beautiful lagoon.
Quick Tip: If you're into photography, Cairns offers some amazing sunrise spots, so don't forget to capture those early morning rays before you hit the road.
Late Morning: Setting Off for Palm Cove
Cairns to Palm Cove is a straightforward drive, roughly 30 minutes, along the Captain Cook Highway. It's not a long ride, but what it lacks in duration, it makes up for in stunning coastal vistas. Half the fun is the drive itself. You'll pass stately Melaleuca trees and get your first real views of the Coral Sea.
Activity Idea: Make a quick pit stop at Ellis Beach for a refreshing swim or even a little beachcombing. This lesser-known beach is a great way to get your feet wet (literally) before arriving at Palm Cove.
Afternoon: Arrival in Palm Cove
Afternoon: Arrival in Palm Cove
Palm Cove is a coastal paradise, where the vibe is "luxury meets laid-back." You'll instantly notice the rows of palm trees lining the beach and the relaxed atmosphere that screams tropical holiday. Once you arrive, it's time to slip into total vacation mode.
To-Do:
Stake out a nice piece of sandy real estate for sunbathing.
Alternatively, book a session at one of Palm Cove's numerous day spas for a holistic relaxation experience.
Food Alert: For lunch, check out Nu Nu Restaurant, an award-winning spot where the tropical setting matches the locally-inspired cuisine. Think fresh seafood and flavors that'll wake up your taste buds.
Evening: Sunset and Dining
As the sun starts setting, Palm Cove pier is where you want to be. The sunset views over the Coral Sea are nothing short of breathtaking.
Dinner Options:
Chill at Portofino is a top pick for an intimate dinner with ocean views. The seafood platter is a must-try.
For a more casual atmosphere, head to Palm Cove Surf Club. The menu is varied, the drinks are cold, and the ocean view is free!
Whether you're camping by the sea or staying in one of the many resorts that line the beach, the sound of the waves will lull you to sleep.
Stay Options:
So there you have it, a day that sets the stage for an epic road trip up Australia's tropical north.
Ready for day 2?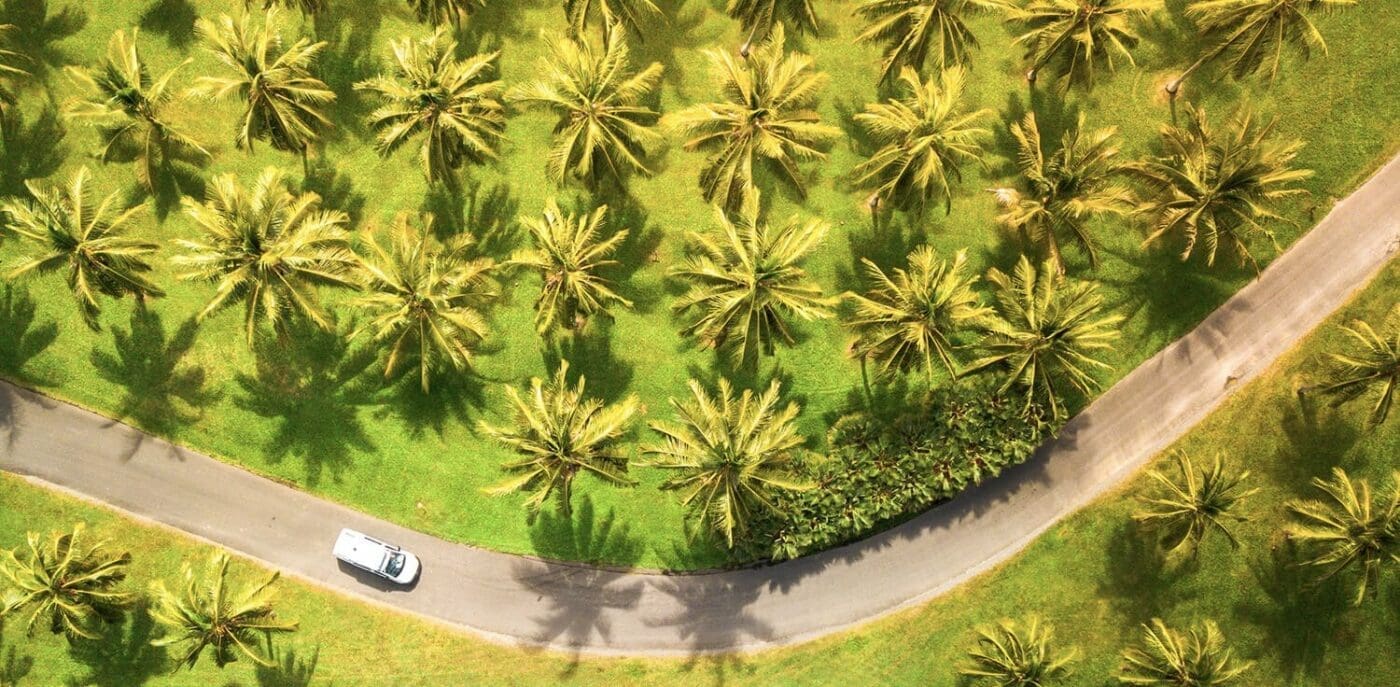 Day 2
Palm Cove to Port Douglas
Beach Hopping & Wildlife Wonders
Morning: Early Rise & Breakfast in Palm Cove
Wake up to the sound of waves lapping on the shore and get ready for a brand-new day of adventure. Before you leave Palm Cove, get breakfast at Vivo Palm Cove, known for its killer croissants and open-air tropical setting.
Quick Tip: If you're a shutterbug, the morning light against the Palm Cove pier and ocean backdrop is too good to pass up.
Late Morning: Kick-Start the Coastal Drive to Port Douglas
Once you're fueled up, it's time to head to Port Douglas. The drive along the Captain Cook Highway is, without exaggeration, one of the most scenic routes you'll ever take. Keep your eyes peeled for roadside beaches and pull-over points for capturing that perfect Instagram shot.
Activity Idea:
First stop, Ellis Beach for some sun and surf. There's a Bar and Grill right there; perfect for a mid-morning coffee or fresh juice.
Early Afternoon: Thala Beach Nature Reserve
Your next must-see spot is the Thala Beach Nature Reserve. You've probably seen it on Instagram and Pinterest; it's that stretch of coastline with rows of palm trees that look like something out of a dream.
To-Do:
Walk among the palms and get those iconic shots.
Then, lunch at Osprey's Restaurant. The place offers a stunning treetop dining experience, where you can soak in panoramic views while munching on fresh, local produce.
Mid-Afternoon: Wildlife Habitat Experience
After a feast for your tummy, it's time for a feast for your eyes at the Wildlife Habitat. This place offers an immersive experience with Australian wildlife.
Activity Ideas:
Hand-feed kangaroos and wallabies.
Witness the unique Southern Cassowary.
Go for the "Swim with the Salties" experience if you're feeling brave.
Book your Tickets here From $45
As the sun sets, why not take a leisurely stroll down Macrossan Street? It's the hub for all things shopping, dining, and evening entertainment.
Dining Options:
Whether you're lying in a plush bed or chilling by a campfire, your Day 2 wraps up with the promise of even more adventures ahead. You've sampled everything from beach life to wildlife. Ready for Day 3?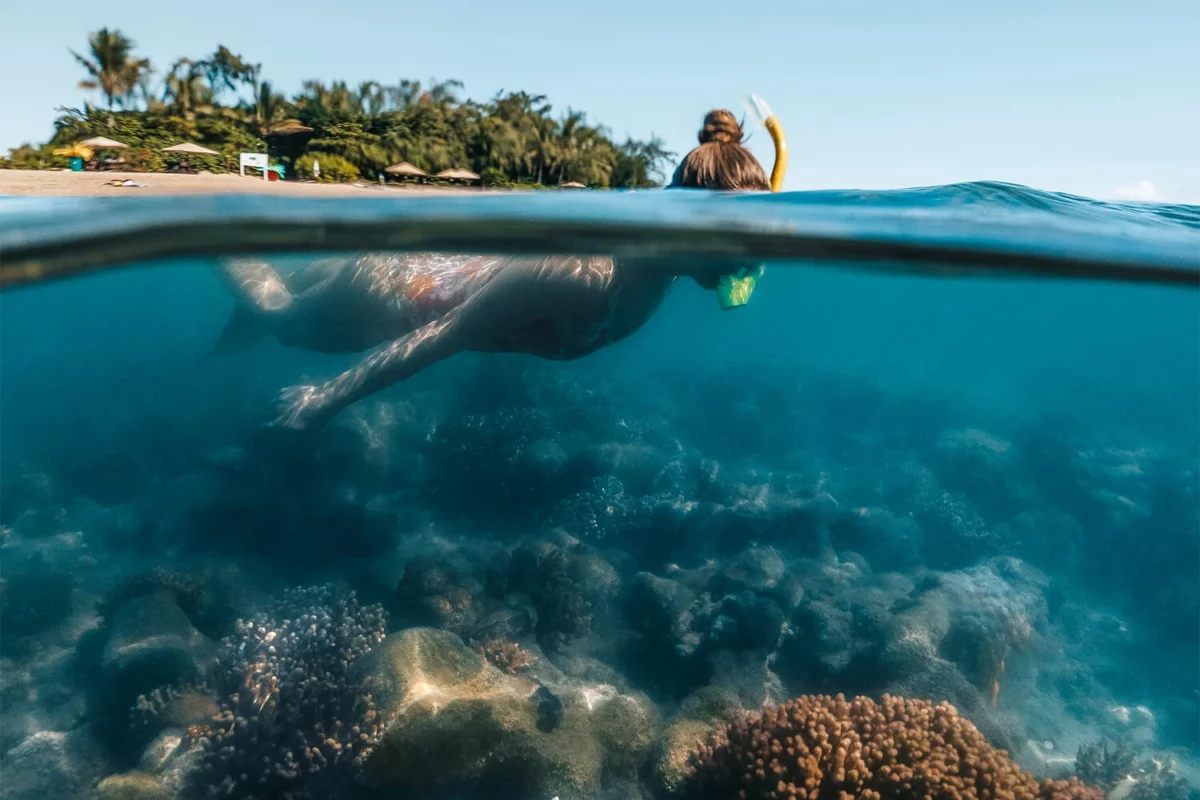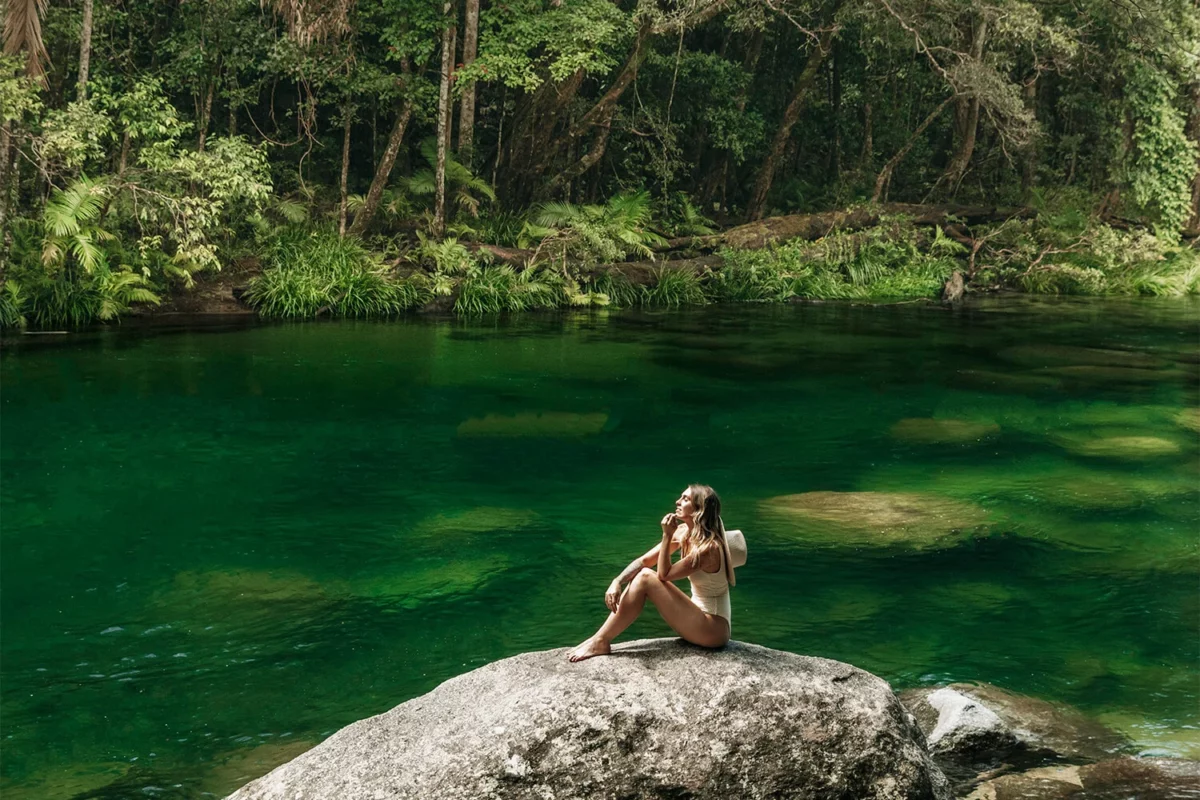 Day 4
Port Douglas to Mossman Gorge – Journey Through Time and Nature
Morning: Breakfast at a Local Café
Start your day by soaking in some local flavor. Head to a local café that offers more than just a meal; find a spot where locals gather.
Quick Tip:
Opt for a café that uses local produce. The banana bread around here is a local staple, and the smoothies are loaded with tropical fruits.
Late Morning: Drive to Mossman Gorge
After a satisfying breakfast, gear up for a scenic drive to Mossman Gorge. The route itself is a visual treat, offering glimpses of thick rainforests and rolling mountains.
On the Way:
You might want to pull over for some spontaneous photography. The landscapes are that good.
Mid-Day: Ngadiku Dreamtime Walk with a Local Indigenous Guide
Upon arriving at Mossman Gorge, it's time for the Ngadiku Dreamtime Walk. This is not just a walk but a profound cultural journey guided by local Indigenous folks.
What You'll Do:
You'll learn about the ancient plants and their uses in medicine and food.
You'll also hear Dreamtime stories that offer insights into Indigenous heritage and spirituality.
To Bring:
Bring along some good walking shoes and keep your camera at the ready, but also be respectful of areas that may be culturally sensitive.
Afternoon: Free Time to Explore
After the Dreamtime walk, you'll have the afternoon free. Use this time to explore further or take part in some optional activities.
Optional Activities:
Maybe get some drone footage of Mossman Gorge if it's allowed. Just imagine those aerial shots!
If you've got a sketchbook or just a knack for drawing, some of the scenes here could be artistic inspiration.
Evening: Head to Your Accommodation
Now it's time to unwind and recharge for the evening. Whether you're bunking at the upscale Silky Oaks Lodge or a budget-friendly option near Daintree Village, both offer unique experiences.
Where to Stay:
Silky Oaks Lodge offers spa treatments and has an incredible view over the Mossman River, ideal for a bit of luxury.
Budget options near Daintree Village will give you a more rustic, down-to-earth experience.
Late Evening: Recap and Relax
Before calling it a night, maybe it's a good time to do some light editing on the day's photos or outline your next blog post.
Reflect and Unwind:
Take a moment to appreciate the deep cultural and natural beauty you've encountered today.
So there you have it, Day 4 from Port Douglas to Mossman Gorge — a day where the modern world meets ancient tradition. The Dreamtime walk is a unique blend of culture and nature, isn't it? Ever done anything quite like that before?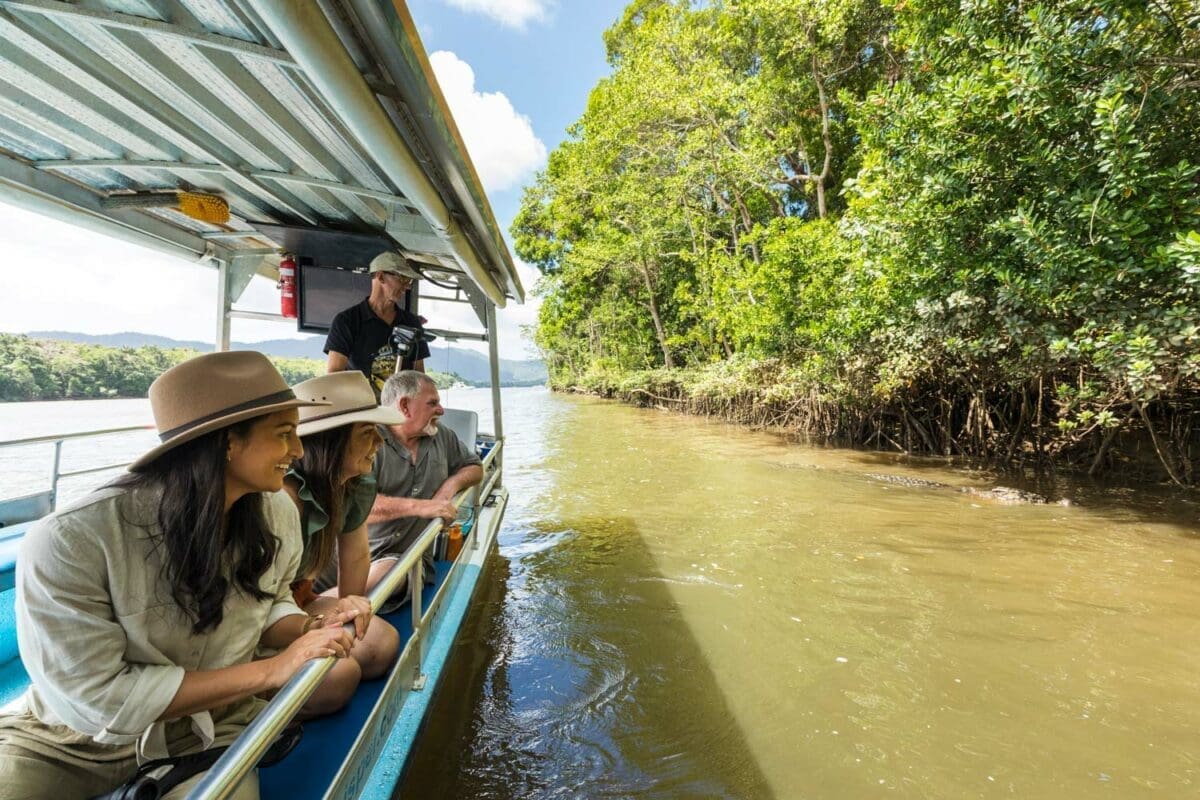 Day 5
Mossman Gorge to Cape Tribulation – Wildlife, Flavors, and Beach Vibes
Morning: Crocodile Spotting on a River Cruise
Kick off the day with a thrilling river cruise that'll get your heart pumping. This isn't your average leisurely sail; you'll be on the lookout for crocodiles in their natural habitat.
What to Bring:
Definitely pack your zoom lens for some close-up shots of these ancient reptiles. Just make sure to keep your hands inside the boat!
Quick Tip:
Listen closely to the guide—they're usually filled with interesting tidbits about the crocs and the ecosystem.
Book
Pick your River Cruise here:
Late Morning: Visit to Alexandra Lookout and Daintree Discovery Centre
After the adrenaline of crocodile spotting, head to Alexandra Lookout for a panoramic view of the Daintree River and beyond.
At Alexandra Lookout:
Capture some stunning landscape shots. The mix of the river, forest, and ocean makes for a dynamic backdrop.
Next, make your way to the Daintree Discovery Centre, an award-winning eco-tourism facility.
What You'll Do:
Learn about the rainforest's biodiversity through interactive displays. The place is a goldmine for understanding the fragile ecosystem and could provide great material for a sustainability-focused blog post.
Tickets:
Early Afternoon: Try Local Flavors at Daintree Ice Cream Company
Now that you've had your fill of education and exploration, how about a treat? Stop by the Daintree Ice Cream Company to try some local exotic flavors made from fruits grown on their orchard.
Must-Try:
The Black Sapote ice cream, also known as "chocolate pudding fruit," is a must-try, and don't forget to share this unique experience with your followers.
Late Afternoon: Explore Cape Tribulation Beaches and Boardwalks
Spend the remainder of your day at Cape Tribulation, where the forest meets the reef. From basking on the beach to strolling on the boardwalks, it's a nature lover's paradise.
Optional Activities:
Take a guided tour to understand the intertwining ecosystems. Perfect for some live Instagram updates or perhaps a short video blog entry.
Gear Up:
You'll want to bring your GoPro or a waterproof camera for some snorkeling or even just frolicking in the waves.
Evening: Choose Your Stay
Cap off the day by heading to your accommodation. Cape Tribulation offers a range of sustainable and off-grid properties that align perfectly with a lifestyle focused on sustainability.
Stay Options:
Opt for an eco-lodge that uses renewable resources. It's a great way to stay true to your principles while providing an authentic review for your audience.
Late Evening: Reflect and Plan Ahead
Before drifting off, maybe do a quick social media update or jot down some ideas for your next blog post.
Capturing the Essence:
Think about the day's experiences — the rush of spotting crocs, the awe at Alexandra Lookout, and the serenity at Cape Trib. Could be some interesting narratives in there, don't you think?
And there you have it! Day 5 is a wrap, a heady mix of adventure, learning, and relaxation. How do you usually wind down after such a packed day? Got any go-to routines?
But wait theres more!!! Here are more things to do in the area:
More Cairns Travel Guides: