Rainforests, Waterfalls, and Wildlife – A Tropical Australian Odyssey
Embark on a 5-day adventure across Queensland's stunning landscapes, from the bustling tropics of Cairns to the lush heights of Atherton Tablelands. Forget the hustle and bustle of city life; it's time to take selfies with waterfalls, hug a few trees, and get up close and personal with Australia's exotic wildlife.
Day-by-Day Itinerary:
Skyrail Rainforest Cableway for panoramic forest views
Shop at Kuranda Original Rainforest Markets
Stay: Speewah Country Tavern
Morning dip at Emerald Creek Falls
Coffee at Coffee Works in Mareeba
Granite Gorge Nature Park for wildlife spotting
Stay: Granite Gorge Nature Park
Breakfast in quirky Yungaburra cafes
Marvel at the Curtain Fig Tree
Swim in volcanic Lake Eacham
Stay: Yungaburra Park Motel
Breakfast at Shaylee Strawberries
Visit The Crystal Caves and Tolga Bat Hospital
Stay: BIG4 NRMA Atherton Tablelands Holiday Park
Day 5: Atherton to Millaa Millaa
Time travel at Herberton Historic Village
Millaa Millaa Waterfall Circuit for fairytale-like drops
Optional detour to Mt. Garnet for geothermic pools
From rainforest cableways that offer panoramic views of the emerald canopy to bustling local markets where you can snag that perfect travel keepsake, this 5-day road trip itinerary covers the best of Cairns and Atherton Tablelands.
Explore Speewah's natural wonders, indulge in Mareeba's local ice cream and coffee, get acquainted with rock wallabies in Granite Gorge, wander the charming streets of Yungaburra, and take in the spectacle of Millaa Millaa's iconic waterfalls. And let's not forget – a range of sustainable and off-grid properties provide the perfect setting to unwind after a day of exploration. Whether you're a nature lover, foodie, or someone in between, this road trip promises an unforgettable adventure.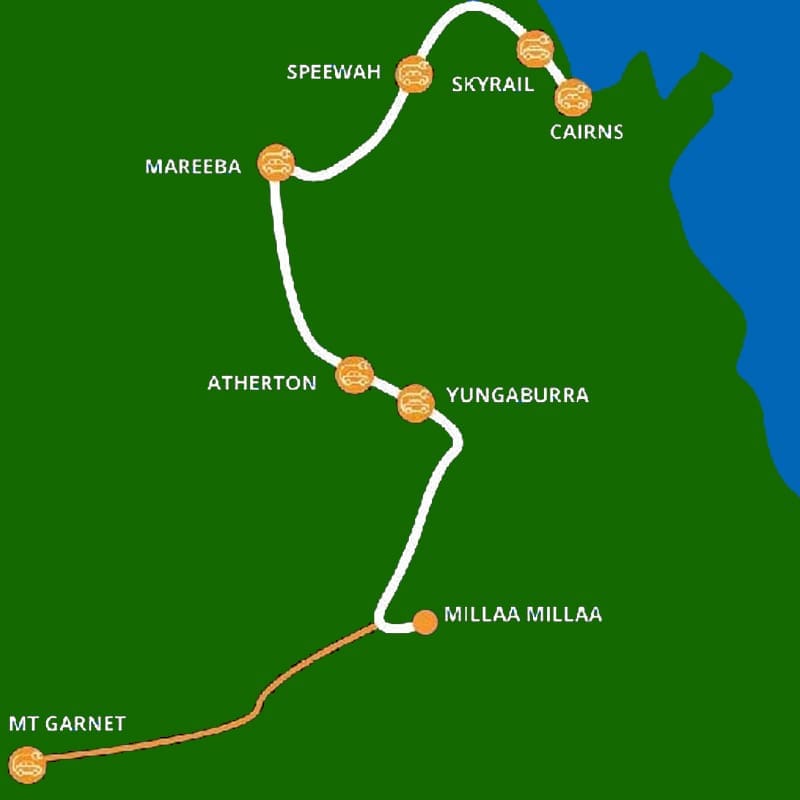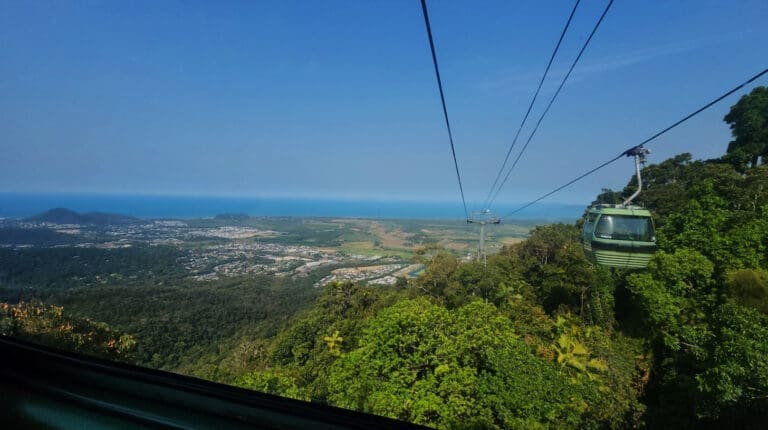 DAY 1
From Cairns' Buzz to Speewah's Tranquility
Morning: Skyrail Rainforest Cableway
Start your day with a ride on the Skyrail Rainforest Cableway. This is your golden ticket to sweeping views of the Cairns highlands. As you ascend in your gondola, the bustling world you left behind quickly turns into an endless expanse of vibrant green. The journey gives you plenty of Instagrammable moments, with views of Barron Gorge and Barron Falls as your backdrop. You'll make two pit stops at Red Peak and Barron Falls stations where you can get out, stretch your legs, and wander through the forest on a guided boardwalk tour.
Take a day trip from Cairns to Kuranda on the Skyrail Rainforest Cableway, and return via the Kuranda Scenic Railway. Alternatively, make the 1-way journey by railway and return by skyrail. Enjoy a tranquil ride as you soar above the rainforest canopy, with views from Cairns all the way to the Great Barrier Reef, and spend free time in Kuranda Village.
Skyrail & Train tickets: Book here (From $187)
Afternoon: Kuranda Original Rainforest Markets
Once you reach the mountain village of Kuranda, it's shopping time. Head over to the Kuranda Original Rainforest Markets. Picture a bohemian paradise tucked away in the rainforest—here, you can pick up handmade crafts, unique local artworks, and tasty organic treats. This is the spot to grab those memorable trinkets and travel keepsakes. You can also opt for a mini-foodie tour by sampling local bites like Barramundi skewers or Macadamia nut goodies.
Evening: Drive to Speewah and Check-In
Post-market exploration, hop in your vehicle and make your way to Speewah, a tiny village situated on the western fringes of the Barron Gorge National Park. It's about a 40-minute drive but feels like a world away from the tourist throngs. The roads curve through scenic landscapes, providing the perfect transition to the next phase of your adventure.
Stay: Speewah Country Tavern
Once you reach Speewah, you'll be staying at the Speewah Country Tavern, an eco-friendly accommodation option with cabins flanked by native wildlife. If you're lucky, you might spot a wallaby or two hanging around your cabin. Unwind with a relaxed dinner at the on-site bar and restaurant, where you can taste some local brews and hearty Aussie staples like a meat pie or a seafood basket.
Skyrail tickets often sell out, so pre-booking is advisable.
The Kuranda Markets are a haven for unique, locally-made crafts—bring cash for easier transactions.
Keep your camera handy; the journey from Cairns to Speewah is peppered with stunning scenic overlooks.
After a day that combined the thrills of a gondola ride with the earthy allure of a rainforest market,
retire to the tranquil surroundings of Speewah. Tomorrow, another adventure awaits.
Ready for day 2?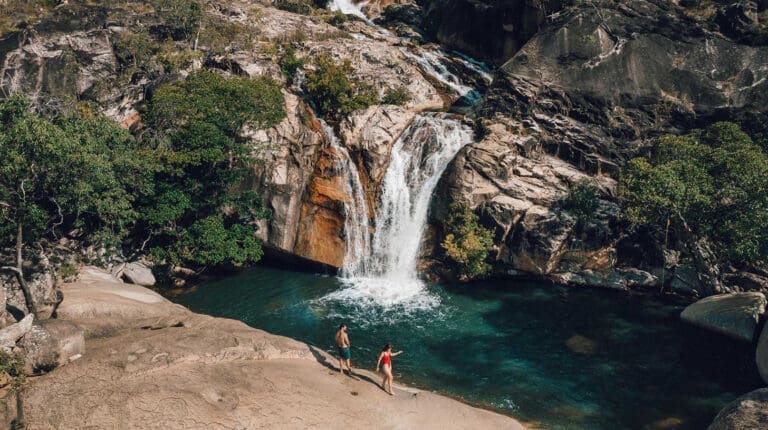 Day 2
Dive into Nature from Speewah to Mareeba
Morning: Emerald Creek Falls Splashdown
Kickstart your day with a rejuvenating morning dip at Emerald Creek Falls. Forget that stale hotel shower; this is your natural, adrenaline-pumping morning wake-up call. The water is invigoratingly fresh, and you're surrounded by lush scenery that makes the experience downright magical. It's an excellent opportunity to snap some candid photos, so don't forget that waterproof camera! The falls are known for their tiered rock formations, creating little pools that you can wade into. In between dips, explore the nearby walking tracks. Just be sure to keep an eye out for any early morning wallabies.
Late Morning to Afternoon: Coffee Works in Mareeba
Once you're sufficiently refreshed, hop back in your ride and head to Mareeba. And yes, it's coffee time! Coffee Works offers more than just a caffeine fix; it's an entire coffee experience. Here you can indulge in tasting sessions and even watch a coffee roasting demo. The café also serves up some locally made chocolate, making it a two-in-one treat. While you're there, don't miss out on their little museum that tells the tale of coffee through the ages.
Late Afternoon: Granite Gorge Nature Park Wildlife Experience
Post-coffee, make your way to Granite Gorge Nature Park. Here, the agenda is all about wildlife spotting. Don't forget to grab some wallaby food from reception; you're about to make some furry friends! Granite Gorge is home to a rare rock wallaby colony, and you'll have the chance to get up close and personal with these adorable critters. For those more adventurous, there are rocky trails leading to viewpoints that offer panoramic vistas of the surrounding landscapes.
Evening: Stay and Chill at Granite Gorge Nature Park
For the night, you'll be bunking at the park itself. Whether you prefer a cabin, a safari tent, or bush camping, the choice is yours. This stay allows you to continue your wildlife encounters into the evening. Imagine a dinner surrounded by the sounds of nature; it doesn't get more authentic than this.
What to Remember:
Emerald Creek Falls are best enjoyed early, before the crowds arrive.
Coffee Works is a hit spot, so maybe buy a bag of your favorite beans for the road.
Granite Gorge closes its gates early, so plan to arrive no later than mid-afternoon to make the most of your wildlife spotting.
Wrap up your day in the tranquility of nature, under a sky that's a canvas of stars. And remember, the best adventures still lie ahead!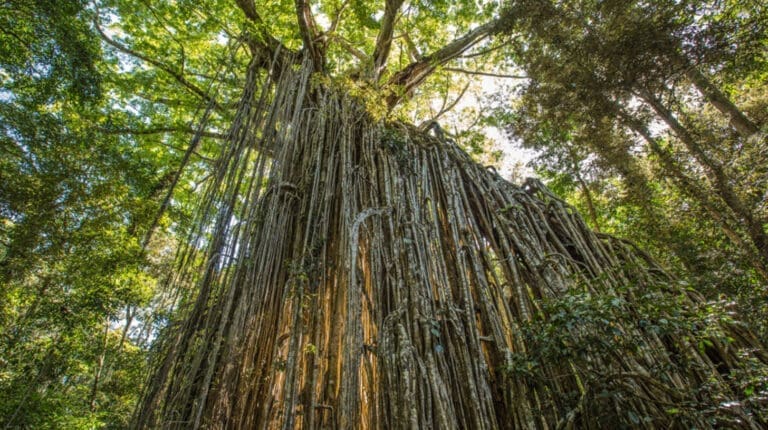 Day 3
Savor and Explore from Mareeba to Yungaburra
Morning: Quirky Cafes in Yungaburra for Breakfast
Start your day on a high note by pointing your compass south to Yungaburra. This charming little town is brimming with quirky cafes perfect for your morning grub. Whether you're in the mood for some eggs benedict, a stack of fluffy pancakes, or a robust Aussie brekkie, you'll find something that tickles your palate. These cafes also serve an array of specialty coffees that could rival any big city's offerings. It's the perfect way to soak in the local vibes and prepare for a day of exploring.
Late Morning: Marvel at the Curtain Fig Tree
Once you're fueled up, set off to see the town's natural masterpiece: the Curtain Fig Tree. This isn't just any tree; it's a living monument that's estimated to be around 500 years old! You can wander along a boardwalk that allows you to appreciate this natural giant from various angles. And keep those eyes peeled; native wildlife like tree kangaroos often make an appearance.
Afternoon: Dive into Volcanic Lake Eacham
As the day heats up, what better way to cool down than a swim in a volcanic lake? Lake Eacham, a serene blue volcanic crater lake, is just a ten-minute drive from Yungaburra. Whether you're keen to do some laps or you'd rather float serenely, the water's inviting either way. If you're not in a swimming mood, there's a 3km walking circuit around the lake that's rich in local flora and fauna.
Evening: Recharge at Yungaburra Park Motel
When the day is winding down, make your way to Yungaburra Park Motel for a well-deserved rest. This spot is both cozy and convenient, offering an array of room types to suit your preference. Perhaps the best part? The motel is centrally located, so if you fancy a late-night stroll, the town is at your doorstep.
Book: Yungaburra Park Motel
What to Remember:
Breakfast spots in Yungaburra can get busy, especially during weekends. Maybe arrive early or call ahead.
The Curtain Fig Tree is a popular tourist spot, so try to go during off-peak hours for a more intimate experience.
Lake Eacham has no cafes or shops nearby, so it might be wise to pack some snacks and water.
Today is packed with both culinary and natural adventures, all wrapped up in the unique charm of Yungaburra. Unwind, rest up, and get ready to hit the road again tomorrow!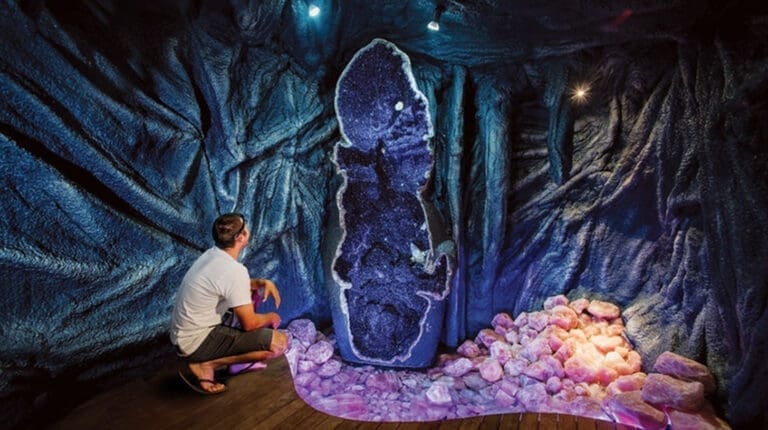 Day 4
Berry Good Mornings and Wonders of Nature from Yungaburra to Atherton
Morning: Breakfast at Shaylee Strawberries
Kick off your day with a visit to Shaylee Strawberries for breakfast. You might be wondering, "Strawberries for breakfast?" Oh, yes! This isn't just a strawberry farm; they've got a café that serves a breakfast menu featuring, you guessed it, strawberries! From strawberry pancakes to even some savory strawberry-infused dishes, you're in for a berry special start to your day. Plus, you can pick your own strawberries for later snacking.
Mid-Morning: Venture into The Crystal Caves
After such a unique breakfast, keep the momentum going by visiting The Crystal Caves in Atherton. This is no ordinary cave; it's an interactive experience full of incredible gemstones and crystals. You're given a flashlight and can explore nooks and crannies filled with fascinating geology. If you're into it, some of these crystals are said to have healing powers; even if you're skeptical, they make for great photos!
Afternoon: Tolga Bat Hospital Visit
Next, it's time for a visit to the Tolga Bat Hospital. This one-of-a-kind conservation facility is dedicated to rescuing and rehabilitating bats, particularly the threatened Spectacled Flying Fox. Not only is this a unique learning experience, but it's also a great way to contribute to conservation efforts. You'll walk away with newfound respect for these misunderstood creatures.
Evening: Unwind at BIG4 NRMA Atherton Tablelands Holiday Park
As the sun begins to set, head to your home for the night: the BIG4 NRMA Atherton Tablelands Holiday Park. This place has got it all—cabins, caravan spots, and even camping areas if you want to get really close to nature. Plus, they've got some top-notch facilities like pools and BBQ areas for a chill evening.
Book: Big 4 NRMA Atherton
Other Accommodation options: Click here
What to Remember:
Shaylee Strawberries is seasonal, so make sure they're open for the full experience.
The Crystal Caves can be dark and have narrow paths, so wear comfortable and non-slip footwear.
Tolga Bat Hospital requires advance bookings for tours, so plan ahead.
So there you have it, a day that starts with strawberries, takes you through an underground wonderland, and ends with the warm fuzzies of animal conservation. Atherton's got its unique flavor, and after today, you'll know it well. Get some good sleep; you've got more adventures ahead!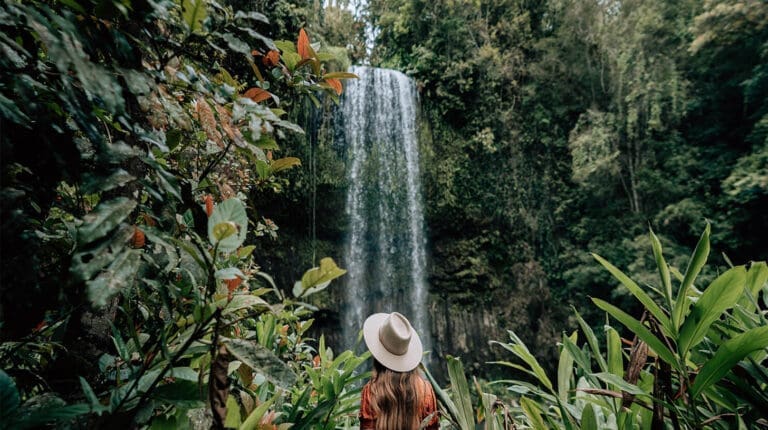 Day 5
A Step Back in Time and Mother Nature's Marvels from Atherton to Millaa Millaa
Morning: Time-Travel at Herberton Historic Village
Start your day by rolling back the clock at Herberton Historic Village. Imagine strolling through a town stuck in time, complete with vintage cars, historical buildings, and even a working pub. Dive into the local history; it's like an open-air museum. With heaps of interactive displays and photo ops, it's a fabulous way to appreciate the Aussie past.
Mid-Morning: Millaa Millaa Waterfall Circuit
Next up, prepare to be awestruck at the Millaa Millaa Waterfall Circuit. You'll want to bring your camera; these waterfalls are some of the most Instagrammable spots around. The circuit includes multiple falls, but the crown jewel is the Millaa Millaa Waterfall itself—imagine plunging into crystal clear waters surrounded by lush rainforest. Sounds like a dream, but it's real life here!
Afternoon: Optional Detour to Mt. Garnet for Geothermic Pools
If you're feeling adventurous, consider taking a detour to Mt. Garnet for a dip in natural geothermic pools. It's a bit of a drive but absolutely worth it. The warm, mineral-rich water is not just relaxing but also offers a unique swimming experience compared to the waterfalls you visited earlier. However, be prepared for the road conditions and ensure you have enough time to get back to Millaa Millaa.
Evening: Wherever The Wind Takes You in Millaa Millaa
You have a few choices for accommodations, ranging from bed-and-breakfast spots to local motels. Wherever you end up, it's a great chance to reflect on the day's adventures. You've traveled through time, dived into fairytale waterfalls, and perhaps even soaked in a thermal pool. Not too shabby for one day, eh?
What to Remember:
Herberton Historic Village is vast; allocate at least a couple of hours to fully immerse yourself in the experience.
Millaa Millaa Waterfall can get crowded, especially during peak season. Aim for an early visit if possible.
If you choose the Mt. Garnet detour, make sure you're aware of the road conditions and distance to plan your day efficiently.
From history to waterfalls and potentially geothermic pools, this day has the makings of an epic Aussie adventure. Whether you're capturing moments through your lens or soaking them in, you're banking memories that will last a lifetime. Cheers to that!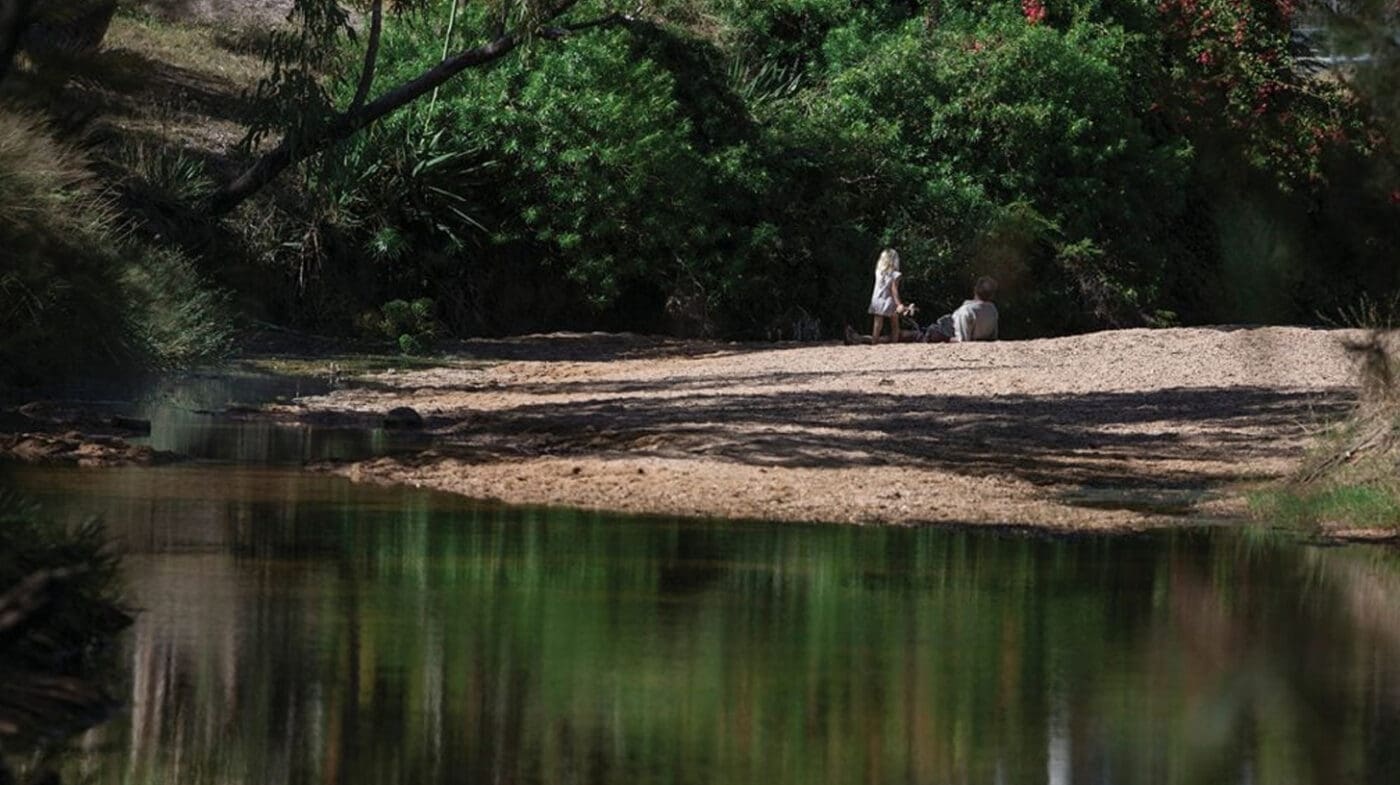 Day 5
OPTIONAL DETOUR:
MT GARNET—An Elevated Experience in Nature and Leisure
En Route: Ravenshoe—Queensland's Highest Village
As you divert westward, you'll come across Ravenshoe, a charming village with the unique claim to fame as Queensland's highest. Take a break at Queensland's Highest Pub. Enjoy a pint and some pub grub, and maybe even chat with the locals. The place is as Aussie as it gets.
Natural Marvel: Millstream Falls
Before heading to Mt. Garnet, make a pitstop to see Millstream Falls, Australia's widest single-drop waterfall. This spectacle of nature is a photographer's dream, so be sure to have your camera ready.
Recharge at Mount Garnet Travellers Park
Recharge at Mount Garnet Travellers Park
Roll into Mt. Garnet and find your spot at Mount Garnet Travellers Park. They have powered sites, so if you're in a van or RV, you can recharge literally and metaphorically.
Wind down your day at Innot Hot Springs, where you can soak in naturally heated mineral geothermic pools. The water's sourced from a local creek and varies in temperature. If the creek feels like a hot tub cranked too high, move to the adjacent Innot Hot Springs Health and Leisure Park. They've got man-made pools with the same geothermal goodness but at a more controlled temp.
What to Remember:
Charging at Herberton: If you're relying on electric power for your vehicle or gadgets, Herberton Historic Village is the last charging point.

Trip Distance: The round-trip from Herberton to Mt. Garnet via Millaa Millaa is 224km, so plan your fuel or charging accordingly.

Innot Hot Springs: The temperature can vary, so test the waters—literally—before diving in.
This optional detour is perfect for folks who want to see a different slice of Far North Queensland. You're venturing into less-touristy territories for some pretty epic natural wonders and relaxed moments. You get to cap it off by soaking in mineral-rich pools that are as therapeutic for the soul as they are for the body. What's not to love?
But wait theres more!!! Here are more things to do in the area:
More Cairns Travel Guides: