No Oven? No Problem! The Ultimate Camp Pineapple Upside Down Cake Recipe
Listen up, because today, we're taking a trip down memory lane, all the way back to the beloved camping traditions of our Aussie childhood. I don't know about you, but some of my fondest memories involve open skies, laughter, and shared meals around the campfire. But who said camp food should be all about roasting marshmallows? I'll let you in on a secret. Today, we're going to rustle up a classic dessert, a Pineapple Upside Down Cake, right here at our campsite!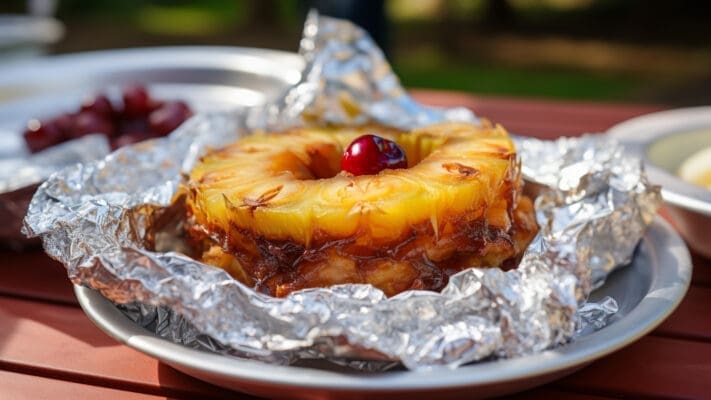 Why a Camp Pineapple Upside Down Cake?
A Camp Pineapple Upside Down Cake, you ask? Why, yes indeed! There's something irresistible about the sweet and tangy symphony of caramelized pineapples and cherries set atop a soft, fluffy cake. It's a classic, a favourite, an absolute crowd-pleaser. More importantly, this tantalizing treat can be tweaked to perfection for a camp setting.
Step-by-Step Guide to your Camp Pineapple Upside Down Cake
Alright, now that we've got everything in the recipe below, let's jump into it. I promise, this will be as much fun as setting up a tent (and much tastier!).
Variations and Add-Ons to the Classic Camp Pineapple Upside Down Cake Recipe
Remember, recipes are just guides, not rules etched in stone. Feel free to jazz things up. Maybe toss in some coconut flakes for a tropical twist, or a splash of rum for an adult version. Go wild, the world is your oyster, or should I say, your pineapple?
Tips on Serving and Storing Your Camp Pineapple Upside Down Cake
The sweet scent of your Pineapple Upside Down Cake will attract attention, I guarantee it. For the best experience, let your cake cool a bit before digging in. But let's be real, who can resist a warm slice of cake, am I right? If by some miracle you have leftovers, a large, air-tight container will keep your Pineapple Upside Down Cake fresh for tomorrow's treat.
The Joy of Campfire Cooking and Baking a Pineapple Upside Down Cake
What a journey! From the first sparkle of the campfire to the last crumb of Pineapple Upside Down Cake, there's a magic in campfire cooking that can't be replaced. It's about being in the moment, creating memories, and feeding not just our bellies, but also our hearts. So the next time you're out in the wilderness, don't forget to pack your culinary curiosity alongside your hiking boots.
I'd love to hear about your campfire cooking adventures! If you've whipped up a delectable Camp Pineapple Upside Down Cake at your campsite, or have another incredible recipe to share, let's hear it! Let's create a community where we can share our love for camping and good food. Safe travels and see you around the campfire!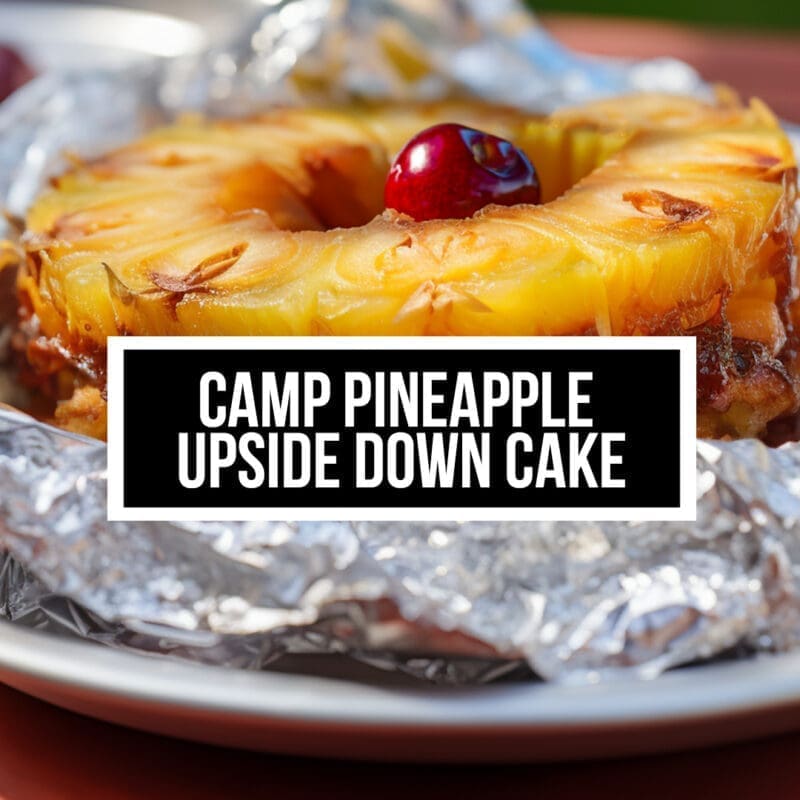 Camp Pineapple Upside Down Cake Foil Packets
These Pineapple Upside-Down Cake Foil Packets are an old-fashioned favorite made easier with a shortcake dessert shell and then prepared into foil packets for a fun camping treat!
Ingredients
Ingredients
1 1/2

tablespoons

Brown sugar

1

tablespoon

unsalted butter

1

whole pineapple ring

1

whole maraschino cherry

1

whole shortcake dessert shell

vanilla ice cream for serving

optional
Instructions
Tear off a 12×12-inch square of nonstick aluminum foil.

Mound the brown sugar and butter in the center, followed by the pineapple slice and maraschino cherry. Top with the dessert shell, flat side up.

Fold in the sides of the foil and seal to form the packet.

Grill for 12-13 minutes over medium-high heat.

To serve, flip the cakes over. Top with a scoop of vanilla ice cream, if desired.
Notes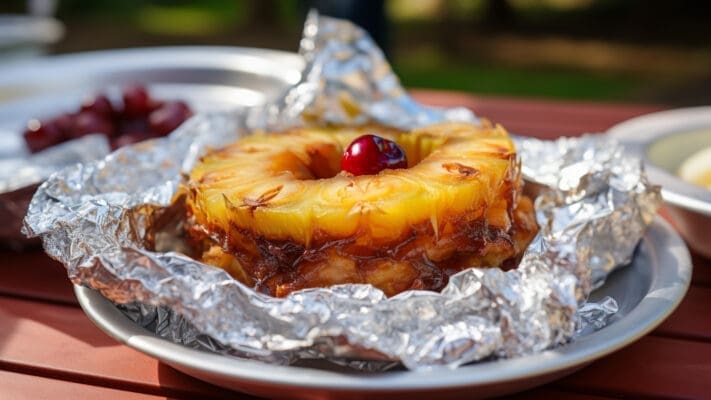 ---
More Recipes:
More Cocktail Recipes: