Baked Gnocchi: The Ultimate Comfort Food
Everyone has their comfort food go-tos—mac and cheese, fried chicken, you name it. But baked gnocchi has its own unique allure, and it's a game-changer for your culinary repertoire. It combines the best of Italian flavors: robust tomato sauce, pungent basil, and meltingly delicious mozzarella, all beautifully adorning soft and pillowy gnocchi. If you're a pasta lover, this dish takes the concept to a whole new level.
Gnocchi, for the uninitiated, is a type of Italian dumpling traditionally made with a mix of potato and flour. In this recipe, the gnocchi is first boiled and then baked, allowing it to absorb the flavors of the rich Tomato, Olive, Rocket & Basil Sugo. What you get is an explosion of flavors with every bite—savory, tangy, and cheesy, all beautifully mingled.
Let's not overlook the mozzarella here. Its inclusion takes this dish from good to heavenly. When baked, it melts into the gnocchi, making each bite gooey and delicious. A finishing touch of high-quality Extra Virgin Olive Oil elevates the dish, bringing all the flavors together and adding an extra layer of richness.
But don't just take my word for it—making this baked gnocchi is not only satisfying but also surprisingly easy. If you can make pasta, you can make this. And once you try it, you'll find it's worth every minute spent in the kitchen.
So, when the next comfort food craving hits, skip the usual suspects and go straight for this baked gnocchi. It's not just another dish; it's an experience that satisfies the soul as much as the stomach. Enjoy!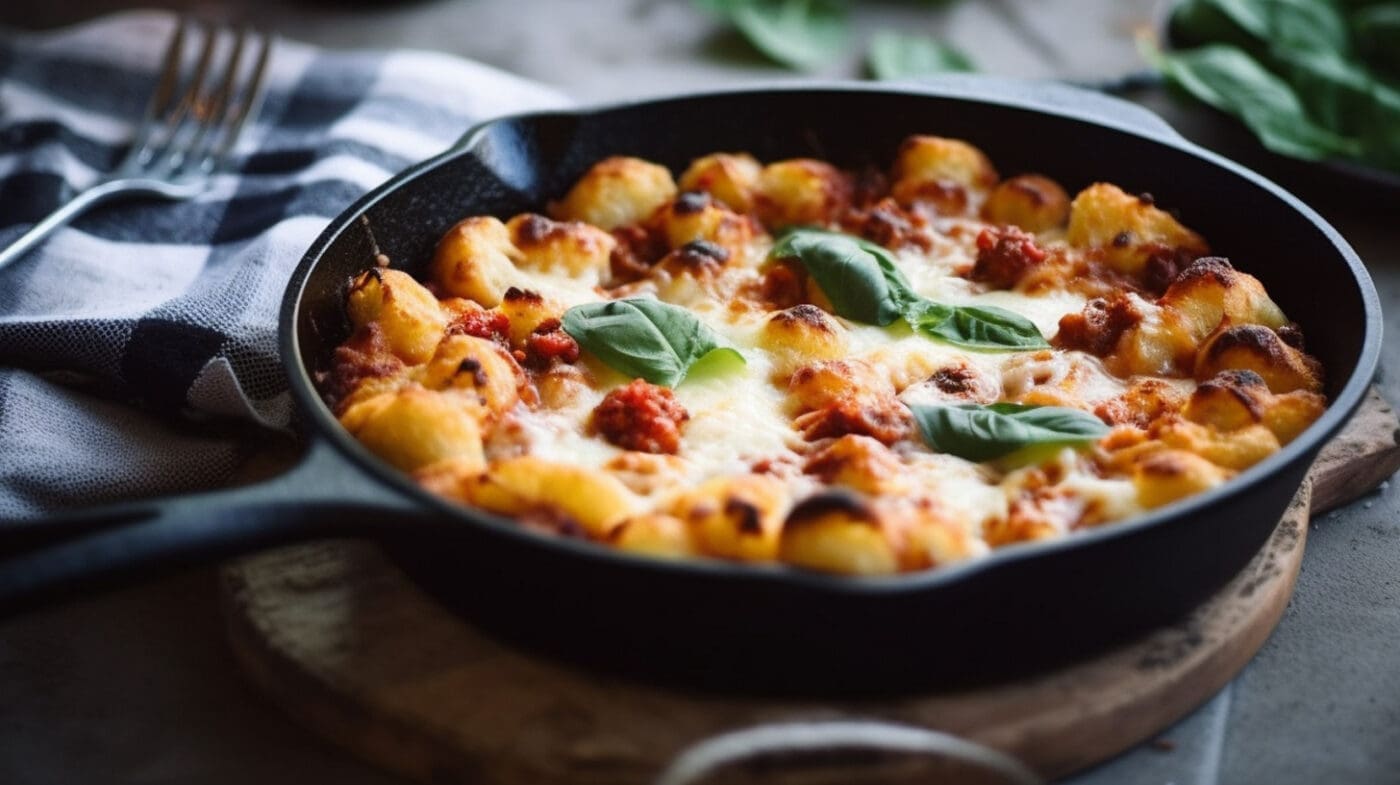 Baked Gnocchi Recipe
Meet the dish that's about to become your go-to comfort food: Baked Gnocchi with Tomato, Olive, Rocket & Basil Sugo. Soft pillows of gnocchi, smothered in a rich and zesty sauce, topped with gooey mozzarella, and baked to perfection. This isn't just food; it's a culinary hug on a plate. One bite and you'll wonder how you ever lived without it. So, pull up a chair, grab a fork, and get ready to dive into this cheesy, saucy, carb-loaded paradise.
Ingredients
500

g

waxy potatoes

peeled

1 1/3

cup

plain flour

50

g

unsalted butter

1

tbspn

sea salt

1

jar

Tomato

Olive, Rocket & Basil Sugo

salt and black pepper

To season

150

g

fresh mozzarella

3

tbspn

Extra Virgin Olive Oil

1/3

cup

basil leaves

loosely packed
Instructions
Preheat Oven: Heat a fan-forced oven to 200°C.

Boil Potatoes: Boil the peeled potatoes in a large saucepan for 15 minutes or until soft.

Prep Surface: Dust your work area with flour. Use a potato ricer to evenly distribute the hot potatoes over the flour.

Add Butter: Melt butter and drizzle it over the potatoes. Add 1 tablespoon of sea salt.

Make Dough: Combine flour and potato using a pastry scraper until you form a firm dough.

Knead and Roll: Knead the dough for 2 minutes. Divide it into quarters and roll each into logs of about 1cm in diameter.

Cut Gnocchi: Use a floured knife to cut the logs into 2.5cm pieces.

Boil Gnocchi: In a large pot of boiling water, cook the gnocchi until they rise to the surface. Wait one more minute, then remove them.

Prep for Baking: On a large tray, mix the gnocchi with Tomato, Olive, Rocket & Basil Sugo. Season with salt and pepper.

Add Cheese: Tear and distribute mozzarella over the gnocchi.

Bake: Place the tray in the oven for 15-20 minutes until golden brown.

Final Touch: Let it sit for 5 minutes, then drizzle olive oil and garnish with fresh basil.
---