The Magic of Tomato Bruschetta – A Flavor Symphony in Every Bite
Bruschetta has long been a go-to appetizer for gatherings, intimate dinners, and even a quick but fancy snack. With origins tracing back to Italy, this simple yet luxurious dish has taken on many variations. However, nothing beats the classic Tomato Bruschetta for a pure, unadulterated gastronomic delight.
The recipe I'm sharing today does justice to the classic. It relies on a few high-quality ingredients and gets its rich flavors from their natural goodness. The sourdough bread offers a hearty, rustic base. Toasting it on a grill or BBQ not only makes it crispy but also adds a smoky flavor that pairs beautifully with the toppings.
The real stars are the cherry tomatoes and feta cheese. Cherry tomatoes are bite-sized bursts of juiciness and sweetness that balance the saltiness and creamy texture of the feta. The garlic rub and the olive oil work their magic by binding these flavors together while adding their own layers of complexity.
Let's not forget the basil leaves. Fresh basil brings a fragrant, peppery touch to the mix, elevating the bruschetta from delicious to utterly divine. And finally, that drizzle of Extra Virgin Olive Oil ties everything together, adding a hint of fruitiness and a luxurious mouthfeel.
This recipe is as straightforward as it is versatile. Want to impress your date? Check. Need to throw together a quick but gourmet appetizer for an unplanned gathering? Check. Craving for something scrumptious that can be fixed in no time? You got it.
There's a reason Tomato Bruschetta has stood the test of time and geography to become a universal favorite. So why not bring this little piece of culinary magic into your own kitchen? One bite, and you'll realize how extraordinary simple ingredients can become when they're combined just right. Enjoy!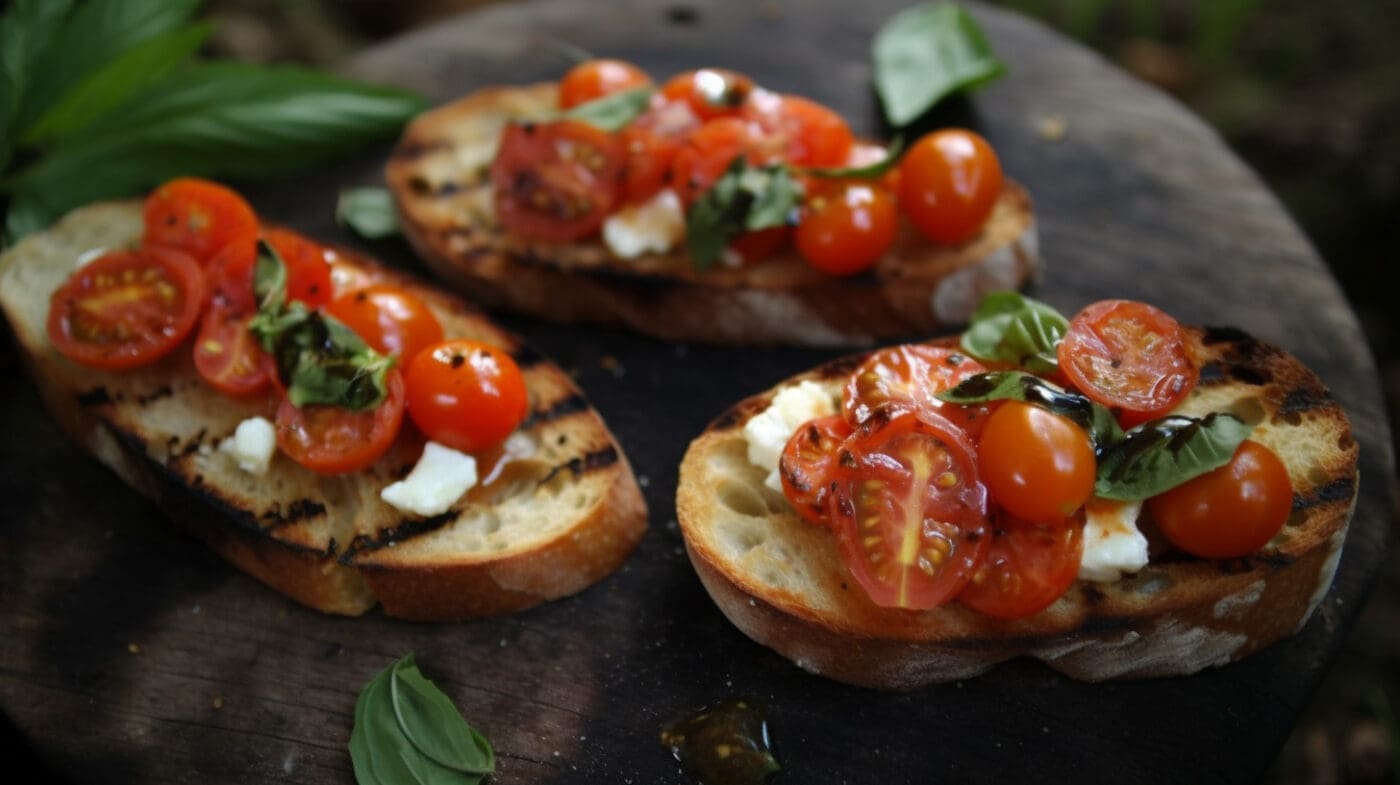 Tomato Bruschetta Recipe
Who says you can't turn simple ingredients into a culinary masterpiece? With this Tomato Bruschetta recipe, elevate the humble sourdough, cherry tomatoes, and feta into an appetizer that's the talk of the table. Picture crisp toast rubbed with aromatic garlic, layered with juicy tomatoes and crumbled feta, then finished with fresh basil. It's not just food; it's a flavor-packed experience you and your guests won't forget.
Ingredients
6

slices

sourdough bread

3

garlic cloves

3

tspn

Extra Virgin Olive Oil

24

cherry tomatoes

120

g

feta

1

pinch

salt

1

pinch

pepper

24

basil leaves
Instructions
Toast Bread: Thickly slice the sourdough and toast both sides on a grill pan or BBQ.

Garlic Rub: While the toast is hot, rub a cut garlic clove over it.

Olive Oil: Coat the garlic-rubbed toast with Extra Virgin Olive Oil.

Toppings: Place fresh tomatoes and crumbled feta on the toast.

Season: Add freshly cracked salt and pepper to taste.

Garnish: Top with fresh basil leaves and a drizzle of Extra Virgin Olive Oil.
---